I was going to put a quote from the Queen Mother, Norodom Monineath, of Cambodia, but if the internet is at all accurate, it seems the woman, who has been a Cambodian royal for 60 years now, speaks fluent Khmer, French and English, has never uttered a word in public. She smiles, she waves, she doesn't seem to have spoken, or at least nothing anyone thought was quotable enough to publish digitally. Regardless, we celebrated Queen Monique's (as she is generally referred to) 75th birthday this last weekend at Casa S with a Cambodian inspired menu – likely, I would think, the only spot anyone was eating Cambodian-fusion food in Buenos Aires – I thought, perhaps, there might be some sort of consulate celebration as well, but as best I can determine, Cambodia does not have a consulate nor an embassy in Argentina, or anywhere else in South America – the closest I can find is in Havana!
Cambodian, often referred to as Khmer cuisine, is sometimes talked about as Thai food without the heat. It is, and isn't, accurate. There's no question that chilies are not as common in the dishes, though they do exist. However, other spices are often more intense – I find Cambodian food to have much sharper flavors of garlic, and the use of black pepper is quite liberal – it often seems to be the favorite spice!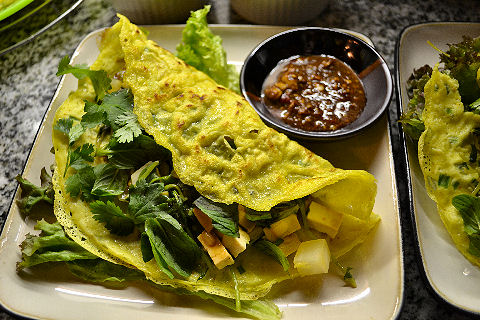 Not quite your traditional banh chiao – though probably not that far off. A thin pancake made from rice flour and coconut milk, colored with turmeric – I made these slightly more crepe-like with the addition of some egg, and also flavored them with a bit of green onion. The filling, a saute of tofu, daikon, pea sprouts and peeled mung beans all tossed with a little oyster sauce, then some diced cucumber plus cilantro and mint. Served over a lettuce leaf, traditionally to be wrapped up in that and eaten by hand, though pretty much everyone used knife and fork. The dipping sauce a mixture of soy sauce, palm sugar, lime juice, sambal oelek (chili paste) and chopped peanuts.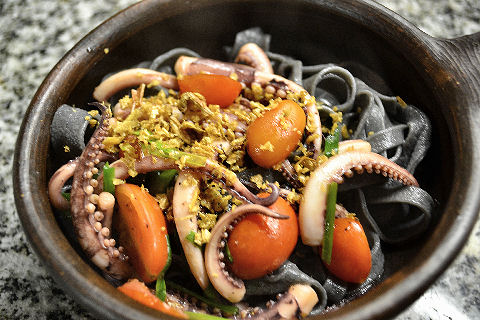 A complete reworking of a black pepper squid recipe – I made fettucine with the squid ink, and then topped it with a saute of lots of cracked black pepper, squid tentacles, cherry tomatoes and finished with a good splash of fish sauce and topped with a crumble of fried shallots. Simple and very tasty!
Normally a beef rib soup without a lot of other ingredients in it, I wanted a little more oomph to it. A mix of beef shortribs and pork spareribs, browned in a pot with lots of chopped onion, garlic, Chinese curry, tomato and black pepper, then topped with water, soy and fish sauces and pressure cooked for 45 minutes until the meat was easily shreddable and the broth was richly flavored. What I should have done at this point is chilled it down and de-fatted it…. Took the meat out, shredded it into the strained broth, and added sliced green beans to it – I'm not sure why I didn't blanch and shock them first to keep them bright green, but so be it. Finished the soup with palm sugar, fresh lime juice and lots of basil.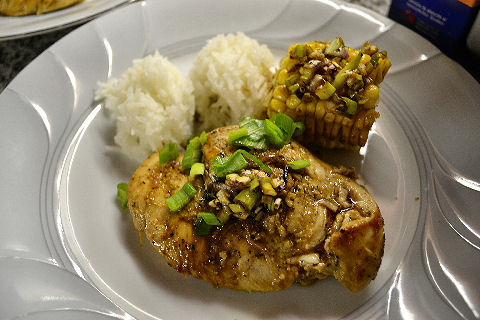 Instead of a classic Lime-Pepper Beef, I went with chicken. Pounded thin breasts of chicken marinated for about 6 hours in a mixture of 2 tablespoons sugar, 4 tablespoons lime juice, 3 teaspoons cracked black pepper, 2 tablespoons mushroom sauce, 2 tablespoons soy sauce, 4 tablespoons vegetable oil and an entire head of garlic – all blended together. Then quickly browned on both sides and finished in a hot oven. On the side, jasmine rice, and one of my favorite corn dishes. Slow grilled corn on the cob which is then liberally doused in a simmered mixture of fish sauce, sugar, salt and finely chopped green onion. More of the sauce plus extra green onion spooned over both corn and chicken.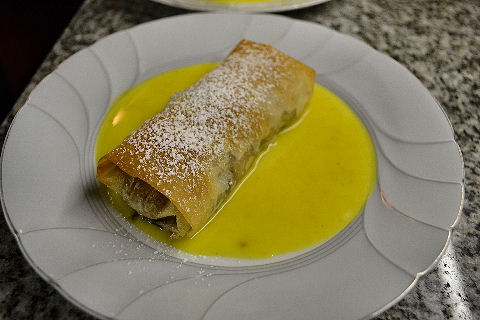 And, my favorite end to southeast Asian dinners, my own little banana springroll – this time I sliced up the bananas and tossed them with lime juice, melted butter and brown sugar before wrapping them up in the phyllo dough and baking them. The sauce is coconut milk, turmeric, salt and palm sugar simmered together.
Som owie nek mein aryouk yrinyu (happy birthday) Samdech Preah Reach Akka Mohèsey Norodom Monineath (Queen Monique)!