Buenos Aires – It's a beautiful room to walk into. Draped fabrics everywhere, comfortable tables and booths – close to each other but not too close, good lighting, friendly greetings, even a coat check – a rarity here. Several friends have, more or less, raved about the place. It gets amazing writeups in food magazines and travel guides. I'd really like to have liked it a whole lot more than I did – not that I disliked the meal, it just didn't live up to its press. Some new friends here, regular readers of this blog, took us out to dinner last night to Bengal, Arenales 837, in Retiro, for which I thank them greatly! We started off the evening at our house with a bottle of Bodega de Azul Azul Reserva 2003, recommended to me by one of the owners of Terroir wine shop – smoky, rich, excellent wine, a blend of Cabernet, Malbec, and Merlot. Then, off to the restaurant.
I think it was our waiter who put me on edge about the place, and that tends to color my whole experience. He handed us our menus and the winelist, and before we had a chance to open either, he was back at the table presenting two bottles of wine that were what he absolutely recommended we must have, being the discerning gentlemen that we are and all that. They were, of course, two of the most expensive bottles on an already significantly overpriced wine list, as we discovered when I began looking through it. And he didn't stop. He wouldn't go away and just let us read the menu and wine list in peace. He was back with another bottle, and then another. All near the top of the spectrum (ranging from a low of 180 pesos to over 300 pesos). I picked a wine I've been wanting to try. Initially, without even checking, he responded with "I don't think we have that, but, I recommend…" and was off on another wine that was double the price of what I'd picked (and we weren't going cheap, I picked a bottle around 100 pesos). He did go check, and returned to say they didn't have it. This was repeated with two more wines – each time him trying to upsell us by anywhere from 50-100% on the price of the wine. His, and the restaurant's loss, we finally just picked a cheap bottle of a relatively common wine, Terrazas Malbec reserva 2004 which is perfectly tasty.
His service style didn't get much better from there. We tried to order our food, he tried to get us to take a seven course degustacion menu. He recommended all the most expensive dishes on the menu. Enough already! We finally just ordered what we wanted and ignored his recommendations – who knows? Perhaps his choices were better, but given the approach, we weren't going to find out. The menu is an oddity in itself. There are two of them – one a four page long affair of more or less Italian food. It didn't need to be four pages long, there were only 4-5 dishes listed per page. Lots of white space. Stuck to the inside back cover is the second menu. Indian food. Nearly as many dishes, but all neatly fit on one page. We decided to order a mix, which he also objected to, asserting that it might be better if we all ate Italian or all ate Indian. Why? Perhaps the plating – which is beautifully done and elaborate, though repetetive, for the Italian dishes, and tossed into an earthenware bowl for the Indian dishes?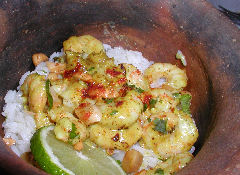 A small hors d'oeuvre was offered, a room temperature omelette filled with ham. Tasty, but sort of strange that it wasn't warm. I'm not a big fan of cold omelettes. We ordered a round of appetizers. The grilled langostinos (large shrimp) and chipirones (small squid) sounded delicious, and Henry ordered that – but no, there are no chipirones in house – there go two of the appetizers on the menu. Well, no, they could make the dish with just langostinos – after all, it's just skewered and grilled shrimp. Quite good too, lightly spicy, perfectly grilled. A little small for langostinos, but there were plenty of them. An absolutely spectacular dish of what was more or less an eggplant parmesan, but done in a way that such a dish normally only hopes to aspire to. A bowl of small shrimp in a coconut milk and almond sauce on rice (above) – tasty, simple, well made.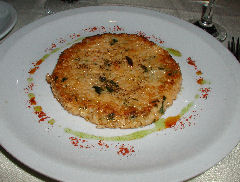 And after making my risotto cake the other night, and on a friend's recommendation, I couldn't resist ordering theirs. I wish I had. First, they're not making their risotto with risotto rice, i.e., arborio or carnaroli – it was regular rice, overcooked so it was soft and squishy, and smashed together. The texture was just oh so wrong. It also wasn't really fried with a nice crisp crust, though it may once have been – if I was to guess, they cook them in advance and reheat them for service. It was also pretty much flavorless – a bit of chopped arugula, some salt and pepper – not really anything else going on there.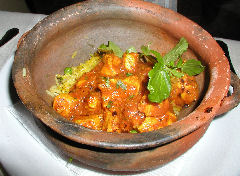 We ended up order two dishes each of just two of the main courses. Two bowls of the curry chicken, one medium spicy, the other spicy spicy. Really well flavored, to my tastes quite authentic, and enough spice to justify the picante. Our waiter tried to talk us out of the spicy version, but I'm glad, once again, that Henry ignored him – it wasn't over the top, it was spicy the way a dish like that should be. The other dish was lamb "braised for four hours in Malbec". The lamb itself was very tender, juicy, and quite good. The braising liquid clearly had more stuff going on it than just spices, herbs, and Malbec.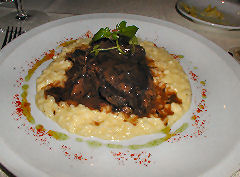 It was a bit on the sweet side – almost a touch too much for me – as one of our friends put it – "tastes like barbecue sauce". It was also served atop another risotto – this one well flavored with lemon and mascarpone, and very nice combination, though again a touch sweet. Unfortunately, once again, the rice was just wrong, some of it so undercooked as to be crunchy, and no creaminess the way risotto should be. One other note – out of six dishes we tried, four were garnished with sprigs of watercress. None of the dishes contained watercress. Both the braised lamb and the risotto cake had the same drizzled sauce and sprinkled paprika – again neither related to either dish. Different garnishes, and related to the dish – chef's school 101. One of our friends tried to order the cucumber raita – but no, they didn't have that either – something about Parmalat not having any yogurt in the country…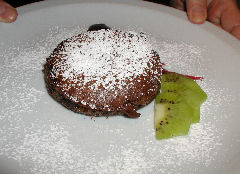 Desserts were decent, but not exciting. First a nice palate cleanser, gift of the house, small shots of lemon foam with a drop or two of red fruit sauce. A chocolate volcano cake – made with semi-sweet chocolate was properly made. The cake texture was very good, the filling of chocolate ganache was a bit granular, which means they didn't get the ganache nice and smooth and all melted, up front, and probably stuck it in the freezer to make the nuggets to fill the cake before it was cooled, so the chocolate crystallized. Tasty, but texturally disappointing. The lime mousse had good flavor and was light and fluffy. But somehow, and it may have just been the disappointments that had already put me on edge, it just wasn't right.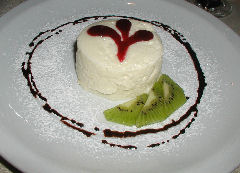 Again, garnishes – both with a trio of kiwi slices – why? What did kiwi have to do with either dish. It admittedly worked okay flavorwise with the mousse, but with the chocolate volcano? A plate of mini-brownies with the check – tasty again, but dried out. All in all, thankfully the company made up for the restaurant – but that's not something that can always be counted on, nor should it have to be. I didn't notice the other waiters behaving the way ours did, so I think it's an individual thing as opposed to a restaurant-wide problem. The food is hit and miss – lots of good flavors, but lots of poor textures. I also think that relegating the Indian dishes to sloppy plating versus the elegance of the Italian dishes is a major faux pas – there's no reason that the same dishes couldn't have been made to look much nicer, and plated just as beautifully. And, don't garnish just to garnish, think about how it relates to the food. Especially at the price level, quite high, that the restaurant charges for it.
In the end, the only reason I might return to Bengal is because so many folk have recommended it, and perhaps they were just having an off night. I'd also insist on a different waiter.