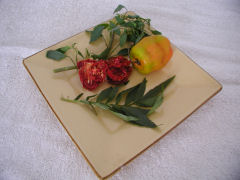 Buenos Aires – Salsa Llajwa is sometimes known as the Bolivian National Hot Sauce. I first encountered it at a restaurant in Palermo, and it was so delicious that I'd asked the manager of the restaurant what was in it. He described it as containing the Peruvian herb huacatay and the Bolivian herb quirquiña, blended with rocoto peppers and oven dried tomatoes. I've spent a bit of time looking for recipes, figuring one of these days, like yesterday (see last post), I'd make it out to Liniers and possibly be able to find the key ingredients. Although he didn't mention it, every recipe I saw included either onion or garlic, so I added in a shallot. Recipes varied wildly, using various herbs, generally on the aromatic side, but from coriander to mint to parsley, and the peppers varied as well – from just rocoto to rocoto and much hotter pepper combos, to others.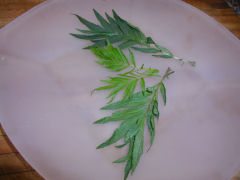 Huacatay is referred to by some as Amazon Black Mint, and it has a pungent aroma, sort of a like spearmint; and others insist that it is a variety of the Mexican herb epazote – it doesn't look at all like the epazote I used to get in New York at the Mexican markets, which had longer, arrowhead shaped jagged leaves, and it has a much more intense flavor. Other names for this are Chiquilla, Chinchilla, and Zuico. I've seen both the scientific name Tagetes minuta, and also Pazote chenopodium ambrosioides, which between them come back to a variety of different English names, including muster John Henry, Stinking Roger, Mexican Marigold, Hedionda Grass, Sagrada Grass, and Tall Khaki Weed. Searching for various photos online, some of these look the similar, some don't. Such is the world of plant names, however I'm leaning more towards the non-epazote camp and something in the mint-ish world. [Edit: further research says that the non-epazote/tagetes minuta camp is the correct one.] It is a common ingredient in Peruvian cooking especially, and is the key herb in both ají de huacatay (not surprising), a spicy hot sauce from the Arequipa area, and in the sauce for ocopa, one of my favorite potato dishes.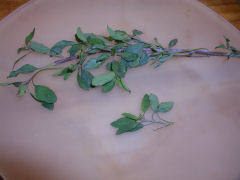 Quirquiña, or Bolivian coriander, (also called quilquiña or killi), is a vibrant green herb found throughout Bolivia. It has an aroma and flavor that is similar to coriander, but with a touch of bitterness (Wikipedia describes it as a cross between coriander, arugula, and rue). Scientific name Porophyllum ruderale, which puts it in the Aster family, as an annual herb. In different parts of the globe it is known as Pápalo, Papaloquilitl, Tapakuelo, Yiwa ndusú, Yiwa pápalo and many others. Obviously, it looks nothing like coriander, and even the flavor is different enough that it's clearly not related, merely possessing similar aromatics.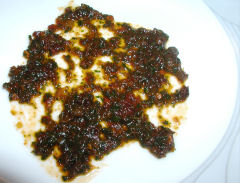 I'd remembered the sauce as having a brownish color to it, which, given the bright green of the various ingredients, seemed unlikely, though the tomato red might have managed. I also remembered a very smoky flavor, and attribute that to the oven drying process that the restaurant manager had mentioned. Although all the recipes I've found call for this to be an uncooked, fresh herbal sauce, I decided on a compromise to try to get the effect that I wanted. So, I cooked the shallot and some sun-dried tomatoes (they're what I had) in oil until they were all lightly golden, then poured the hot oil mixture over the fresh herbs and rocoto pepper and immediately blended them. This took a lot of the edge off of the shallots, the herbs, and the hot peppers, and gave me the smoky flavor I was looking for. If you don't have access to these herbs, I'm not sure what to suggest – but given the references, the closest substitutes might be to give a shot with coriander cilantro and spearmint, it might just work – after all, both match well with hot peppers in salsas!
Salsa Llajwa

1 cup of good olive oil
1 cup of sun-dried tomatoes
1 coarsely chopped shallot

Heat these three ingredients together until the oil just starts to bubble, then reduce the heat to minimum and cook slowly, stirring regularly, until the shallots are lightly browned and the tomatoes have reconstituted and taken on a touch of toastiness.

1 packed cup of huacatay leaves
1 packed cup of quirquiña leaves
2 seeded rocoto peppers
1 tablespoon of coarse salt

Put these ingredients into your blender or food processor. When the oil mixture is ready, pour it directly onto the herbs and blend immediately. If you need to add a touch more oil to smooth this out to a consistency you like, feel free, but you don't want this runny. Makes about a cup and a half of sauce, which will keep well in the refrigerator and can also be frozen – like you won't finish it off within 2-3 days!

This sauce can be used on a variety of things where you want a nice, herbal and spicy sauce. I'm especially fond of it on crustacea – shrimp approach perfection tossed with or dipped into this. It also works well on fish, chicken, and even veal.