"Before the Spanish banned Inti Raymi in 1572, this winter solstice festival was the biggest event on the calendar of the Awantinsuyu Incan empire. It occurred at the time of the sun's rebirth (around June 24th on our calendar) in Cuzco, Peru, the Inca capital. Native residents gathered to honour the Inca, the first-born son of the sun god. They fasted for days, then sacrificed llamas and feasted, imbibed chicha and chewed coca, asking the sun to return the following year and make the crops grow. When the Spanish banned the festival as a pagan and therefore Satanic ritual, it went underground."

– G.A.P. Adventures
Buenos Aires – Last week being the annual celebration of the Andean New Year, Inti Raymi, the Festival of the Sun, or however one wants to put it, noting, of course, that on the calendar of "my people" we've got nearly 243 years over this one… just sayin'… we thought we'd celebrate with one of our ever-popular Peruvian dinners. We decided to focus on inspirations from the south of Peru and the communities around Cusco and Puno, where we spent a little time last year. We didn't sacrifice any llamas, nor eat any guinea pigs, I haven't quite talked Henry into making our own chicha, though I'm getting there, and although coca leaves were procurred, he used them earlier in the day more as an incense or offering, presumeably to keep us on good terms with the Sun god here in Casa S.
We started off with a dish called Capchi de Setas, an interesting amalgamation in name (capchi being in Quechua and setas being in Spanish), which sort of fits the traditional mash-up that is the dish. Essentially, it's a scramble of crushed potatoes and mushrooms. I fancied it up slightly by making a tart shell and filling it with the mixture – which I made by sauteeing sliced portobello mushrooms with garlic, onions, ají rojo, salt and cumin and then mixing that with pureed potatoes and some butter beans (favas are more traditional, but not in season right now). Instead of chopped hard boiled egg, I bound the whole thing together with lightly beaten eggs, added some chopped huacatay, crumbled some fresh farmer's cheese over the top and then baked them in the oven. We served them up with some hot sauce of hot yellow and green peppers finely chopped in vinegar.
We've both had fantasies about the sopa incaica that we had last year in Puno at the restaurant Coca Kintu, and while I've had success at finding references to the soup in various Peruvian food literature, at best I've gotten descriptions of the dish – I haven't found a recipe for the traditional version, and the owner of the restaurant, while he thanked me for my kind compliments, has ignored requests for their recipe. So be it. Based on my notes from the evening and what I've found, I came up with a passable imitation, though definitely less complex than the one we tried there. Still, it was delicious – in a pot, I simmered some finely diced potatoes, white onion, and minced hot peppers with a good amount of quinua until nearly cooked through. At that point, I added pureed tomatoes, some milk, and, a quinua slurry – hmmm… essentially I soaked a small amount of quinua in roughly double the amount of water for several hours, then ran it through the blender until it was completely liquified. Pouring that into the simmering soup, it immediately thickened it up just like using flour or cornstarch. I seasoned the soup with some chopped quirquiña and huacatay, adjusted the salt, and away we went.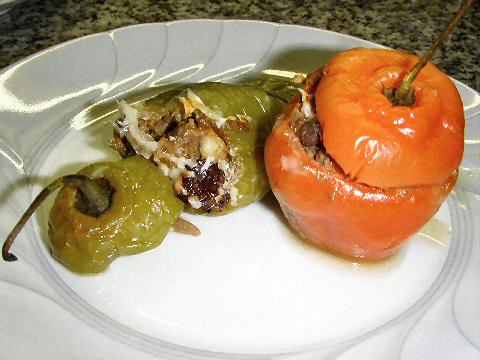 Next up, we knew we wanted to make rocotos rellenos, stuffed Andean hot peppers. Turns out, it's pretty much like stuffed peppers anywhere – another of those universal recipes. I pretty much followed the recipe in Tony Custer's El Arte de La Cocina Peruana (also available in English). The filling is ground beef (I ground up a rib-eye roast), garlic, red onion, tomatoes, raisins, black olives, hard-boiled eggs, and flavored with a little vinegar, sugar, salt, yellow hot pepper puree, pepper, and cumin. Stuffed into peppers that have been seeded, and then blanched three times to take away the edge of bitterness and soften the heat a bit, top the filling with grated cheese, bake, and serve. We ate a whole lot of these…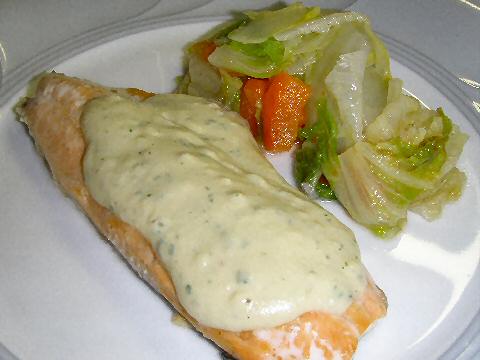 For those who think of Peruvian cuisine as flavorful, even picante in general, but not overly sophisticated, think of it like any other cuisine – most home cooking, which is what most casual Peruvian (or any other ethnicity) restaurants serve up, isn't the alta gama of gastronomy. That doesn't mean it doesn't exist, especially in modern-day Peru. One dish that caught my eye was Trucha en salsa de nieve andina, or Trout in Andean snow sauce. It's actually a pretty simple dish, with very subtle flavors, and a sauce that's somewhat like a bechamel, though not really made the same way. Here's how simple it is – in a blender mix together roughly equal parts of cream, evaporated milk, and fish stock, along with some anchovies, huacatay, salt, white pepper, and a bit of cornstarch. Simmer it all together until it thickens. Voila! The original version I found added butter to the mix – cooking the anchovies in the butter and crushing them to a paste and then mixing in the other ingredients, but did the sauce really need butter added? Instead I baked the trout fillets with just a dab of butter atop, spooned the sauce over, and just for something green on the side, sauteed up some bok choy with diced red bell peppers.
Finally, we finished off with a Cusco Chocolate Cake – purely inspired by the flavors of a local bon-bon of chocolate, honey, nuts and quinua flour. Thanks go out to Beatrice Peltre and her blog La Tartine Gourmande for her Amaranth, Quinoa and Dark Chocolate Cake – I more or less followed her recipe, though using only quinua since I didn't have any amaranth, and trying it one night with walnuts and the other with almonds. Cut it into triangles and presented it with one lying down and one standing. To top it, I glazed it with a simple tangerine glaze (tangerines are in season right now, so I'm enjoying them while they last) – ½ cup of fresh tangerine juice, basically two tangerines, 1 egg white, and 250 grams (just over half a pound) of confectioner's sugar all whisked together to create a pourable glaze.