Buenos Aires – We were in the mood for Peruvian food once again. Well, basically, except for occasionally talking him into going to somewhere novel, like the Korean restaurant, Henry only likes to eat at Peruvian venues. Other than that, I cook. So it was back to Status, where we had lunch one of the first days I was here. But we did agree in advance on trying some new dishes.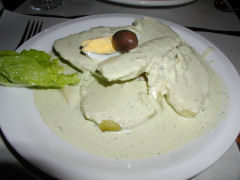 First, Ocopa, a slightly chilled dish of sliced potatoes topped with a cream sauce made with evaporated milk, fresh farmer's cheese, herbs, garlic, and slightly spicy yellow peppers. Okay, this is just plain yummy potatoes! We not only gobbled up every last bit of potato, but then sopped up the copious amount of sauce with bread, rice, and more potatoes.
We also tried another potato dish (potatoes are quite big in Andean cuisine, and really, throughout South America), Papas a la Huancaina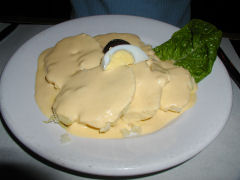 (from the Huancayo area of Peru – Huancayo is the capital of the province of Junin, and is the commercial and cultural center of the central Andes). Once again based on a creamy cheese sauce, but this time flavored with lemon and a touch of mustard and turmeric, and then some paprika, resulting in a fairly vivid orange-peach color. Much subtler, this was still quite delicious. The sauce also apparently contains crushed crackers of some sort, ground to a fine powder, I've seen recipes that listed everything from water crackers to saltines to graham crackers!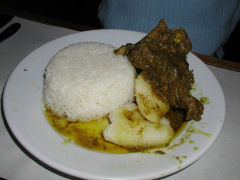 For our main courses, a Seco de Cordero, or dry-marinated lamb, was the first choice. The lamb is marinated, as best I can tell, in garlic, peppers, herbs, and a sort of paste made from fermented corn (chichas de jora). It is then slow cooked in oil and served with rice. It's really quite good, though I think it could have been slow braised a bit longer, and probably at a lower temperature to give a more fork-tender texture.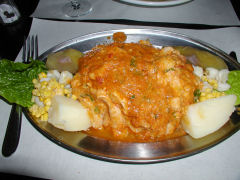 The second main course was a Tiradito de Pescado, one of my personal favorite Peruvian dishes from past experience. Unfortunately, Status' version doesn't live up to past experience. By definition, recipe, and even Status' menu, this should be chilled strips of fish that have been cured, ceviche style, in citrus juice, then topped with a sauce made from cream and rocoto peppers. This version seemed to be missing the cream, despite the menu description, and was served in a very vinegary sauce that had more of what appeared to be dried pepper flakes in it, and not particularly spicy. The best things on the plate were the potatoes and batatas, with which we sopped up our remaining Ocopa sauce.
I still recommend this place for a fun exploration of Peruvian food!