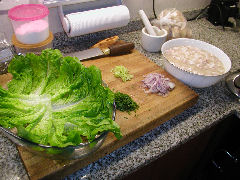 Buenos Aires – We're getting closer to the "secret" family recipe. I've mentioned before that when Henry makes ceviche he won't let me watch – you'd think by now I'd be considered family and welcome to the secrets, but such is life. Actually, he doesn't like it when I watch him cook anything – I'm not sure if it's nervousness or he thinks I'm going to somehow change the recipes (which I may, but so what?). Some day perhaps, we'll get to the bottom of it. In the meantime, he ran into an old friend who he hadn't seen in years, and invited her over for lunch the other day. Since he wanted to hang out with her, he asked if I'd prepare a ceviche. I know it was some sort of a test, because he knows he hasn't told me what goes into his – so I winged it, based on what I knew, and what I've made in that far away land of New York (definitely not homestyle Peruvian ceviche).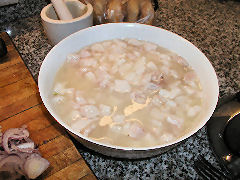 So the first thing was to start a pot of salt water boiling to cook the potatoes and batatas; and peel and cut them. Then, cut up the fish into small pieces. I'd picked up half dozen abadejo (pollack) fillets the night before, not his usual fish, which is cod, but we hadn't settled on ceviche when I picked them up. In the end, he admitted that the abadejo made a pretty good ceviche. Back to prepping, I picked out the bones, trimmed the fillets, and cut them into small pieces, somewhere between ¼" and ½", and put them in a bowl. I juiced 6 lemons and 3 limes, and added the juice and a bit more than ¼ cup of salt to the fish, mixing it up well. Taste the "broth" as you add the salt – you don't want it to taste salty, but you want to add enough that you cut the sharpness of the citrus juice. Basically the fish will marinate while you prep everything else – about half an hour.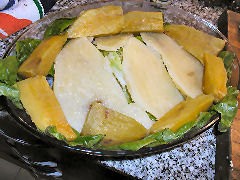 Probably at some point during this chopping and squeezing process the water will have come to a boil. The potatoes, after peeling, cut in thick slices, close to ½" thick. The batatas (yams) get cut in half and then each half gets quartered lengthwise. I know I was supposed to also use mandioca, taro root, but the vegetable market didn't have any. Toss the batatas into the water, let it return to a boil, about the time it hits a boil again, slide the potato slices in. Cook until they are soft but not to the point where they'll fall apart when you try to remove them. Remove them and put into a cold water bath to stop the cooking and cool them down to room temperature. Arrange them artfully on top of fresh lettuce leaves. Use the same water, just turn the heat back on, and toss in an ear or two of corn cut into 1½" thick rounds and cook for 5-6 minutes until done.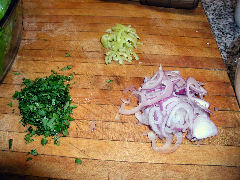 Okay, here's where we get into the nitty gritty. I peeled and thinly sliced two red onions, chopped up a mild chili pepper (our visitor was Argentine, so Henry said not to use a hot chili pepper – surprisingly, she turned out to be from the north, Jujuy, where much of the food is spicy, but she doesn't like it anymore than the locals do), and about ¼ cup of chopped cilantro leaves. Now, this is the point where I could have used some help. The most I got was "did you rinse the onions?" Which, I hadn't, but proceeded to do. I really did ask "Am I missing anything?" and was told not to worry about it. So I knew I was…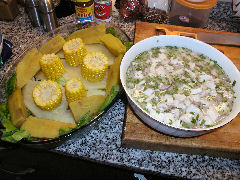 Okay, I figured, now I toss in those three ingredients with the fish, mix it up, adjust the season, and pour the whole thing over the potatoes and batatas – that's the way it arrives in restaurants. But no. I was stopped. Keep the fish separate – arrange the lettuce, potatoes, batatas, and corn on individual plates, and then top with the fish and some juice. So I had my two lovely presentation plates and brought them out to the table. Our guest was impressed, turns out that despite living in the far northwest, no more than an hour or two from Peru, she'd only heard of ceviche, never seen it or tasted it.
Interestingly, later in the day two of Henry's other Argentine friends came by to hang out, they'd never even heard of it. I keep finding stuff like that that surprises me – mostly because of the constant claim by Latin Americans that I meet, from various countries, about how up they are on each others' cultures – always of course said with an added reminder that we gringoes don't know anything about our neighbors. Of course, this fits in with things like my mention the other day of asking a local about why they didn't like spicy food and getting a sneering reply of "Do we look like Mexicans?" Or the surprise that I elicit when I mention that wines are made in other parts of Latin America besides Argentina and Chile. Or parts of the United States other than Napa Valley.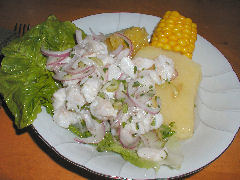 Now, I think that looks pretty good, don't you? Henry admitted that for a white boy I didn't do too badly, about what he expected… but I did manage to get out of him that the mixture was missing garlic, ginger, chilies (wait, you told me not to put them in), and a bit of pimentón, which is a mild red pepper powder that he uses in a lot of cooking – more or less like mild paprika, just a different pepper; and that it had too much citrus juice, apparently the level should be a little below that of the fish rather than even with or above. Our guest on the other hand, loved it, and thankfully made some comment about it being like a Peruvian sushi – something I've said before and gotten withering stares – he doesn't like sushi (without trying it), and doesn't see the similarity. Anyway, I thought it turned out pretty darned good, and there wasn't any left when we'd finished lunch. Which, by the way, I served with a little bit of homemade hot sauce, some ají de huacatay, that I'd made a couple of weeks ago and still had some of – it worked.
Ají de Huacatay

1 rocoto pepper
1 hot chile pepper
1 cup of huacatay leaves
olive oil
salt

Puree the peppers and leaves together, adding oil until you get a smooth puree – it was less than a ½ cup. Add salt to taste.