"Good painting is like good cooking; it can be tasted, but not explained.

– Maurice de Vlaminck, French Artist, On Painting
Buenos Aires – I've noted before that Henry can be a bit secretive about his family's home cooking and Peruvian dishes in general. I've still never been able to get a straight answer about why, though I'm sure there's some subconcious level of "a gringo would never understand" going on. Gradually I've been able to pick up more and more from him when he cooks, often by just watching and not interrupting him – he does need to concentrate on what he's doing or he tends to forget to put ingredients into things.
Since he'd proposed a dinner of some of his favorites for one of our Casa dinners, and this week with the various Independence Day festivities seemed like a good time, I agreed, but conditional on I got to watch, help, whatever, but no secrets. I still think he slipped things into dishes when I was out of the kitchen, however, since I did all the shopping, I have a pretty good sense of what went into what. My part in it was keeping him on track and organized, as he's used to just cooking for friends and family where he feels things like presentation and timing aren't all that important. We had a nice group of folk last night for the dinner, and with knowing that it was his "debut" dinner, he got himself a standing ovation. He'll be hell to live with for the next week or two, but it truly was excellent.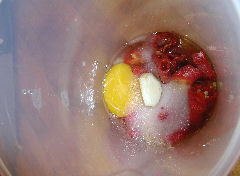 A lot of the food for last night was made in advance, no last minute sauces, things were slow cooked, so the final putting it together was fairly easy. There had to be a hot sauce, of course. I had offered to make some ají de huacatay, a green herb hot sauce, just to help him out, but he nixed that, as it's a sauce from the Arequipa area, a long way from Trujillo, his hometown. Instead, we pureed up half a dozen red hot chili peppers, what I think are probably cayennes (at the market they were just labelled ají picante rojo), and two red rocotos, along with a large clove of garlic, a whole egg, salt, and olive oil. Nice and fiery! We put a small dish of it at each person's place to be used if and when they desired. I think everyone tasted it, but only a couple of them really used it, mostly on the anticucho dish.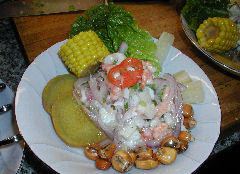 The menu began with an upscale ceviche. The "height" of fish in Peruvian ceviche is apparently the lenguado, which is a catchall name for various flatfish – plaice, sole, flounder, fluke. So we took a kilo of that, and half kilo each of fresh shrimp and squid (these get cooked first, before being added to the lemon juice, I'm not sure if that's always the case in Peruvian tradition, but I know Henry always cooks shellfish that go into ceviche, insisting that you can't "cook" them via the ceviche technique – though I've certainly had many ceviches in other parts of the world that used raw shellfish). I've covered his ceviche making in another post, so I won't go into detail here.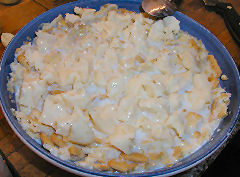 Round two was a double serving of potatoes. Two classic dishes, which I've mentioned many times before, are Papas a la Huancaina and Ocopa. They both start from the same base mixture – a large handful of saltine crackers soaked in milk, some type of fresh, creamy cheese (Henry likes Port Salut, though I understand that something more like ricotta or farmer's cheese is far more traditional). After the crackers are nice and mushy, they get turned into one of the two sauces, or, in our case last night, both. The Huancaina is the simpler of the two, a mere blending of the base mixture with ají panca amarilla. These peppers aren't available fresh here, so we buy them dried and then reconstitute them in a little boiling water.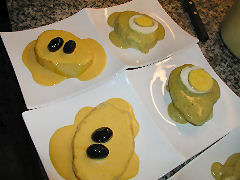 We started by blending in just the flesh, along with a little powdered ají amarilla as well, mostly for color (the dried peppers turn a fairly dull yellow-orange, whereas the fresh, and the powder, are a vivid yellow), and then added salt and some of the seeds and veins from the boiled peppers to get a little bit of spiciness into it. The Ocopa requires several ingredients – a small amount of the same peppers, nuts (we used toasted pecans, though apparently peanuts are the most traditional, with walnuts being a close second – pecans are apparently "special"), cilantro, and a whole lot of huacatay, or Amazon Black Mint. Traditional toppings are hard-boiled eggs and black olives.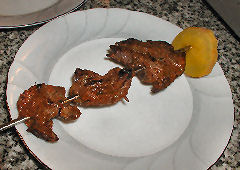 Next up, the anticuchos. These are marinated and grilled hearts. In the case of last night, beef heart, which we'd special ordered through the local butcher (who tried to convince me that I needed four full hearts at a kilo apiece, I took three, leaving half of them for today when Henry has some friends coming over to continue celebrating). Lamb is more traditional from his part of Perú, but the butcher couldn't get any for us. Anticuchos are also often made with a mix of chicken hearts and giblets. The meat is trimmed of fat, then marinated for 24 hours in a mix of lots of salt, black pepper, and cumin, reconstituted ají panca roja, the red version of the same peppers above, garlic, and beer. Then they're simply grilled on a skewer, brushing them with a mixture of olive oil and vinegar during the cooking, then for serving it's tipped off with a piece of batata, and served with the hot sauce I mentioned above.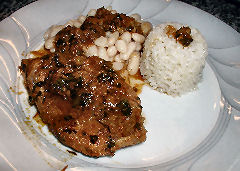 We had planned on a seco de cabrito, or stewed baby goat, for the main course, but the butcher couldn't find any decent cabritos, so we went with leg of lamb, which Henry likes better anyway for this dish, even if it is more traditional to another part of Perú. The meat is left on the bone, and marinated in virtually the same mixture as the anticuchos, though using the yellow version of the peppers instead. For the cooking, he sauteed a large amount of green onions and red onions, garlic, and the marinade, and then let the whole thing stew. I know he put a lot of olive oil and some vinegar into the pot, but I also know he added stuff when I was out of the kitchen to this one, I'm pretty sure there was a good dose of grated ginger in the pot as well as I'd seen him grating some up and then it disappeared, plus the rest of the beer, and he doesn't drink it. The rice is cooked with sauteed garlic, the white beans with a little bit of pork fat and garlic. It's pretty yummy.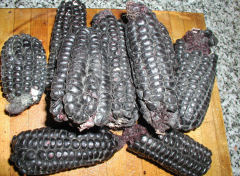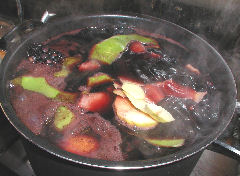 You might remember maíz morado, or purple corn, from way back. We buy it by the bagful out in Liniers, in the Bolivian markets (same place we get things like the huacatay herb, the ají panca, and the large white corn for the garnish on the ceviche). A classic Peruvian dessert is mazamorra morada, a sort of thick purple corn and fruit soup. A little internet research shows about a zillion versions of this, and Henry kind of winged it based on what we could find. The corn is simmered in a stockpot of water for several hours along with the pieces of the skin of a pineapple, a quince, a couple of green apples, and some cloves. The liquid is strained off, then cooked down with a lot of the corn kernels removed from the cobs, the fruit of the quince, apple, and the pineapple diced up, along with some dried peaches and sugar.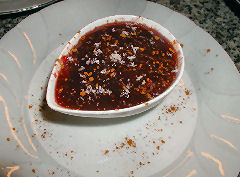 After they're all nice and tender, it's traditionally thickened with sweet potato flour – which, Henry forgot to ask me to get when I was out in Liniers. We used cornstarch, which works just fine, though thickens more. I tried to convince him not to use a heaping cup full of cornstarch, but he insisted. When it cooled, it turned into a rubbery mass that you couldn't cut with a knife. Luckily, the dish is best served hot anyway, so with the addition of some more water and heat, it turned back into its proper consistency. A little cinnamon and grated unsweetened coconut (he was horrified by the latter – it not being traditional – but then liked the way it looked) are sprinkled over the top.
Wines:
Ceviche – Mayol Brut 2003 Sparkling – dry, pears and minerally notes, long finish
Potatoes – Viniterra Pinot Grigio 2005 – rich, aromatic style Pinot grigio, very much like the style you get in Eastern Friuli in Italy, or in Slovenia. Quite nice but a little pricey for the quality; still the first good Pinot grigio I've found from Argentina.
Anticuchos – Sur de Los Andes Bonarda 2005 – probably our "best selling" red wine in house – nice and spicy, medium bodied, I like it quite a bit
Lamb – Belgrano 10.640 Organic Malbec 2003 – I don't know the origin of the strangely named wine, which on its back label states it is made by "Bodega A", which likewise I know nothing about. An inexpensive Malbec, but I was intrigued by the organic and the label, and the wine shop owner told me I was in for a major surprise at the price – he was right. Really quite good, full-bodied, rich, spicy, lots of cherry fruit – and all fruit, no oak, which I tend to like a lot of the time. I think we found our new "house" Malbec.
Other wines, brought by guests:
Bodega San Telmo Cabernet Sauvignon 2005 – a medium weight Cabernet, some good fruit and a little spice, a bit too oaky for my tastes, still, not bad.
Trapiche "Fond de Cave" Tempranillo Reserva 2004 – big, rich, spicy style Tempranillo, lots of new oak on it, but enough fruit to stand up to the oak. Very much like a modern style Rioja – not a favorite, but quite well made.