Liniers – We're still getting ready for the upcoming fiesta, Henry's niece's 15th birthday. It's starting to involve lots of things with glitter and shiny blue and silver stuff, and not that I don't like that sort of thing, occasionally I see the need to rein it in a little – Henry had covered the signature card, a huge sheet of silver paper that people can sign their best wishes on, with photos and glitter, leaving no room for much more than a signature or two – now we have a new one with photos all around the border, still lots of glitter, but at least some space for some of the folk to scribble on. Yesterday found us headed for the northwestern barrio of Liniers, a 20-minute ride (1 peso, round trip), the heart of the local Bolivian community, and also a place to pick up decorative stuff cheap – balloons, noisemakers, hats, and, of course, more glitter.
It's also the home to a strip of Bolivian spice, herb, and vegetable markets, and I picked up a few things that I'll get to more in the next post or two – huacatay, quirquiña, rocotos, japonesas, habas, & ají panca plus the scattered odd or end. The strip is right outside the Liniers train station, along J.L. Suarez, and is basically the entire #100-200 blocks. Some shops specialize in fresh herbs, fruits, and vegetables, others in arrays of dried beans, peas, corn, fruits, spices, and herbs. One store has close to two dozen different types of flours to be bought in bulk, from wheat to rice to mandioca to chickpea. Yet another actually has a bulk pet food section, with huge sacks of various types of dog or cat food arranged, ready to scoop up a personalized mixture for your beloved four-footer.
These are habas and japonesas, what appear to me to be butter beans and some sort of odd take on a snow pea. Henry plans to make a stew of the former, I'm not sure yet what I'm going to do with the latter.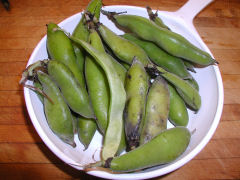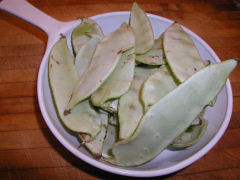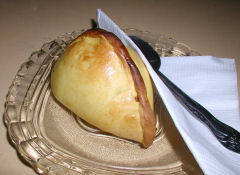 We stopped for a bite to eat and the large, cafeteria-esque Rancho Grande, at Suarez 182. We probably should have stopped at the dingy little hole in the wall across the street. Not because Rancho Grande was bad, it just wasn't interesting. We started off with a couple of Bolivian empanadas, or salteñas, packed with chicken, potatoes, and onions. Much like the versions I tried a couple of weeks ago, these are on the juicy side. My forewarning didn't come, as the last time, from our waitress issuing it, but from the fact that it was served with a spoon. Juicy is an understatement, these were the soup dumplings of the empanada world. Actually, the salteñas were pretty tasty – not spicy like the last ones, but still nicely seasoned. I could (and should) have made lunch out of a few of them.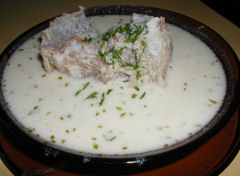 We moved on to the sopa de maní, a peanut based soup that I last had when we "visited" Bolivia. This version was completely flavorless – the broth may as well have been milk cloud-colored dishwater, the congealed bone and tendon lump in the middle was as appealling as that sounds. It was not at all like the version we had at Comedor Emanuel that day in Villazón, nor even like other peanut based soups I've tried. Needless to say, we didn't make our way through much of this bowl, in fact, I think neither of us had more than a few spoonfuls of broth.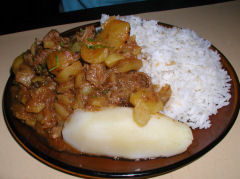 This is ají de lisa or ajilisa, a stew of papalisas, one of the staple potatoes of the Andes, with a bit of meat (Henry said tripe is more common, but perhaps that's the Peruvian version), lots of garlic, all served atop rice. Certainly a pretty major carbohydrate fest, and if it had had a bit more seasoning probably would have been quite good. As it was it was bland, salt helped, but it needed… something. It was an intriguing idea, as I'm a big fan of ají de gallina, somewhat the same dish made with chicken and served atop regular boiling potatoes, so this will be something to play with. Papalisas are readily available here without having to head out to Liniers.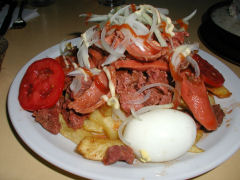 I have to admit I was suckered in by the name of this dish – I mean, how can I resist something called pique a lo macho, or "male rivalry"? And the waitress' description sounded interesting – steak, sausage, and chicken, with two special sauces, sauteed and served atop potatoes. Okay, she's technically, kinda sorta correct. The dish is little cubes of beef, lots of them; little cubes of chicken, two of them; and bias-sliced, umm, hot dogs, lots of them; the white of a hard-boiled egg (where was the yolk?); and the whole thing is served on top of french fries, soggy from the meat juices; drizzled with squirts of mayonnaise and ketchup. Truthfully, that somehow or other does indeed conjure to mind the idea of male rivalry. It's just not quite what I was expecting.