Buenos Aires – It's not often that I don't tip a waiter. I worked for too many years in the restaurant world in the U.S. and I know what waiters go through, and I know it's how they make their living. Even here, in a country where they're paid a "living wage" and tipping is much more of a true gratuity, I find it hard not to tip. It takes truly egregious behavior. No, actually, it really takes a waiter demonstrating that they really just couldn't care less about me as a customer. Enter La Caballeriza, Vicente Lopez 2024, in Village Recoleta [This place closed down in 2009 with the closing of that section of the Village Recoleta shopping area for reconstruction.]. This is one of four outposts of this parrilla and I've heard mixed reviews. We thought we'd give it a try. I don't give it a mixed review. The place itself is classic steakhouse, lots of dark wood, various cow related paraphenalia, you know the sort. The menu looks a trifle pricey, but this is Village Recoleta, and it's not outrageous, so we start flipping pages – it's pretty extensive, and includes both Argentine and Uruguayan specialties. Our waiter is distracted, and seems far more interested in hanging out outside with a young woman who is standing out there waving at him and blowing kisses whenever he's not at her side.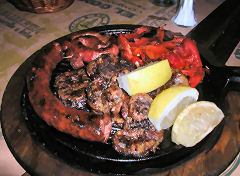 I look at the wine by the glass, the waiter insists that the only one of the four that is available is the most expensive one (16 pesos a cup versus three others under 10). I decline and ask for water and he "admits" that he could probably find a bottle of one of the others if he really has to. We begin with a selection of achuras or mixed grill sorts of things. It takes an easy half hour to receive, despite their being no more than a dozen other people in a restaurant that seats 200. A really excellent chorizo, smoky and cooked perfectly, does a lot to take the edge off things. So does the equally delicious salchicha parrillada, a mildly spicy smoked coil of sausage. A couple of grilled red bell peppers, and a heap of lightly crisped riñones (kidneys) complete the array. Okay, we're good.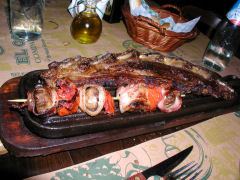 Another half hour passes after our appetizer platter is cleared and then my mixed salad shows up – note, I ordered it as my guarnición, or side dish, to my main course. Another ten minutes passes and then a platter of tira de asado (beef shortribs) and my skewers of mushroom shish-kebab. Oh wait, make that skewer. Singular. Twenty pesos and I have a skewer of four small brown mushrooms, each wrapped in bacon and with three separating morsels of red bell pepper. The ribs, ordered al punto, or medium-rare, are blackened on the outside and cooked to shoe leather on the inside.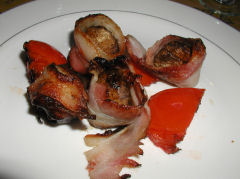 Flagging down the waiter elicits a "that's the portion size" and "looks like al punto to me" followed by walking away. There is no manager present, in fact, other than two cooks there appear to just be two waiters. I eat the mushrooms and salad, we make a stab at the ribs, we ask for the check. 91 pesos. Oh, he's charged for my side salad as a separate item. Did we really order that much stuff? I flag him down again and point out the salad and get "oh, if you knew how things work here in Buenos Aires you'd know that guarnición only means french fries." Umm, no, and we live here. "Yeah sure, I'm not changing the bill."
Hmm… let's see, your tip would have been 9 pesos, 10%. The salad is 6 pesos. Guess who loses?