As the winter draws to a close here tourism is on the rise and business is picking up. Along with more folk from other lands, we're also suddenly seeing a resurgence of locals coming for dinner. My first thought was that someone must have published an article in which we were included but asking folk how they heard about it has resulted in pretty random distribution, mostly from older articles in various sources. Perhaps it's just that more and more the word about puertas cerradas is getting out locally, perhaps it's that as time marches on and restaurant prices throughout the city are rising, we don't look quite so expensive any more. Regardless, it's a trend I hope continues – we've missed our local clientele over the last couple of years at the table – in our earlier years, the majority of people who came were locals and expats living here.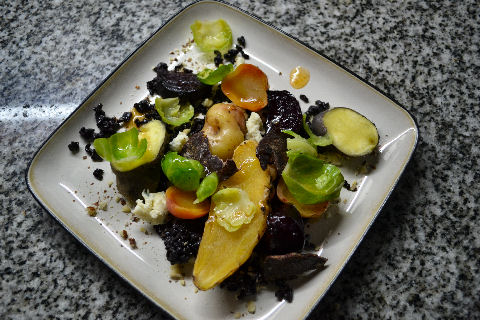 Last year after returning from La Paz, I put together
a fun little starter
of wild rice, roasted beets and
papalisas
all flavored with hibiscus and orange. We've served it a couple of times since, with minor changes, but I've been playing with the idea and expanding the ingredients – I decided to make it more of a "Study of Roots", with different Andean root vegetables. It can get a bit busy with too many different things, so I've pared it back to a trio – papalisas,
ocas
, and purple skinned papines called, I think,
azul kanchillos
– all steamed over vegetable stock. The rest of the dish remains the same, other than the plating, which I've spread out so that the different ingredients are more visible.
Our soup for the week was our interpretation of timbuche, an Amazon freshwater fish soup. I'd point out that our version doesn't really look anything like the traditional timbuche, which is a watery soup with some kind of boiled starch in it, cilantro floating on top, and generally, a whole fish just sitting there waiting to be picked apart.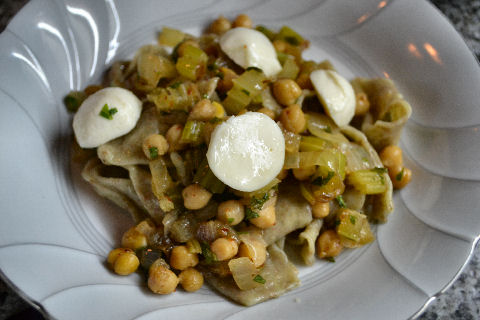 Whole wheat pappardelle tossed with olive oil and a saute of onions, celery, chickpeas and smoky merquén chili, plus some bocconcini of buffalo mozzarella. It's a simple pasta, but really good – one of our favorites at home.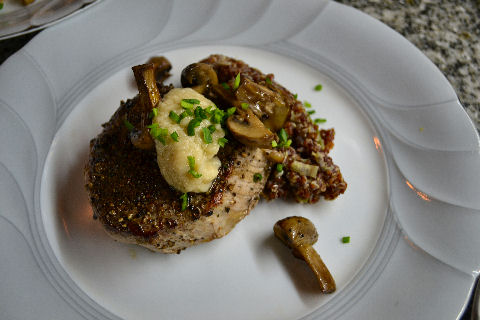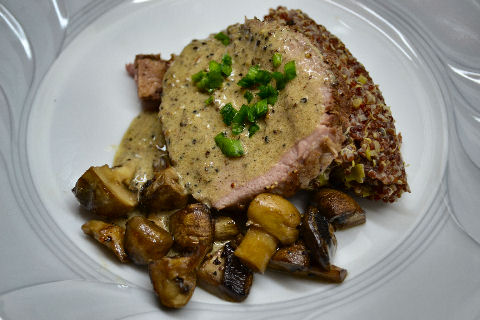 A bit of playing around with a classic steak au poivre. The first night I made it relatively classic – coated filets with a mix of crushed black, white and green peppercorns plus a little allspice and then pan seared in olive oil and butter with some garlic and rosemary, finished them in the oven, and served them with red quinua (okay, not classic) cooked with leeks and miso, threw in some roasted mushrooms and topped with a cognac butter. First off, with the rest of the menu, it was just too big of a portion of steak, second, I just wasn't as happy with the cognac butter as I'd been in trial runs. And then it hit me, I've been playing around with sous vide – time to put it to the test. So the rest of the week, I cooked the entire top round roast sous vide for roughly 24 hours to a medium rare, then just before serving I unpacked it from its vaccum bag, rolled it in the crushed peppercorns and salt, and seared the outside – then sliced. Instead of the cognac butter I deglazed the pan that I'd just browned the roast in (after removing garlic cloves and rosemary branches) with a mix of cognac and red wine vinegar, reduced that, added in more of the crushed peppercorns and some cream and cooked it to just thicken it up a bit. Perfect! It's not a classic steak au poivre, but it's true to the flavors. Strangely, although it looks bigger on the plate, it's actually about half the portion of steak! But at least everyone finished it instead of leaving half.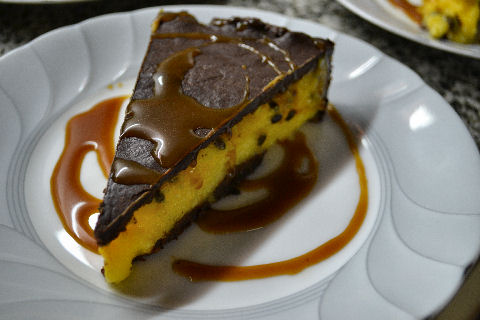 And, finished off the evenings with one of our favorites, a chocolate and passionfruit tart, served up with a soy-chili caramel.