While last week's menu held no completely new dishes, it did provide me with an opportunity to refine, adjust, or perhaps just tweak some favorites from menus over the last year.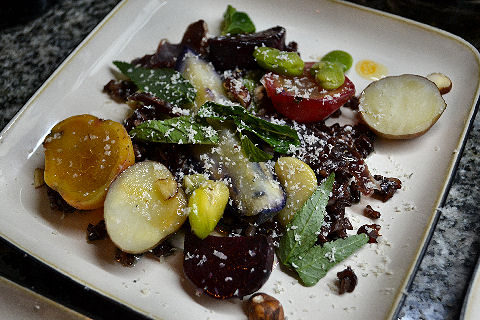 Our "study of roots" goes slightly more savory, I took out the sweet ocas, or Andean yams, and put in a different small Andean potato. Red wild rice instead of black. Fava beans instead of brussels sprouts (that was partially seasonal, the latter aren't available at this time of year). Changed the plating a bit, added in some herbs – huacatay and hierbabuena, and instead of little chunks of blue cheese scattered, decided to grate a bit of blue cheese "snow" over he top, giving just a hint of that salty, umami character in each bite rather than bursts.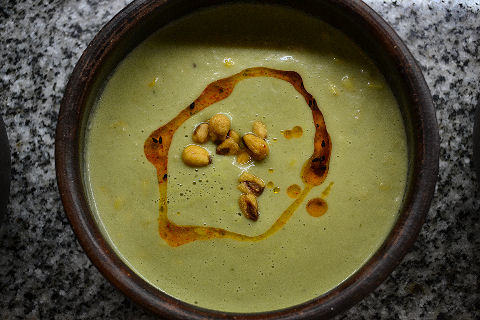 Originally I was going to bring back our chilled cream of avocado soup with roasted corn gelato, but the weather suddenly turned intensely rainy, and the temperature dropped from summery t-shirt to sweater and/or jacket. So I reverted the soup to its earlier incarnation as a hot cream of avocado soup, packing it with roasted fresh corn, and topping it with fried corn and chili oil.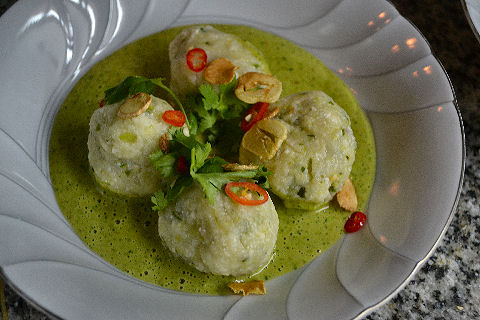 Brought back our zucchini gnocchi dish – no changes here (spicy cilantro sauce, fried garlic, fresh chilies, cilantro) other than I've lightened up the gnocchi a little bit with a touch less flour than when I first was making them. These and our cauliflower gnocchi are quickly becoming personal favorites.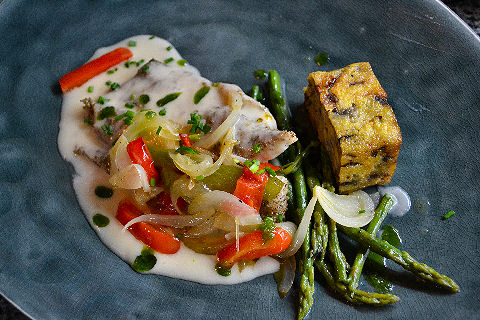 Minor changes to our sea bass al ajillo – doubling the amount of garlic in the sauce to really intensify it, adding some chili to the mushroom pudding, and some garnish in the form of fresh griddled asparagus and a little saute of peppers and onions. By the way – note the new main course dinner plates – the old ones have just reached the point where too many of them are chipped or outright broken, and when I saw these I loved them. They're unusual, and a bit big, but pretty much just what I'd imagined when I set out looking for something new. Henry thinks they're ugly. So far, we've had lots of positive comments from guests. What does he know.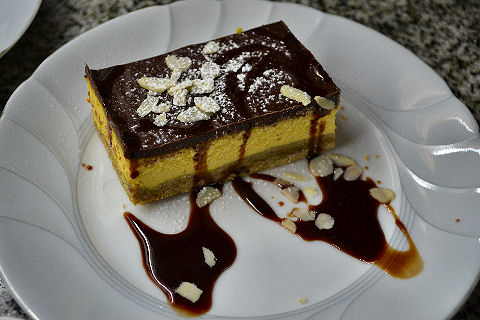 No changes here, our butternut squash cinnamon cheesecake with espresso crust, chocolate ganache topping, toasted almonds, reduction of port with chocolate and coffee sauce.