We do a lot of shopping at Disco supermarket. It's the closest to home, it's better quality products, for the most part, than the other supermarket in the 'hood, Coto, albeit slightly more expensive. And they give points. It's like when I was a kid, my mom would collect S&H green stamps and we would get to paste them in a book and later exchange them for something, I'm sure, though I have no idea what. Only these days it's electronic. We've used the points in the past to get free, small kitchen appliances. I suppose they're not really free, because we're paying those slightly higher prices, and it adds up… over time do we actually just pay for the "prizes"? But a few years ago we decided to not spend the points and let them accumulate, for a trip. And a month or so ago we broke a million points (we get 7 points for every peso we spend, you can do the math), and a trip to Puerto Iguazu stared us in the face for 988,889 points (no idea, really). We booked it.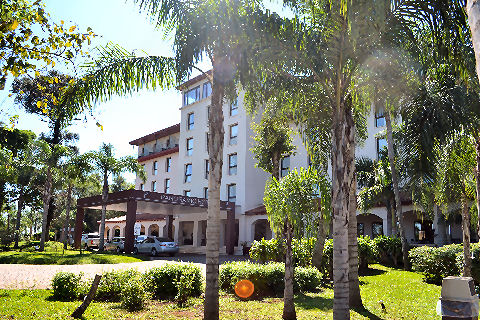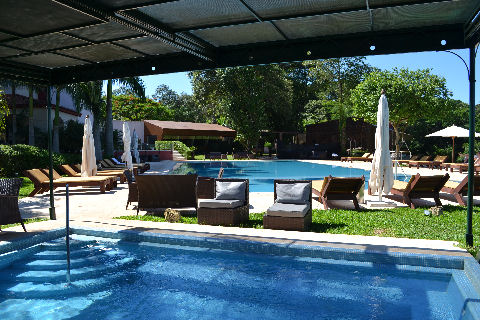 Now, we weren't sure what to expect on a trip organized this way – we had no say in anything other than the dates – we simply received tickets and vouchers for our hotel and excursions to the falls. Our flight out was early Sunday morning – 5:40 a.m., so having finished up with guests the night before at Casa S a bit after midnight, still having to pack (but quickly and lightly, a shared dufflebag for the two of us), we'd only had about 2 hours sleep. A van from the tour company nabbed us and eight other people and started driving around dropping us all off – a couple of the hotels looked pretty sketchy, so we were pretty impressed pulling up to ours, the Panoramic.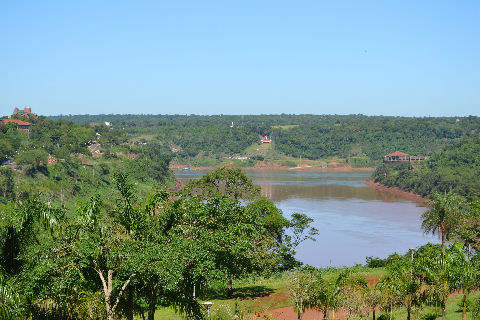 It has a view too, not of the falls, but over the Trés Fronteras, the three frontiers – to the left is Argentina, straight ahead is Paraguay, to the right, Brazil.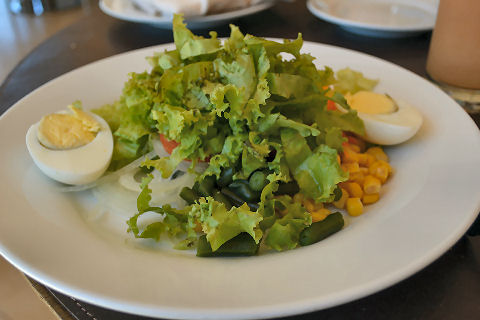 We were given an itinerary that had us being picked up to go to the Brazilian side of the falls two hours after arrival, then the following day, Monday, an early morning pickup to go to the Argentine side for the morning, and then nothing. Nothing. The afternoon of Monday was free, all day Tuesday was free. Now, we could have spent it wandering the city, sat by the pool, or whatever, but the tour company offered to all, that we could make changes and take on any additional tours, or simply reorganize the schedule. No doubt they're counting on that most people aren't looking for a day and a half sitting on a hilltop with no plans. We fell for it. So first, we pushed the excursions to the two sides of the falls to Monday and Tuesday and added in some optional side trips. Then we booked a mid-afternoon visit to a local semi-precious stones mine for Sunday. It just sounded interesting… and it gave us time to relax by the pool a bit. And have a mediocre, wilted, and overpriced salad for lunch. Actually, given that the Panoramic is a pretty luxurious place, albeit in need of some sprucing up in places, the one thing they fall down on is food – the breakfast buffet and the lunch were just not up to the quality of everything else.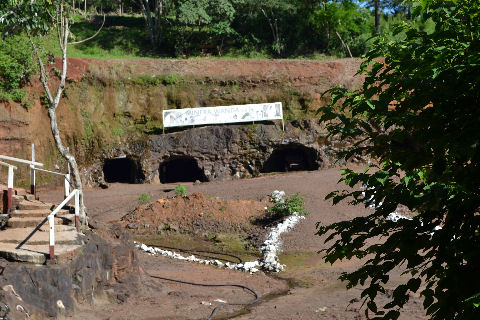 And so, we got picked up by a different van, driven about half an hour to the Minera Wanda (pronounced like Vanda, the owner was Polish), where we paid 50 pesos apiece, plus the tour company's charge to take us there and back (160 pesos), and were deposited in front of the mines.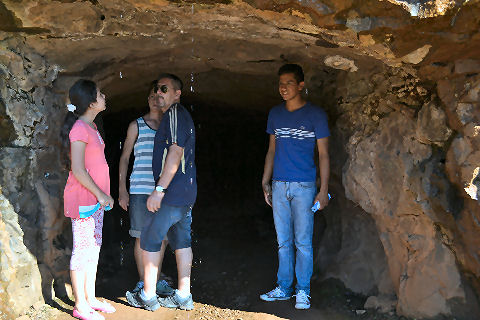 At least we had a cute guide at the mine. The guide from the tour company did nothing but ride along on the van and make sure everyone was on it.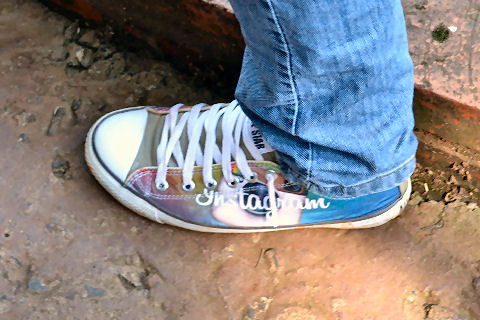 The mine guide's shoes. I Instagrammed them. Just because.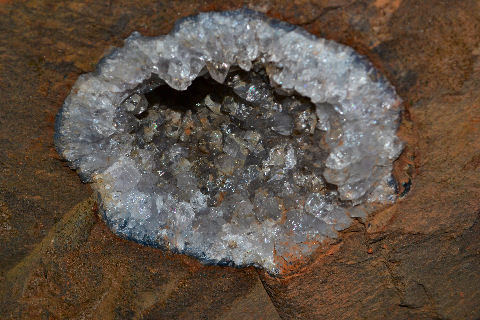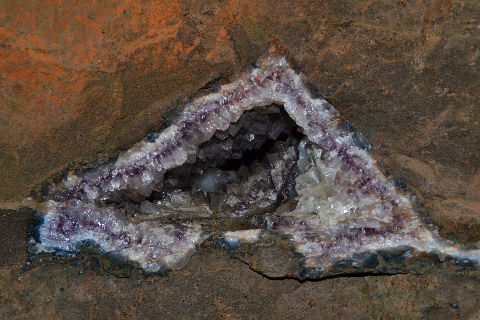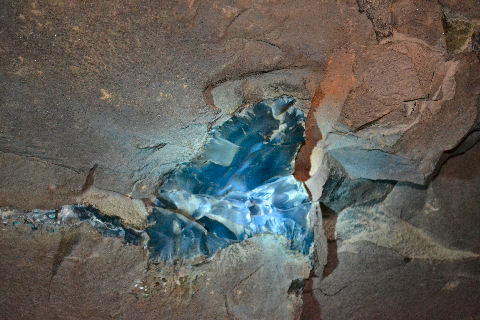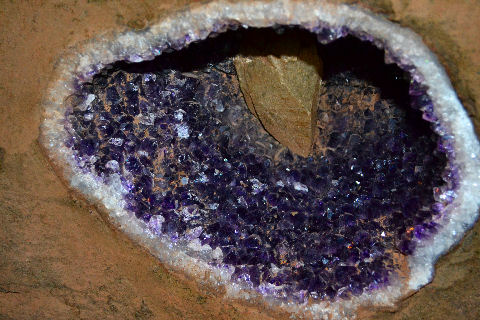 And then we took a half hour tour through the mines with him. We saw pretty crystals that have been exposed and left there for tourists to see. And then we walked back to the parking lot where the tour company guide told us we had an hour to shop at the gift shop. An hour. Then back to the hotel where we relaxed a bit and then headed out to dinner.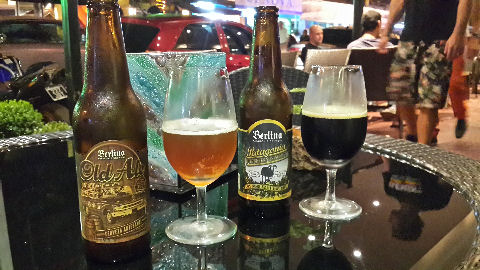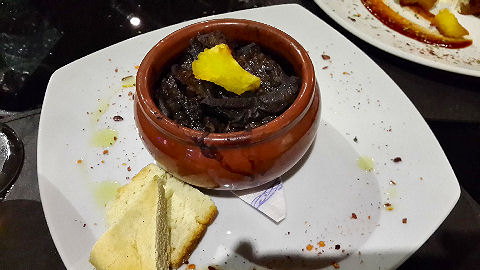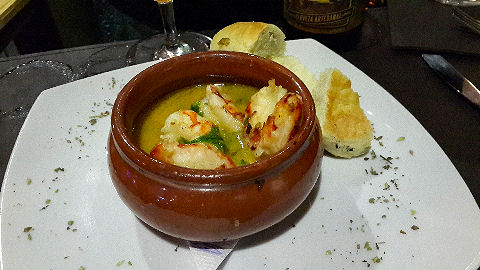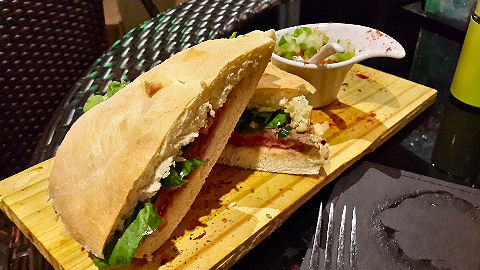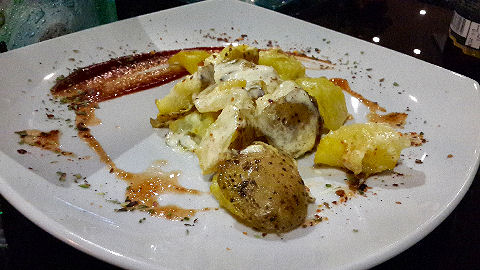 We went to a new place (two month's old) that someone had recommended, Vinosophie, Av. Brasil 136, ostensibly a wine bar with great food. It's a pretty little place. It's got a long, overpriced winelist, but I'd be hard-pressed to call it a wine bar, they have a whopping total of six wines by the glass – a white and red at each of three price levels – not even specified what they are on the winelist, just regular, special, and premium. We ordered beer. And, it turned out that the entire menu is just tapas and small plate food (or at least the printed menu – our waiter never told us and we didn't find out until we saw some other folks getting large plates, that there are two daily main courses – a steak and a fish – available). We had a couple of small pots with different stews – prawns in wine sauce, fish in bechamel sauce (no pic, it didn't turn out), lamb in malbec sauce. We had a steak sandwich. And, we had papas bravas – two plates actually, they were the best thing there. Pretty much all the plates are 50 pesos apiece, the beers 38. A perfectly acceptable casual, light dinner for 415 pesos plus tip.
And then we took a walk through the market, the Feirinha (despite Puerto Iguazu being in Argentina, a large percentage of things are labeled in Portuguese, and we probably heard more of that than of Spanish). I used the phone and just semi-surreptitiously recorded a six minute video as we walked around in the market, so it's not aimed well all the time – there's a section towards the end with a lot pointed up towards the ceiling. You can watch it or no, I decided to just post it unedited.