Wrapping up our four week look back at four weeks of vacation, inspirations from La Paz…. Given that most of what I ate tended to be casual, almost street food, I had to be, first, more selective, and second, more, let's say, stretchy. Some of these are probably a reach from where they started, but so be it, I was inspired.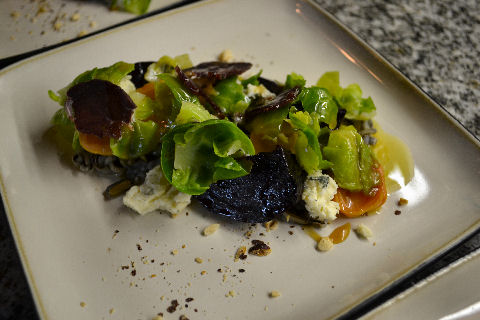 For anyone who followed along on our journey, it was probably clear that the major dine out in La Paz was the 15+ course tasting at Gustu. Not surprisingly, it played a part in the evening's cocktail – a blend of huacatay and quirquiña infused singani blended with plum and tomato juices, and, two of the dishes.
The first of those was the salad for the evening – taking inspiration from a lovely little dish of papalisas, beets and hibiscus shards, here we have a salad of boiled papalisas, roasted beets, blanched brussels sprout leaves, blue cheese, and smoked venison (no smoked llama to be found, you know?) over a bed of wild rice and toasted hazelnuts, the whole thing dressed in a drizzle of a hibiscus tea caramel and an orange vinaigrette.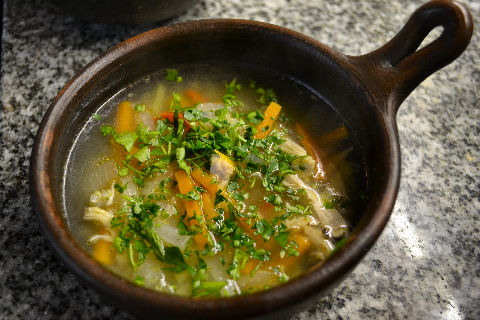 From a lunch out one day, my version of a sopa andina – fresh chicken stock with the chicken shredded into it, quinua, and a mix of vegetables: carrots, red bell peppers, daikon, fennel, onion, and zucchini, plus grated ginger and garlic, and lots of parsley.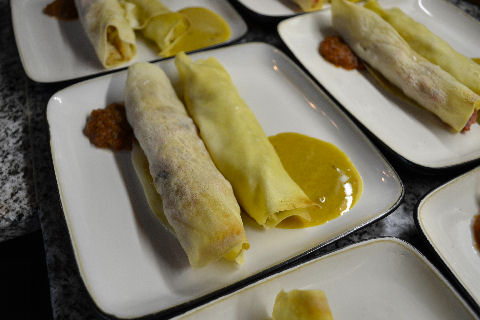 First night of service, this duo of canneloni that I just wasn't happy with, although a couple of guests told me they liked them quite a bit to me it just felt "clunky". Simple, basic semolina and egg sheets wrapped around two fillings – a chorizo and potato one, and a chicken and green onion one, and served, respectively, with homemade salsa llajwa and salsa de maní – the two "hot sauces" that I encountered regularly in La Paz, the first a blend of tomato, rocoto, quirquiña and huacatay, the second a blend of peanuts and mild chilies. The inspiration were the various types of "empanadas" – the salteñas and tucumanes, that I tried on the streets.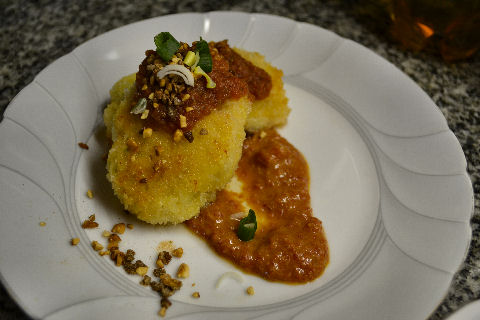 So, a reworking for the rest of the nights, after much mulling – chicken mousse, green onion and potato croquettes served over a chorizo and miso sauce, topped with salsa llajwa, and a crumble of toasted peanuts and ground chili flakes. Far, far better.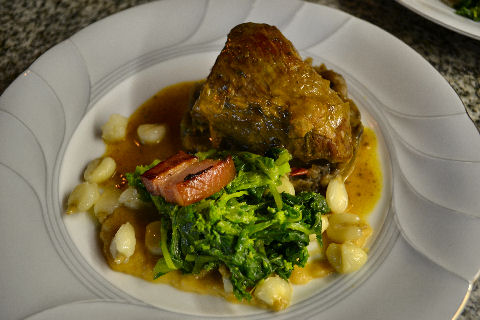 Braised beef, sort of a take off on the fricase from the street markets, seared off the beef, then browned some onions, garlic, rocoto and yellow chilies, deglazed with white wine, added in bay leaves, oregano and mint, returned the beef to the pot and topped it up to just cover with beef stock. Simmered away for a few hours until tender, removed the beef, pureed the liquid sans bay leaves, boiled it down until moderately thick and gravy like, and then kept the beef hot in it. Served over chuño that was sauteed with tomato and green onions, and accompanied by a caramelized onion puree, mote (hominy corn), sauteed broccoli rabe, and oven roasted pork belly lardons. That worked.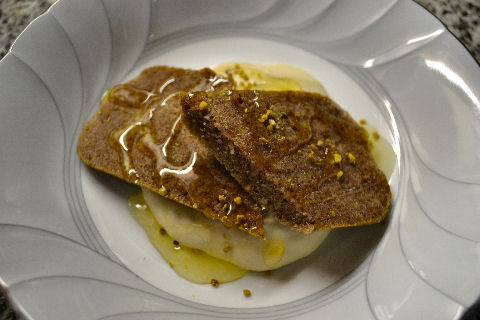 And, back to Gustu and one of the quintet of desserts, here a sour cream, whipped cream and chankaka (dark loaf sugar) mousse with a touch of lemon peel, over that a carob flavored financier dusted with rocoto powder and bee pollen, and the whole thing drizzled with passionfruit syrup.
And that, my friends, my readers, my fellow foodies, is the wrap up of our vacation inspirations – at least as a concentrated effort. More to come down the line, no doubt.