Dan Perlman: Dark Meat Chicken and Celery
Kevin Hopp: Potatoes and Cilantro
Dan:
It was time for round four of our online cooking competition, and we'd just simultaneously tossed off our picks for the challenge ingredients. This one was hard. It doesn't look like it should be – no weird ingredients, nothing out of the ordinary. But, hmmm, does cilantro go with celery? (It does, and there are plenty of recipes out there, particularly in Middle Eastern cooking that use both, once I thought about it.)
I think, though, that it was the very ordinary nature of the ingredients that made this, at least for me, the toughest challenge so far. It wasn't that I couldn't think of anything to make – within 15-20 minutes I had five different ideas for a dish. The problem is, that like the components, the dishes seemed very basic. The whole idea behind this fun online competition is to get the creative juices flowing, and for me in particular, to give a shot at some techniques that I don't normally use in my cooking, just to see how they work. Nothing I'd come up with was at all challenging, either to cook, think about, or eat. I decided to sleep on it and then head to the market and see if I got inspired.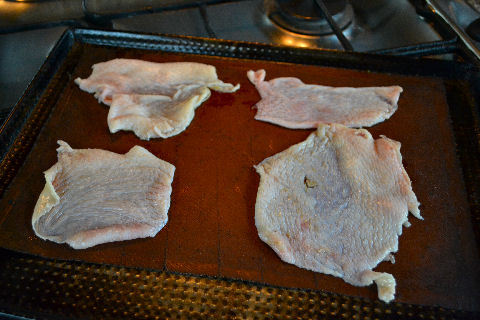 Although not something off the wall, I knew I wanted crispy chicken skin in the mix. Laid out on a baking sheet, dusted with salt, pepper and celery seed and into the oven until crisp and brown.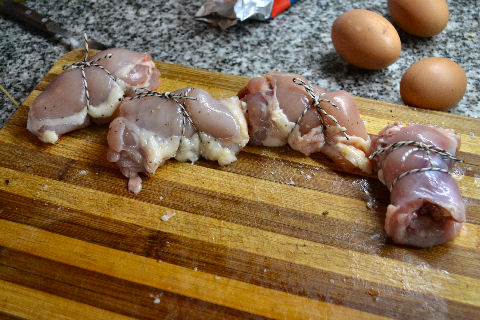 Boned out chicken thighs, again seasoned with salt, pepper and celery seed, rolled and tied, later browned in a mix of olive oil, butter and garlic, then rested and sliced.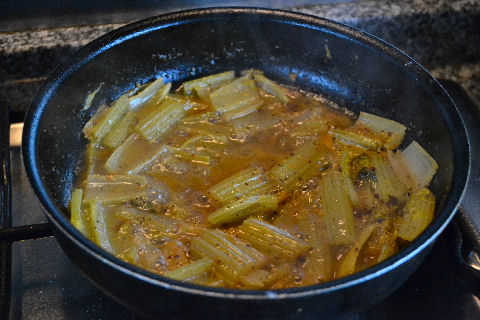 I'd decided that I really wanted to emphasize the celery component, it's not something I normally cook with. So in addition to the celery seed in the seasoning of the chicken and its skin, there were three additional celery components. Earlier in the day, prior to starting, I'd made a concentrated chicken stock, so one component was to braise celery stalks in that with a little smoked mustard. Second component was a celery leaf fluid gel – simply pureed celery leaves with some salted water, added a little agar-agar, simmered it to activate then chilled it to gel and finally blitzed it with a stick blender – it was a little thicker than I wanted it to be, but that was a measurement issue on the gelling agent. And finally, I bleached and dehydrated celery leaves – notes on how to do that here, down at the bottom.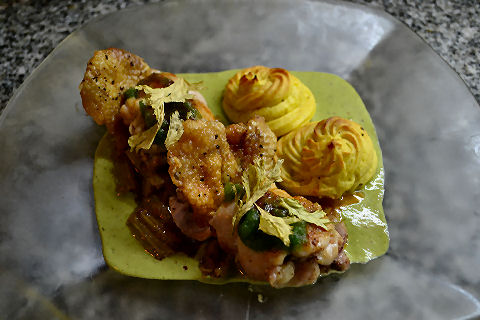 I need to remember to take more photos during the process, as I realize that I don't have any of the potato nor cilantro components. The potatoes – a classic, duchess potatoes – peeled, diced and then boiled the potatoes (roughly 750gm), pressed them through a sieve, mixed in salt, white pepper, nutmeg, 2 egg yolks and 2 Tb butter (I actually forgot the butter, but it should have been there, so these came out less rich and slightly drier than they should have), and then piped out in rosettes, brushed with an egg yolk wash (a yolk and an equal amount of water beaten together), and baked until golden brown.
The cilantro is in the sauce – I pureed a large handful of cilantro with about half a cup of the concentrated chicken broth and a spoonful of miso paste and seasoned with salt and a mild smoked chili (merquén), then whisked it together with an equal volume of heavy cream. Cooked together until the sauce thickened.
So the final plate: a pool of the cilantro sauce on the bottom, a line of the braised celery, topped with the sliced roulade of chicken thigh interleaved with pieces of the crispy chicken skin, topped with the celery leaf fluid gel and, I made a quick finishing sauce by deglazing the pan I'd cooked the roulades in with a little red wine vinegar, added a small spoonful of tomato paste and cooked it to thicken, then drizzled that over the top, a scattering of the dehydrated celery leaves, and finally, the duchess potatoes on the side.
Is it a dish I'd make and/or eat again? I think so – I'd probably make some refinements to it – remembering to put the butter in the potatoes for a start, getting the fluid gel right so it's more sauce-like, and thickening up the deglazed pan sauce as well – maybe a little sprinkle of flour into the oil before deglazing. And I'd prefer a prettier roulade – these were a little sloppily done – perhaps stuffing them with something in addition to the simple seasoning.
—————
Kevin:
I want to start by saying as a home cook I've never learned more about cooking in such a short amount of time as I have with cooking mystery ingredients with Dan. The combinations of ingredients force my nose out of glossy mags and smelly-hand-me-down recipe books.
Not to go long on the nose and I don't want to look down and narrow on today's ingredients – chicken, potatoes, cilantro, and celery are quick to any sniffer on the street. It's about time to give these ingredients something to beep their honker about.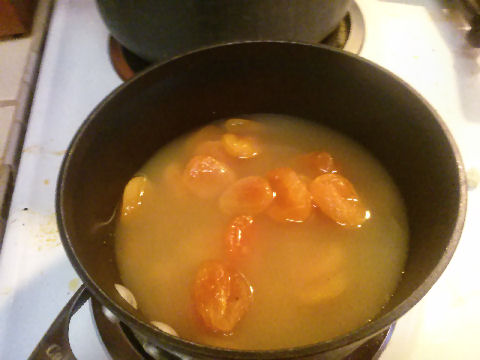 Parsi Apricots and Chicken
4 thighs with skin and bone.
Salt and Pepper your chicken and start off the cooking process by putting a cup of dried Apricots in a small frying pan or pot with a cup of unsweetened apple juice. They need to be hydrated and slightly cooked. So quickly bring it to a boil and turn heat down to a light simmer until they are plump. You'll see that the "dried fruitness" leaves them with lighter nuances rather than the dark color prior to boiling. This will take roughly ten minutes.
On your other burner get your favorite pan to brown chicken and finish off the dish. The chicken is already seasoned, so put those thighs down on hot canola oil. Have the patience for them to brown nicely on both sides and remove. You may want to display to your guests what patience looks like on the skin side of a thigh, but that's only if you've been patient.
Check you apricots and see if they're plump enough and don't have any kind of "does that still look like dried fruit" factor. If they don't, take it off the burner and let your schnoz enjoy one of the first elements of the dish. Next, you're going to want to take enough of the apricot/apple liquid to combine with the garlic and ginger to deglaze the bits-and-pieces from browning the chicken.
There isn't any trick to making your deglaze besides how much liquid you want. In my case, I used about half of the liquid from the apricots because I'm working with a cast-iron skillet. It's hot and it loves to cook. So I used half of the "juice", mixed it with ginger and garlic in a small food processor to have a deglaze. In my case the deglaze cooked off fast but brought the temperature down so the ratio worked out in order to prep caramelizing the onions.
After you see a nice color change and thicker consistency in your deglaze, add your spices – cumin seeds to taste, 5 whole cloves, 2 sticks cinnamon, and cardamom 1/4 teaspoon, and don't let your nose take you away because the onions have to be added after the spices wake up. Which only takes a minute or two.
You want to cook the onions to caramelize them. I'm sure there's a Gordon Ramsey anecdote out there that says – you want to caramelize the onions not your pan. You get the point, turn the heat down a bit, keep an eye on the onions, make sure they are cooking thoroughly.
When the onions are near al dente, turn up the heat and add the rest of the apricot juice and as many apricots as you want – they will not end up tasting sweet whatsoever.
Make it boil, add the chicken thighs and cook until done.
Remove thighs and finish cooking the sauce off with as much Madeira wine to taste which will determine the sweetness of the dish. I wouldn't be surprised if some chefs add butter and cream in light quantities.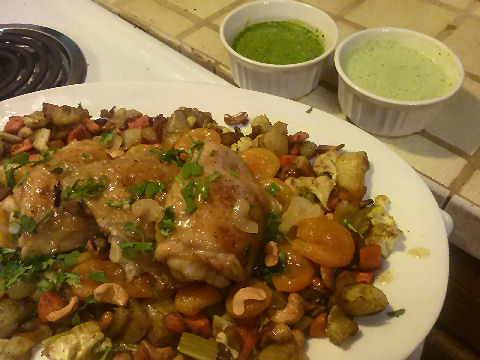 It was over the top delicious with the curried hash, caramelized onion, savory apricot and cilantro hot sauce. Way out of bounds for home cooks looking to bring something new to the table.
Cilantro Sauce (hot)
2 TBsp Whole Milk Yogurt
Bunch Cilantro
Chili Peppers and Seed Count to taste
Lime
Ginger
Garlic
Sal
Cilantro Sauce (cool)
8 TBsp Yogurt
Bunch Cilantro
Green Onion
Lemon
Sal
Curried Hash
Madras Curry
Cumin
Cardoman
Black Pepper
Sal
Celery
Carrot
Cauli
Potato
—————
We've had problems using the tinychat video chatting service – microphone feedback, blurry transmission, people having difficulty connecting. This week, the problems got to be too much, so we switched over to a Google Hangout – it wasn't hard because it was just us and one other person chatting with us – the video transmission is great, but it requires more work to set it up as we have to invite each person to the chat (and they have to have a Google account) and I think it's limited to ten participants. We'll take suggestions on other venues that are less restrictive.
Other ideas we've been bouncing around. First, we're going to extend the reveal time – we'd originally done the 24 hours in advance to sort of edge up the idea of competition, but it really isn't a competition, we're just having fun being creative. We don't have pantries to run into and select ingredients and we're both finding that having to run out and do shopping around other activities at last minute is sometimes difficult. Plus, we've heard from some others who wouldn't mind joining in that they didn't find out about it or the details until too late to join. So we'll probably give it something more like 3-4 days.
We still need a name for these fun events! Beyond just being silly, the TMCIC moniker is likely to at some point mean I'll get a cease and desist note from one or another television station's lawyers.
We're considering mixing up the format a bit – not always doing the four ingredient idea, but maybe some things like – a type of dish from a specific cuisine, or a reinterpretation of a classic dish.
Several people have asked about video rather than just a few photos. We're talking about it. It's a fair amount more work, especially if we're going to edit each video stream down to a watchable length, add captions and such, and even more so if we try to interleave the two or more videos from both of us and possibly more cooks. On the other hand, we wouldn't necessarily need to do write-ups, we could just post the videos.