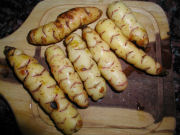 Buenos Aires – As promised yesterday, I'm playing with my second tuber today. The oca is one of the "lost crops of the Incas" as some authorities have tagged it, along with the olluco and olluquito that I talked about already. Both are important staple foods of Andean cuisines, and are grown along with a wide variety of potatoes. The oca is a member of the wood sorrel family. It has a flavor similar to a potato (slightly more vegetal to my tastebuds), and can be used as a substitute in a wide variety of recipes. Being unrelated to the potato, it's wonderful for folks who are allergic to potatoes but still want those sorts of dishes.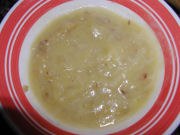 The oca has a touch of sweetness to it (in English it's sometimes called the New Zealand Yam), and traditionally in the Andes it is left out in the sun to dry slightly and increase it's sugars. It is then treated much as a sweet potato or yam might be – Henry's recommendation was simply to boil them up and then mash them with some butter, milk and sugar. Who am I to say "no" to such an idea? The result was much like a sweetened breakfast cereal – it reminded me quite a bit of Cream of Rice.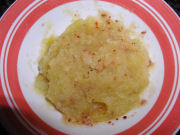 In searching through various internet sites I saw several recipes that were more on the savory side. The most interesting, and simple, recipe I took from the Mexican tradition of serving these raw with a squirt of lemon and some salt and hot pepper flakes sprinkled on it. That is typically done with young, fresh tubers – since mine were a little larger and drier, I decided just to make a second version of mashed – for half a dozen ocas I used the juice of half a lemon, a large pinch of salt, and the same of hot pepper flakes (ají molido). I think next time I'd add some butter as well.
All I can say to both recipes is another resounding "Yum!"
And hey, if you don't have ocas available locally, give either of these recipes a try with your favorite potatoes.