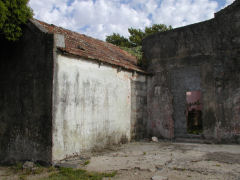 Colonia del Sacramento – At the port yesterday I was met by my, as I put it, handler, Laura Nervi. She turns out to be a charming and delightful travelling companion, she's an agronomist for the national institute of wine, INAVI, and handles touring around folk like me in all of her spare time. We have a van and driver and our disposal for the entire four and a half day period, life is good. We started off the day with a short tour, mostly walking, around Colonia del Sacramento. We kept it a little bit cursory, since although it was part of our assigned official itinerary, I've been to Colonia twice before and had one in-depth tour of the city. Laura did point out that this lovely house on a corner just inside the main wall of the historic district is for sale – conditional on complete restoration to usable condition and all the associated historic preservation rules. We stopped and had coffee at El Torreón, and then, when we'd waited the appropriate amount of time, hopped back in the van and headed out just north of town for our first appointment.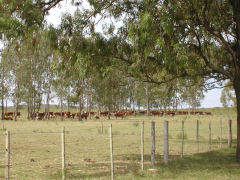 Los Cerros de San Juan – Half an hour's drive found us in the hills of San Juan at Uruguay's oldest winery, of the same name. Los Cerros de San Juan was founded in 1854 by a German woman who purchased four plots of land between the Rio de la Plata and the Rio de San Juan. She established not only the winery and vineyards, but other crops, and a cattle ranch. At its peak, Los Cerros had 900 people living on its grounds (though many of them were children or spouses of employees) and was basically a completely self sufficient community – there were, and still are, two schools on the property, one at either end, a small general store, a bakery, a butcher shop, a laundry, and a small restaurant, all of which provided for the family and the families of the workers. Virtually all of those things are still operating under the current ownership, a Basque family that bought the property in 1988; in fact, the cattle ranch still supplies meat, and the bakery supplies fresh baked daily bread, for the 50 families that currently live on site, temporary workers brought in as needed, and supplying the operating restaurant for guests.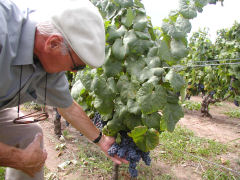 We were met by Señor Abbona, the Maestro de las Cavas, or Cellar-Master, who has been with the winery for virtually his whole life. He first took us on a tour of the grounds which encompass nearly four square miles (slightly under 1 square mile, 550 acres, is the vineyard and winery, of which only 110-115 acres are planted with vines); the cellar, which included a sub-cellar filled with a quarter million liters of water that are circulated to cool the fermentation tanks; and later out to visit some of the individual vineyards, including a still productive plot of Tannat with vines that are well over a century old. We enjoyed a look through the public tasting room, which is also used as a restaurant, and, in which, after tasting through a sampling of the vineyard's wines, we sat down to eat.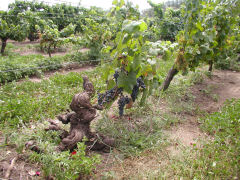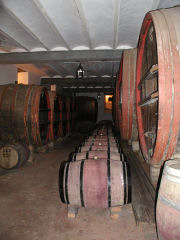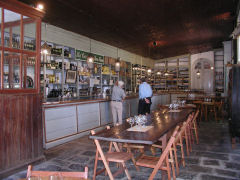 First, the tasting notes, then the food. The wines are divided into five "lines" – from a basic, easy drinking line called San Juan Fiesta, to the daily table wines of San Juan, to the reserve wines of the Cuna de Piedra line, to the oak aged reserves of the Maderos line. There is also a new, experimental organic line – only 4 acres are organically grown Cabernet sauvignon, and the first vintage was just released. Of note, in 1971 Los Cerros was the first Uruguayan winery to bring in, plant, and produce, Cabernet Sauvignon.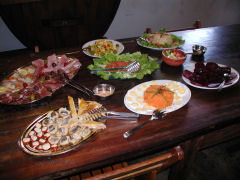 Los Cerros de San Juan has a fulltime "chef" on the property. I put chef in quotes, not because he doesn't cook spectacularly well, but because his official job is apparently in the marketing department – however, he loves to cook, and takes every opportunity to do so for visitors whom are staying for a meal. We started off with an array of fresh salads, everything from a simple lettuce and tomato salad to an ensalada rusa (not a personal favorite, sort of a weird potato salad of potatos, peas, and carrots in watery mayo), fresh beets, corn salad, carrot salad, mixed pepper salad, a tray of various salamis, chorizos, prosciuttos, and cheeses (all locally made), and some interesting hors d'oeuvres as well.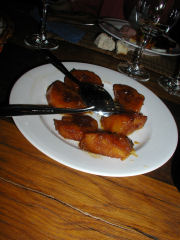 From there we moved on to two reasonably light, and truly wonderful dishes. The first, a hauntingly good plate of caramelized batatas, or yams. You'll have to experiment, as I will, but I can tell you that Antonio boils the batatas in their skins until just barely done, then peels and slices them. He makes the caramel separately from a reduction of Riesling wine, a touch of butter, three different sugars (white, raw, and dark brown), and finishes it with a bit of freshly squeezed orange juice and hint of mustard. He then candies the batatas in that mixture, cooking over high heat until everything browns nicely. These are easily the best candied yams I've ever had!
Amongst the platters of foods that it is just hard to beat is the combination of potatoes and onions.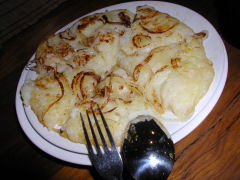 Whether fried, baked, broiled, gratineed, or any of the other cooking methods you might think of, these two ingredients complement each other perfectly. Here, Antonio first boiled the potatoes until cooked through but still firm, then peeled them, let them cool, and then grated them coarsely. Then, he sautes the grated potato in butter. Meanwhile, he sautes thinly julienned white onions in olive oil until transluscent. He then proceeds to layer these two items in a pan, onions first, and then cook the whole mixture in the oven until the bottom and top both brown slightly. He then flips the whole thing out onto a plate where it becomes amongst the best "mashed" potatoes you'll ever eat.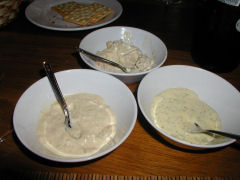 I've had some offbeat "palate clearers" in my days of eating out, but I have to admit, these were the strangest, even for a more or less light lunch of salads and potatoes. A trio of sauces was served with a plate of simple saltine type crackers – all three based on mayonnaise. The first, a provençal, or parsley and garlic mixture stirred in; the second, a puree of slightly smoked sardines, and the third, spoon tender cubes of spiced lamb! After "clearing our palates" we finished off lunch with a dish of ice cream and a cup or two of coffee. At that point, of course, we were ready to move on to the next winery… to be continued in the next post.