"…I intend writing a history of my wanderings in the Banda Oriental, and I will call my book "The Purple Land"; for what more suitable name can one find for a country so stained with the blood of her children? You will never read it, of course, for I shall write it in English, and only for the pleasure it will give to my own children–if I ever have any–at some distant date, when their little moral and intellectual stomachs are prepared for other food than milk."

– W.H. Hudson, Author, The Purple Land
Buenos Aires – The mind is a curious thing, and it's dark inner workings, perhaps, at times, are best left unshared. But that would be unfair to my readers, who've come to expect to follow me on the twists and turnings of how I make decisions on our Casa SaltShaker dinners. Trust me, I didn't share this one at the opening the evenings. The date, Friday the 13th, October, 1972. 35 years ago this weekend. High in the Andes. You remember. An Uruguayan plane crashed. Survival decisions had to be made – seventeen of the forty five passengers had already perished – those remaining… needed sustenance. You've seen the story on film, or you can figure it out from there. My thoughts latched onto the story, and from there I jumped to the book I've just finished reading through – La Nueva Cocina Uruguaya by Hugo García Robles – a look at how a handful of intrepid Uruguayan chefs are reinventing the country's classic cuisine. And, away we go…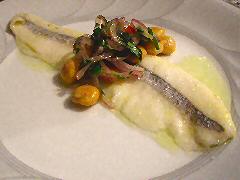 A good portion of Uruguayan cuisine derives from the Spanish. And you all know one of my favorite dishes is a simple one – boquerones – those delicious vinegar and oil preserved anchovies. Taking a cue from one of the chefs in the book, Juan Pablo Clerici, and his tiradito de pejerrey, I headed out a day or two early and bought up a couple of kilos (which turned out to be way too much, but mostly because we had several last minute cancellations and no-shows this weekend) of fillets of pejerrey, what we would call a silverside, and cured them in a mix of apple cider vinegar, olive oil, salt, white pepper, and ají amarillo. Instead of his somewhat traditional plating, with strips of piquillo peppers and a few scattered capers, especially when I couldn't find a piquillo pepper anywhere, I ended up on more elaborate presentation – first topped with a small handful of fried capers and lupin beans, and then a small salad of thinly sliced red onion, finely diced hot peppers, cilantro, and salt. If I were to make these again, I'd go heavier on the vinegar and salt, but I really liked this dish – very simple, clean flavors, and that of the fish really shines through.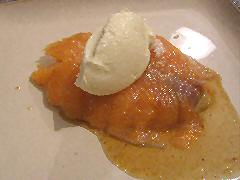 Next up, a dish that started off with an idea from chef Marian Caviglia, who caramelizes rounds of sweet potato in honey, soy, and balsamic and then tops them with cream cheese and smoked salmon. It immediately reminded me of the caramelized yams I had in Uruguay a year and a half ago, visiting the winery Los Cerros de San Juan, using a touch of wine, mustard, fresh orange juice, and mixed white and brown sugar… they're still the best candied sweet potatoes I've ever had. I served those, just out of their caramelizing bath, topped with a nice slice of smoked salmon fresh from my favorite local pescadería, and then, of course, a good dollop of my own homemade cream cheese. This was my favorite dish of the evening, and I've already heard back from several guests about how much they loved this one!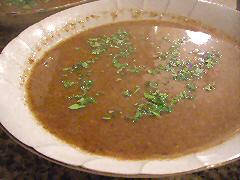 Uruguay seems to have an abundance of good, fresh, wild and cultivated mushrooms, and a hearty mushroom soup is not uncommon. I took my inspiration from chef Felipe Bono, who serves up a simple chicken broth with a medley of mushrooms, and a bit of crumbled bacon atop. I went a bit of a creamier route – and this soup changed during the three nights. On the first, I had all the whey left from the cheesemaking, and that, mixed with concentrated chicken broth, became the stock, into which I put a good amount of smoked deer meat – I'd had two requests for the weekend for "no pork", so bacon was out, and one of the local meat markets had some lovely strips of smoked venison… so into the pot! White button mushrooms and portobellos, coarsely chopped, and then after it had all simmered together a bit, I roughly pureed it with the hand blender. Night two, with about 1/3 of a pot of the soup left, I literally "beefed" it up – I'd left a pot of beef stock on overnight from some leftover bones and lots of vegetables, so I strained it and added it to the stock, along with more smoked venison, more mushrooms, including some oyster mushrooms which I spotted while out at the market. Same process, and the same on night three, by which time the chicken/whey had pretty much, I'd imagine disappeared. It's hard to say which version I liked best – the first offered up more mushroom flavor because of the lighter stock, but the later version was a much richer, heartier dish. Tough call – but very good!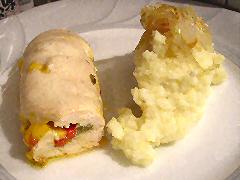 On to the main course and something a bit more traditional. The pamplona is arguably Uruguay's national dish, though probably going head to head against the chivito uruguayo. At its heart, it's quite simple – pork, beef, or chicken wrapped around a filling of cheese, olives, and… other. Which seems to depend upon the cook involved. The traditional cheese, pretty much tasteless pizza mozzarella. I went with some beautiful gouda that I spotted at the cheese shop. Given the request for no pork, I went with chicken, and took chicken breasts and pounded them out thin and flat. Then, into them, a slice of the cheese, some chopped green and black olives, and some roasted red peppers. A little salt and pepper for seasoning – really simple. Pan roasted, trimmed off the ends, and served them up with good mashed potatoes topped with some fried onions. It doesn't get much simpler… or tastier… than that.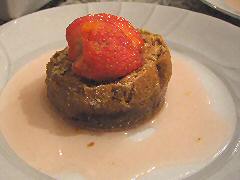 Finally, on to dessert, and a vastly simplified version of chef Olivier Horion's fondant de chocolate bitter con sorbet de limón verde y champagne y coulis de pétalos de rosa, which, despite looking delicious on the plate, had me falling asleep by the second "y". A chocolate fondant, basically a flourless chocolate cake (300 grams of melted bittersweet chocolate, 12 eggs separated (whites whipped to stiff peaks), 160 grams of sugar, all mixed together and baked in ramekins – it will fall like a souffle after coming out of the oven, and end up with a center that's sort of fudgy), in this case served up with a simple ripe strawberry atop, and surrounded by a syrup from rose petals – literally just sugar syrup infused over heat for 20 minutes with red rose petals, some lime juice added, and then left to sit for a couple of hours, then strained.
Overall, a delightful dinner, I thought. A shame for those who missed it, for whatever their reasons. And, a far cry from cannibalism, especially when you're not involved in a high mountain plane crash.