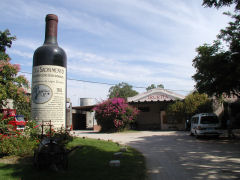 Carmelo – This community along the western edge of Uruguay has a population of a mere 16,000 people (including the "weekend ranch" of Argentine diva Susana Gimenez). The town is, simply, dominated by the winery Irurtia, the giant bottles of which are scattered here and there throughout the town. Dante Irurtia is the present day owner and a descendant of the winery's founder, Don Lorenzo Irurtia, who launched the winery in 1913. Dante has been the sole owner since 1954, though he has clearly turned more and more of the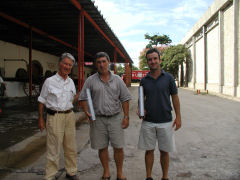 day to day details over to his two sons and one of his daughters, who are active in the business. Irurtia is at the opposite end in terms of style from Los Cerros de San Juan, reviewed in my last post. In comparison to Los Cerros' 2400 acres (4 square miles), of which 110-115 are planted to vines, Irurtia has a 9000 acre property (14 square miles), the vast majority of which is planted to vines; and with the exception of a small planting of Nebbiolo from Italy, all the vines are French varietals. Dante is a former senator for the province of Colonia, in which Carmelo is located, and as such is a well respected, well liked, and well known figure in the area.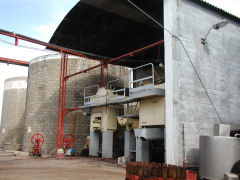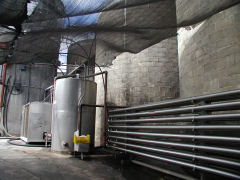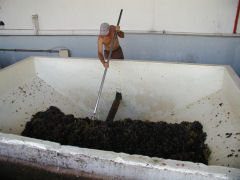 Fermentation in large, epoxy lined cinder block tanks is
de rigeur
here, with tanks weighing in at anywhere from 12,500 to 151,500 liter capacity. The aging tanks range from 3,000 to 9,500 liters, plus the winery maintains a small supply of 225 liter barriques. Two large refrigerated rooms are used for wines that need to be fermented slowly in a cold environment – one for stainless steel tanks, the other for barrels. The winery also produces a selection of grappas, and in fenced in areas alongside the family homes, raises goats and ñandu (the South American ostrich, or rhea), for, respectively, cheese and meat.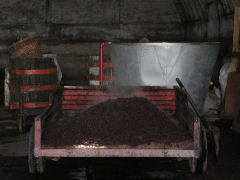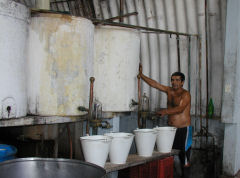 —————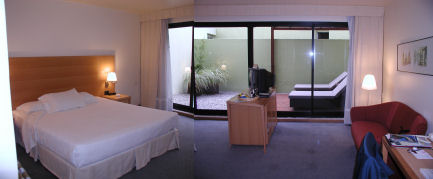 Montevideo – It is quite common on press and PR trips for journalists to find themselves put up in hotels that are of, shall we say, dubious quality. I think the general attitude is that, hey, we paid your airfare, we're getting you food and wine, we're driving you all around, we're going to save some money on accomodations. I remember going on a trip to Alsace with a dozen or so other writers and finding myself in one hotel where I had to climb onto the roof and cross it to get to my room, which was an old turret on the building, not exactly the height of luxury. Uruguay is clearly pushing for journalists to be taken care of, and if they're smart, they'll keep doing it. After our later winery visit we headed east to Montevideo (about a 2½ hour drive) where I found myself deposited at the Meliá Confort hotel, a 4-star luxury business and tourism hotel at R. Héctor Miranda, 2361 in the Punta Carretas section of town. Four nights here in a room big enough to be an apartment, high speed internet, a shower bigger than my bathroom at home, and it's own private outdoor sunbathing area (not that I'm here during the day to take advantage of that).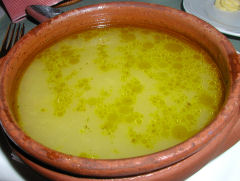 Having arrived late, a little after 10 at night, we decided not to head out to a restaurant, and Laura headed for her home. I opted to have a light dinner in the hotel's restaurant, Mediteráneo. A party of five was just finishing after dinner coffee, so I quickly found myself the sole occupant of the dining room. I hate to judge a restaurant from a mere two dishes, and without having a chance to have seen the staff in action, so to speak, but sometimes you can tell a lot from a few simple things. I started with the day's special soup, a vegetable soup. The broth itself had good flavor, a deep, rich, mixed greens sort of broth, almost like a traditional southern pot licker, dotted with a bit of olive oil. But it was little more than just the broth. There was a thin layer of finely grated carrots and celery on the bottom of the bowl, but no more than a few spoonfuls of solid matter. Overall, the flavor was good, but either the execution was flawed, or it needs to be described better. [Both the restaurant and the hotel have closed and been replaced.]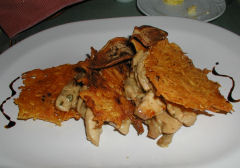 The chicken fricasee, on the other hand, was a testament to an attempt to get away with poor cooking. The chicken itself was tender, though the mushroom sauce that accompanied it was floury and underseasoned. It was accompanied by three potato rostis, but rather than what they should be, tender rounds of potato shreds browned on the outside (sort of like a giant flat tater tot), these were thin and cooked until as dried out and crisp as a dietetic rice cake. And, to make matters worse, the two that are partially hidden by the presentation were completely burned on the buried portions. Overall the dish was basically inedible, and I nibbled at the chicken, pushed the rest around on the plate, and gave up. I declined dessert and headed up to my room for a good night's sleep. My negative impression was backed up this morning with a revisit to the dining room for an undrinkable cup of burnt, acidic coffee, and dried out, flavorless croissants.