It's hard to believe it's been eight years since my big tour of Uruguayan wineries. It resulted in a series of blog posts starting here and an article in Wine Business. While Uruguayan wines are more readily available in the States than they were at that time, they're still pretty scarce – much of that is simply production quantities, but it's also the whole "unknown factor". Let's face it, most people probably have little or no idea where Uruguay even is. Here and there I've spotted articles on the topic, it's kind of fun to have been one of the early writers on it.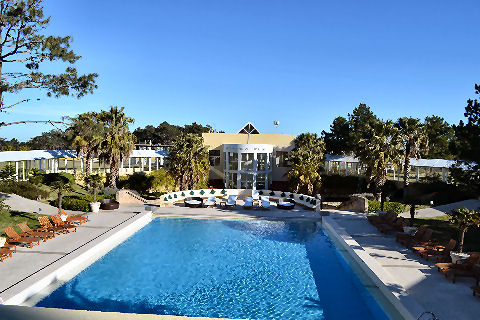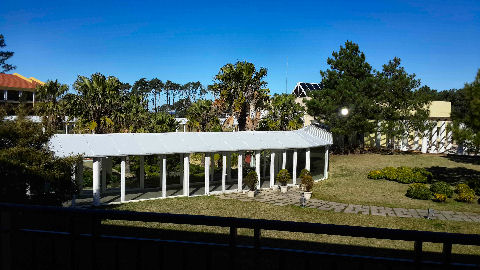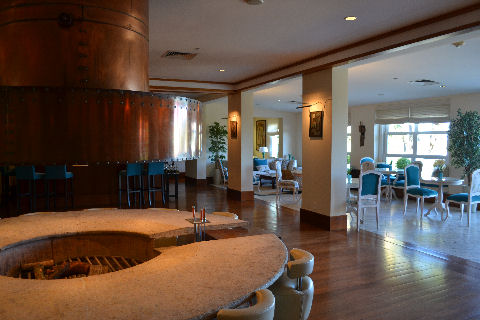 A couple of months ago I was contacted by the owners of a relatively new venture, Bodegas del Uruguay. They live nearby and we met up for coffee and a bit of a chat. They offered me an all expenses paid trip to the 4th Salón de Vinos y Gastronomia in Punta del Este, contingent on me being part of a panel of "wine experts" for a bit of a tasting of some of the wares they represent. Who am I to turn down something like that, even coming so closely on the heels of a long vacation. So, I scheduled fewer dinners last week and headed out over the weekend for a couple of days on the eastern shores. The venue, Mantra Resort Spa & Casino, a beautiful setting I must say. It turned out that the other eight invited experts are all wine writers of one sort or another – I suppose, at least, historically, I'm a bit of a wine writer as well, though it's not the first thing I think of when asked to describe what I do. An interesting group gathered from Uruguay, Argentina, Brazil and Chile.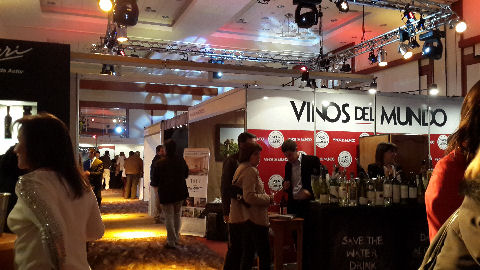 Our only task was to participate in a roughly three hour "speed tasting" – not so speedy actually given that we were only tasting 19 wines during that time, but we sat in groups of three and gave tasting notes to someone who recorded them – and then later on in the evening, and the next day, during the festival, our comments were projected up on a big screen next to a tasting booth of the wines. The rest of our time was pretty much our own. We had the offer of a couple of trips to local vineyards, I took them up on one of those, we had time to relax and enjoy, and, we were free to eat at either of the restaurants in the resort or just opt for room service, over the course of the weekend. Oddly, given my past invited trips in the field, the resort wasn't offering everything gratis, just food – we had to pay for beverages and for the use of the spa (at a discount) – in my limited experience anyway, that's kind of unusual for a property hosting journalists whom they want to write about the place. But, I offer up my thanks for what was provided, overall it was an enjoyable stay.
On to the wines (by the way, the festival was attended by roughly 800 people on Friday evening and another 1200 on Saturday). Although I have detailed analyses scribbled down on each wine, that gets kind of dry for non-wine folk, so I'm just going to note some quick thoughts about each:
Gimenéz Mendez Espumoso Reserva Extra Brut – the only sparkling we tried, half Viognier, half Chardonnay – a bit of vanilla and green apple – not an overly expressive wine and a touch of sulfur that needed to blow off. Good.
Casa Grande Albariño 2014 – a very green wine, lots of bell pepper, grass, stemminess, little or no Albariño character, and the finish was a weird mix of bitterness and residual sugar. Not a fan.
Garzón Albariño 2014 – sweet apple, papaya, a bit herbal – much more classic flavors for the grape and far better quality, a touch off-dry. Good.
Laberintos Sauvignon Blanc 2014 – a very austere sort of Sauvignon Blanc with a lot of minerally elements – oyster shell, almost a touch briny; citrus and a bit of green bean and green leaves rounded it out. A fairly high acidity wine that definitely needed food to tame it. Good.
Marichal Reserve Pinot Noir blanc de noir Chardonnay 2012 – a quite interesting wine (60% Pinot noir and 40% Chardonnay) that I've had once before , describing it then as being like a bubble-free Champagne, a description that still stands. Well balanced mix of apple and berry fruit with moderate acidity, a bit of toffee and oak on it. I like this wine.
Quinta Santero Marselan 2013 – An unusual grape, Marselan, I've only had one other, from Familia Zuccardi here in Argentina – although not overly complex, it's got really lovely black cherry fruit with spicy notes of cinnamon and ginger and a bit of earthiness. Another wine I liked.
Ithaca Cabernet Sauvignon 2011 – pretty classic, basic Cabernet flavors of black raspberry, graphite, green leaves, plus a bit of oak. We did find it to have a bit of bitter stemminess, particularly on the finish. An okay wine.
636 Premium Blend 2009 – 40% Tannat, 40% Merlot, 20% Cabernet Sauvignon – an interesting blend, with flavors of cooked plum, white pepper, licorice and vanilla. The finish was rather short, it just sort of dropped off a cliff almost right away, still, a decent wine.
Bouza Monte Vide Eu 2011 – On my big tour I visited Bouza, and have since become FB friends with Elisa, the owner, though we rarely talk. This was a wine I didn't try while there – 50% Tannat, 30% Merlot, 20% Tempranillo – really fascinating and complex amalgam of flavors – with very ripe red fruits, oak, and green tobacco standing out. I liked this wine a lot.
Artesana Tannat Zinfandel Merlot Reserva 2011 – 55%-25%-20%, respectively – blackberries, milk chocolate, lots of spice, oak, just a hint of green stems, beautifully balanced and drinking perfectly right now. My favorite of the tasting.
El Preciado Gran Reserva 2011 – 56% Tannat, 18% Cabernet Franc, 14% Cabernet Sauvignon, 7% Merlot, 5% Tempranillo. As this wine was being poured we could (at least at our table) smell that it was corked before even getting close to the glass – strangely, the other two tables didn't seem to notice it at all until we mentioned it, rather odd I thought as it was so blatant. Replacement bottle better – black fruit, spice, apple skin – but also a heavy dose of Brettanomyces, a type of yeast that results in a sort of shoe polish aroma that in small amounts can be interesting, but this was over the top. Add to that really bitter tannins and this just wasn't a wine I would want to drink again.
Pizzorno Select Blend Reserva 2011 – Another winery I've visited, twice in fact, and have become friends with the owners. 60% Tannat, 30% Cabernet Sauvignon, 10% Merlot – red plums, and the unmistakable aroma (for me) of cinnamon red hots, soft tannins, a touch of earth, green tobacco, well balanced, just a hint of volatile acidity on the finish. A quite good wine.
Alto de la Ballena Reserva Tannat Viognier 2010 – 85%-15%, respectively, and partially made in the ripasso method – the Viognier is fermented first and then the skins are blended in with the Tannat during fermentation. Black fruit, a whisper of canned peaches, vanilla, peach blossom, wet stone, black pepper and green leaves. Nicely complex, well balanced. Excellent wine.
H. Stagnari Tannat Viejo 2012 – old leather, oak, red fruits, raisins, for me, a bit out of balance with really low acidity and really high alcohol. Just okay.
Campotinto Tannat Reserva 2012 – black fruit, dried fig, sweet oak, and a weird bit of what I'd call "vegetable ash" – that same flavor that shows up in many amaros, or herbal digestifs – sweet tannins, moderate acidity. I just found the wine a bit weird for my tastes, but it was a well made, decent wine other than that.
Salto Chico Tannat Reserva Especial 2011 – the only bottle available for tasting was so packed with Brettanomyces and mercaptins (basically, hydrogen sulfide – aromas of garlic, onion) that it was undrinkable as all that we could taste was shoe polish, onion, musk, and a vague hint of black fruit and sweet oak, and way too much residual sugar on the finish. While we agreed to try another bottle later at the salon, that's not an individual bottle problem, it's something in the whole batch, and indeed, the bottle at the salon was no different. Unfortunately someone's wine has to be the worst of the tasting and this was it – something was just clearly wrong with, probably, that particular barrel – though that should have been caught before it ever got to our tables or the salon.
Don Pascual Colección del Fundador Tannat 2011 – milk chocolate, oak, sweet red fruit, herbal, black pepper, rather high acidity, though not off the charts. A decent wine.
Maderos Gran Reserva Tannat 2011 – red fruit, allspice, green leaves, new leather, oak, fairly high acidity and a touch of stemminess, but overall well made. A good wine.
Toscanini Reserva Tannat 2010 – cocoa, old leather, more Brettanomyces (interesting, I've never encountered this much at any tasting, anywhere – I'm wondering if it's relatively recent problem in Uruguayan winemaking, as I haven't noticed it in the past), red fruit, vanilla, green stems, volatile acidity on the finish. Just okay.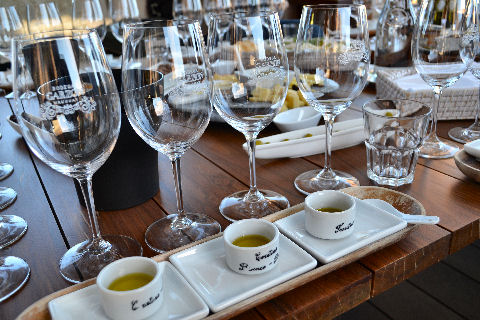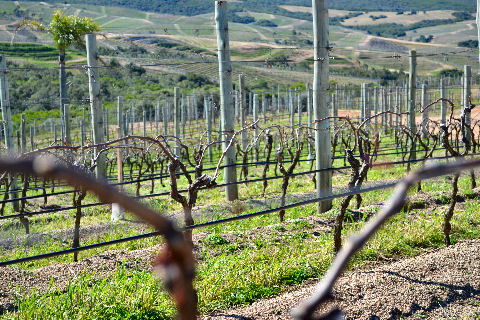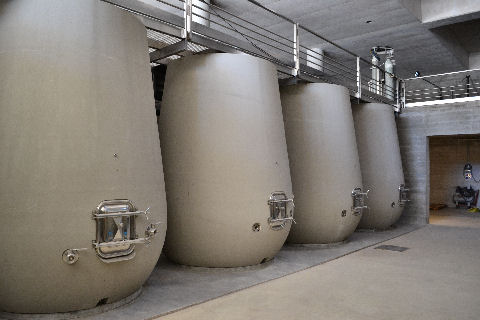 As I mentioned, I went on one of the winery visits, to Colinas de Garzón (part of Agroland, S.A.). Beautiful property, huge – at one point we were looking out over the grounds, a mix of vineyards, olive and almond groves, dairy farm, and more, and in the distance we could see the shoreline, some 18 km away – turned out it was all theirs. They're in the midst of building a new winery facility and while they didn't say anything as we busily snapped photos, at the end of the site tour they asked us not to publish any photos of the construction for some sort of financial reasons which I didn't understand. So, not of the building, but I think they probably won't mind my posting a photo of the "concrete eggs" – a type of fermentation tank I've read about but not seen before – supposedly the shape improves the fermentation process. We had a nice little tasting of olive oils, olives, cheeses, and some of their wines – just quick notes again:
Sauignon Blanc 2014 – green pepper, grass, underripe pineapple, moderate acidity, good finish. Good wine.
Viognier 2014 – apricot, white peach, butterscotch, short finish. For me a bit too sweet and short.
Albariño 2014 – notes above (3rd wine), virtually identical, though I also noted a bit of wet stone in the mix.
Tannat 2012 – black plum, clove, oak, low acidity, sweet tannins – an easy drinking wine, but nothing to sit up and pay attention to.
Given who was in the group I think we all found it a little odd that they didn't offer to have us taste any of their more premium wines, their reserves, just the four most basic ones.
I tasted through a lot of wines at the salon as well, but didn't take copious notes. The standout for me was the Pizzorno Primo 2006, a blend of Tannat, Cabernet Sauvignon, Merlot and Petit Verdot that was deep, rich, complex and just an all around winner. Had we tried that one during the sitdown tasting it would likely have been my favorite.
One of these weekends I should do an Uruguayan wine pairing dinner – I have to find out just what's available out of the various wines I've enjoyed.