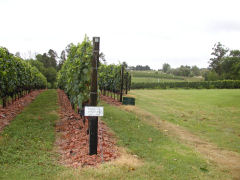 Montevideo – Sated from our little asado lunch (they made me take second helpings of both lamb and beef), we piled back into the van and headed generally towards Montevideo. Our remaining goal, two more wineries, but with a minor twist to help us pack a little more tasting into our remaining time – we were only going to visit one of them, the other was going to bring their wines over and we'd taste both together. Good in some respects, i.e., the whole saving time thing, and we were definitely wearing out; but, on the other hand, meant I wasn't able to either take photos at the second, nor get any solid human or family feel to it. Next visit…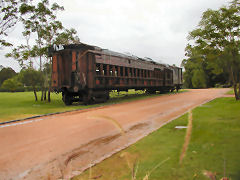 Imagine if you will, the bridge of the Starship Enterprise. Gleaming consoles, light panels blinking, computer screens flashing information, glass, plastic, and chrome. Okay, it's all in a 10'x10′ room, but stepping into the control room of Bodega Bouza was surprising, because from the outside, with its beautiful older buildings and the rickety lines of old train cars on the grounds, I wasn't expecting a whole lot of technology. The train cars, by the way, are planned to be "either a tasting room for special functions or a sort of boutique sales area". While a cool idea in some respects, I'm not sure why they would do either – the winery is just four years old, and they've got a beautiful brand new tasting salon and wine shop on premises.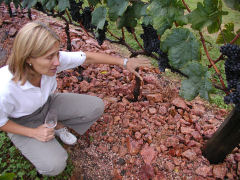 It was raining out, but Elisa de Bouza and I tramped off into the vineyards to take a look at the grapes. Most of Bouza's vineyards (a total of 40 acres) are located a bit further north in Las Violetas, but here the Tannat was nearly ready for picking and the juices were sweet and rich as we sample a berry or two. Like many winery owners here, one of her biggest concerns is the intensity of the sun – in the world of fine wine grape growing you want to remove many of the leaves from the vines as leaves not only generate, but use up resources that are better destined for the grapes. Pick too few and your grapes don't develop. Pick too many and your grapes shrivel up and burn in the heat of the sun (think of a grape skin, in some ways, as a little spherical magnifying glass focusing the sun's rays on the fruit inside). So, one good option is to not pick quite as many, but find a way to reflect light and heat back to the grapes from underneath.
Taking a cue from Châteauneuf-du-Pâpe, in France, where the vineyards are filled with galletas (large reflective stones), Uruguayans place reflective stones beneath the vines that reflect light to the undersides of the grapes during the day, and retain heat, and then release that heat during the night, keeping the grapes warm. I realize that I meant to mention this the other day in pointing out the scattered quartz beneath the vines at Los Cerros de San Juan. Here, it's not so much scattered as heaped, and Elisa uses broken up granite rather than quartz. You can see the differences between the two approaches below.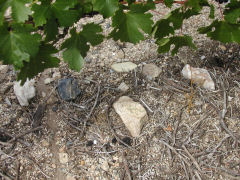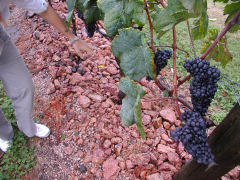 We continue into the gleaming fermentation tank room, temperatures controlled by those ever vigilant computers. From there, down a ramp to the subcellar, where rows of new oak barrels are lined up, wines fermenting or aging away. It's not all fancy machine run technology, there's a strong element of human intervention in everything they do here. You can see someone has a sweet tooth, here one of the winemakers is using old dulce de leche jars to mix up yeast solutions and add them, jar by jar to each of the barrels that have just been filled with fresh Chardonnay juices (see the funnel in the barrel towards the back?).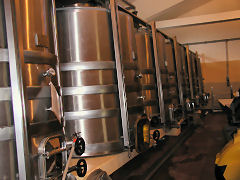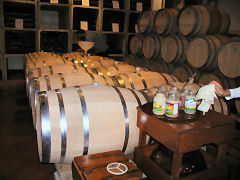 We adjourn to the tasting room and begin to taste through the bottles. Elisa, her teenage son, and her tasting room sommelier, yes, she has a sommelier on site to guide visitors through the tastings and sell them wine, wine books, and paraphenalia, line up a row of bottles and start opening them. As we begin, one of the owners of the Ariano Hermanos winery and her assistant from the export department arrive and add a few bottles to the mix. Again, a shame we didn't get to drop in on them while we were in Las Piedras, so close, yet no more time left in the day. Though the Bouza's have provided a tray filled with local cheeses and sausages, the Ariano's have also brought their own tray. The Bouza's bring out sliced loaves of bread – "semi-homemade" (bought par-baked and frozen from a local bakery, then finished baking at home, technology at work once again), and despite being full, we nibble as we taste wines.
Bouza is definitely a place I'd love to return to when the 2006's are in bottle, with the fruit that we tasted in the vineyard, and the now five-year old vines, I expect that with the care they're taking at every stage of the game the wines are going to show a marked step up in quality that will hopefully continue beyond that.
What I can tell you about the Ariano winery is pretty much just that it's a bit larger, with 74 acres of vines in Las Piedras in the Canelones region, and another 173 or so in the province of Paysandú, up in the northwest of Uruguay. They produce about 1.2 million liters of wine, though only 40% of it is fine wine, the remainder being bulk table wine.