But a little milk, butter and cheese are acceptable because no harm is done in obtaining them."

– Sri Sathya Sai Baba, Indian Spiritual Leader
Buenos Aires – Yesterday was all about cheese. In fact, it started a week or so ago, on a re-visit to Chère Sophie with our friend Rick, and after lunch meeting Didier, a French cheesemaker, who has relocated to Córdoba, where he's busily turning out excellent Brie, Camembert, and Chèvre that he's selling here, mostly to restaurants. In the course of our discussion, I mentioned that I was interested in the basics of cheesemaking, and maybe being able to churn out a simple ricotta or stretch a mozzarella, at home, but didn't know much about the process. He gave some basic tips, like that rennet, the stuff you use for curdling milk into cheese, is available at local pharmacies, dispensed, sans prescription of course, by the pharmacists. It's so… 1950s.
But, more importantly, he clued me in to a place here in town where he said I could get all my questions answered, as well as buy any equipment and supplies needed to make cheese. Questions being the most important thing to start with, I headed out on a jaunt that ended me up on the far reaches of Almagro… a nice little walk for the afternoon, I needed the exercise, at Casa Buggé, Venezuela 4013, where I was confronted by what looked like the entrance to a simple garage… car parked in it and everything. I stood there wondering if I'd been sent on a wild rennet chase, when a tall man popped out of a door off to one side, glanced at me, and asked if he could help. I asked if this was the place, and he affirmed it… I squeezed in past the car and found myself in a warehouse filled with everything that one might need to process dairy products into not only cheese, but probably anything else made from milk. Patricio, as it turned out was his name, and I chatted a bit, I think I was more of a diversion from his day than anything else, he doesn't really have much in the way of supplies for the home cheesemaker, his smallest milk kettle being a 50 liter one (13 gallons), and selling his rennet and other supplies in everything from 1 to 5 liter size bottles, but he gave me what turned out to be two pieces of crucial information…
Piece #1: A recommendation to go see Carmine, an "old Italian guy" (who isn't really all that old, in fact he's probably only a couple of years older than me, so there!), at San Miguel, Chile 1955 – almost dead on the corner where the barrios of Balvanera, San Cristobal, Monserrat, and Constitucion meet, just slightly into the Balvanera side, whom he said could probably be far more help. While that turned out not to be true, as Carmine's view of the cheesemaking world is that it's something you must apprentice to when you're very young, and work at for many years before, I suppose, you're even allowed to touch the milk, he did turn out to be both charming, and, most importantly, a maker of artesanal Italian style cheeses, which he sells right there from a counter in front of his cheesemaking operation – fresh ricotta, mozzarella, caciocavallo… sheep's milk, goat's milk, cow's milk cheeses… smoked cheeses… flavored cheeses… and, artesanal pastas. The place is a true find… and in short order I found myself in possession of a small wheel of slightly aged sheep's milk cheese, a scamorza, and a slab of "cremoso, more or less like stracchino"… [Update: 7/17/08 – I recently heard that San Miguel had closed down due to some major health problems on Carmine's part, and walking by it appears to be true, the place is shuttered and there's no sign as to why. A shame, this had become a regular spot to visit, and Carmine had started to supply me with high quality milk to make my own cheeses.]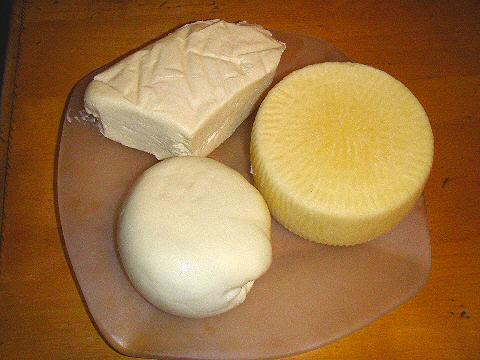 Piece #2: This has the potential of being great fun… Patricio also referred me to Hector, whom I called in the late afternoon after tasting all my cheeses, and who turns out to run a small school out of his home, where he teaches the basics of cheese making, sausage making, meat curing, and various other preserving techniques. Now, I'm going to hold off on all the contact info for him for the moment, because I want to at least attend one session and get a sense of whether or not this guy is worth recommending. So, I've signed up for his basic cheesemaking class – it's all done on an individual (he'll teach up to 3 people at a time, kind of like me and cooking classes, there's just limited room at home) basis, so next Tuesday, I'm off to Villa del Parque for my first lesson in how to help milk take a stab at immortality. More to follow…