"Guadalajara is Mexico's 2nd-largest city, and has a reputation as the most "Mexican" spot in Mexico. It is Guadalajara that brought the world Mariachi music, tequilla, the Mexican Hat Dance, and the sombrero hat.

– travel agency website"
Buenos Aires – Given Guadalajara's reputation as a vibrant, bustling city, the heart of Mexican culture and the arts, I was ready for lots of color, music, and… spice. Guadalajara de Noche, Gurruchaga 1881, 4832-8971, has a reputation for good, authentic cuisine, centered on that of Jalisco, the province in which the city is located. Unfortunately, given that I was in the mood for it, it turns out that the mariachi band is only there on Saturday nights… We headed there on Sunday, after a call to make sure they were open and make a reservation (we were told we didn't need one, though, luckily we went early, because within an hour after we'd arrived, the place was full and they were turning people away at the door). The ambiance is a whole lot less vibrant than I was expecting – pretty plain, bare wood, decorated with some vaguely Mexican artwork and photos of Mexican movie and t.v. stars. About the only color to be found was in some very pretty striped multi-color placemats. The kitchen is at the back of the small room, with an open doorway allowing you to see in – a good thing if you have a professional team of cooks putting on a show, not necessarily as amusing when you've got a couple of guys hanging out and horsing around rather than cooking your food – one of the common critiques I noted on sites like Guia Oleo was how long it takes to get any food from the kitchen – we noted it as well. How long? Long…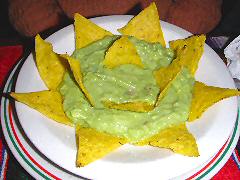 We started off with a bowl of tortilla chips, mostly broken up, kind of bottom of the bag, but fresh and crunchy, and a good, if not particularly spicy, tomato based salsa. It was clearly good enough that we plowed our way to the bottom of the basket in short order, and asked for more, both for dipping in the salsa, as well as in the guacamole, one of our two appetizers, which arrives as a good sized bowl of fairly bland, pureed avocado with a few scattered bits of tomato in it – no spice, none… not even salt… but we mixed a little salt and lemon into it which helped, still, though I understand toning flavors down for local tastes, this was beyond "toning down". I will give them that the avocado was clearly ripe and fresh, so the flavor on that basis was a plus, and we did finish it off with the aid of additional chips (the bowl arrives with a mere dozen of them, not enough to scoop up even half the guacamole).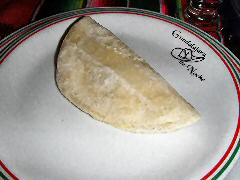 Now, I'm all for simple presentation, food on the plate, that sort of thing. But this is a bit too far in that direction – kind of like one of those modern art paintings where there's a red circle in the middle of a white canvas, that you can almost think must be interesting if you were only to look at it right… only with a white circle on a white canvas, where if you're not looking carefully, you might think there's nothing there… On the other hand, I guess it's no less fancy than, say, an empanada sitting on a plate. But the other thing, for me, was, and especially given a price of 12 pesos, this is like getting half a quesadilla. I'm used to them being two fresh tortillas sandwiching a cheese filling – and in this case with a very little chopped, and completely non-spicy, chorizo in it – so this folded over version immediately felt like getting cheated. I mean, come on, for that price you can't afford another tortilla and a little more cheese and chorizo? The ingredients probably cost less than a peso to make this.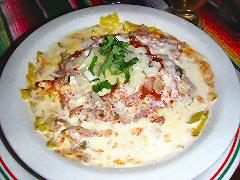 The main courses were a bit more successful, certainly at least more substantial. One of my favorite dishes is chilaquiles, which I've tried out at a couple of other spots here in town, with varying degrees of resultant pleasure. This was probably the best of the lot in some ways, and less successful in others. The sauce was excellent, moderately spicy – could it have been ramped up a notch, yes, but it was not disappointing. Lots of tortillas baked into it (okay, maybe we were getting just a bit too much in the tortilla world when I look back at it – every dish had them in one form or another), a rich sauce, plenty of onions and sour cream, a little light on the chicken – cutting some corners here again in my view.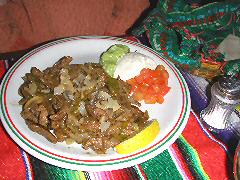 Okay, there's a note on the menu that specifies a few dishes, like the chilaquiles, as being spicy, period. It goes on to say that nothing else is, unless you ask for it to be. So we did. Ask for the fajitas to be spicy. Their approach was to bring a bowl of whole chipotles en adobo, right out of the can… really… I asked… they just opened a small can from the supermarket and dumped them in a bowl, our waiter told me I could buy them at Disco or Coto… I knew that, I was just hoping for something more. The fajitas themselves? Devoid of spice. Any. Including salt. The tomatoes, onions, and guacamole along the side, ready to be wrapped up in more fajitas with the meat (plenty of beef here, I could have used half that much chicken in my chilaquiles), needed salt, lemon, and at least some of the chipotles.
Overall, hit and miss, leaning towards miss. As I said, I can understand toning down spices for local palates, but they were cooking, as best I can tell, without using any seasoning, including salt – the only exception being the quite flavorful chilaquiles dish – I don't mind having to ask for something to be spiced hot, but I shouldn't have to add the only salt that my food has experienced. They're clearly using fresh ingredients, with the exception of the "hot sauce", why skimp there (how hard would it have been to puree those chipotles or chop them up, throw in some cilantro, and I'd have never known), and why not prepare them to show them off at their best? They're also skimping, cutting costs, in places where they don't need to, even given that it's a moderately priced restaurant (the above four dishes plus a couple of beers and bottled waters ran us 40 pesos apiece with tip).