"I recently went to a new doctor and noticed he was located in something called the Professional Building. I felt better right away."

– George Carlin, Comedian
Buenos Aires – One of the bigger private school groups for training in hotel, restaurant, and tourism management is Vatel, named, of course, after the famous 17th Century French chef François Vatel. One of their thirteen worldwide branches is here in Buenos Aires. In addition to operating the school, they operate a restaurant at lunchtime, Monday through Friday. My friend Barbara had noted that the menu looked interesting and we decided to head there yesterday to check it out. The school is located in a large old rowhouse, and the restaurant sort of loosely operates out of what appears to have been the drawing room at one time – I gather they can expand on out into other rooms, given that they state they offer 35 tables with a total of 60 seats – you do the math, I find that a bit odd – it's less than an average of 2 people per table – for lunch yesterday, they were setup with about a dozen tables and seating for about 30.
The restaurant, Chère Sophie, Paraguay 1583 (bordering between Recoleta and Centro), 4816-3012, is clearly associated with the school, but based on what I see on the website, the kitchen is apparently manned by professional chefs – the school offers training in restaurant management, but not as far as I can see, any sort of chef's or gastronomical training. The dining room staff is clearly of professional caliber, though it was also easy to see that two of the four were consummate pros and the other two were being given a bit of instruction by the former two. The room is pretty, with white tableclothed tables topped by colorful, formal runners, a bit of interesting artwork in the room, and a clearly upscale crowd. [Closed]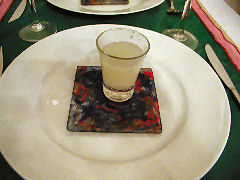 There's no menu presented – our waitress came over and launched into a description of the day's dishes – no appetizers, the main courses offered were a steak of some sort, a fresh basil risotto with chipirones (small squid), and a composed salad. We opted for the latter two, ordered some water and a couple of glasses of wine, and relaxed. It wasn't long before we were presented with an amuse bouche, a little taste of something to get started. No explanation was given, our waitress merely set a couple of colorful glass tiles down on our showplates and then set two shot glasses of murky liquid on them, and walked away. We tasted. We tasted onions. That was pretty much it… lightly cooked onions, finely chopped, in hot water. When she returned, I enquired, and indeed, not an onion soup, but simply "a little plain onion to get you started"… I guess that fits with the restaurant's stated goal of "not changing the flavors of the original ingredients". There was nothing wrong with it, it was just sort of, well, oniony.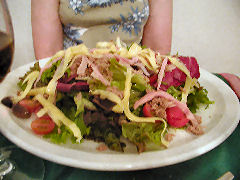 Bread arrived shortly thereafter – truly excellent bread. A sort of whole wheat and corn bread that was delicious, with a hint of a crunchy texture from the cornmeal. Our main courses arrived in short order. The first, a composed salad that in essence was a combination of a salade niçoise and a chef's salad – mixed greens, ham and cheese, tuna and olives. Tasty, and a big portion, and looking around the room, quite a few people were digging into it with relish. For me, it somehow missed the mark of their stated goals – it just simply wasn't anything special other than a salad. On the other hand, no one was complaining, including Barbara, who had the plate in front of her.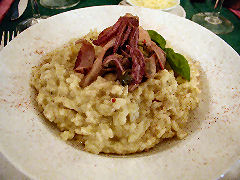 The other main course was my risotto. It was cooked properly, with that hint of chewiness left in the rice. It was a good sized lunch portion without overdoing it. I'm not 100% clear about the "fresh basil" part – there was indeed a sprig of fresh basil garnishing the bowl, along with a sprinkling of smoked paprika, but the risotto itself tasted pretty plain. If there was any basil in it, it was a mere hint. Atop the risotto, however, the chipirones were absolutely delicious, and stuffed with a sauteed vegetable mixture that worked beautifully. Definitely something to take some ideas from, though I think the risotto itself needs some more flavor.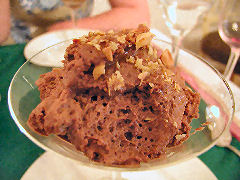 We had watched a parade of desserts during our meal – we were the last folks in the door for lunch (reservations highly recommended, we were lucky to get the one empty table when we wandered in). A caramelized crepe was being prepared at a sideboard – tons of butter and sugar cooked over a butane burner until smoking, and then a pre-prepared crepe dropped into it, coated thoroughly, and folded out onto a plate, and then all the butter and sugar spooned over it. There was also a very good looking lemon merengue pie, which a huge number of the guests seemed to be ordering, and by the time it came to our turn, it was gone. The crepe looking just a bit over the top for us, we ordered the chocolate mousse, which was light, fluffy, and quite good. They ought to mention that it's topped with nuts for folks who have a problem with that, though it's an easy fix to get a new one if it is, I'm sure.
Down to the last two tables, us and a group of four businessmen. The staff had pretty much disappeared, so it took a bit of time to get a couple of coffees – they need a bit of work on making them, a bit bitter and watery – and even more to get some attention to get the bill. A shame, because up to that point, the service was professional and elegant – someone should have been left "manning" the room rather than the entire staff just wandering off. Still, it's a nice experience, with good if not great food, and for a mere 15 pesos covering a main course and dessert, a decent deal.