Buenos Aires – After my recent good experience at Dashi, I was looking forward to checking out Osaka, a primarily Japanese restaurant that has gotten some great recommendations in the foodie world. I had started off yesterday planning on pizza, based on a recommendation over on What's Up Buenos Aires? for an authentic Italian pizza shop, Angelino, in Palermo. Unfortunately, WUBA didn't mention that the place is only open for dinner. However, it's located right on the edge of Palermo Viejo's hopping restaurant district, and I realized I only had about a ten minute walk to get to Osaka, at Soler 5608, corner of Fitz Roy.
To a certain extent, I'm going to compare and contrast my Osaka experience with Dashi. I like them both quite a bit, and they're an interesting study in differences. First, Dashi is pretty much strictly Japanese cuisine; Osaka bills itself as Japanese with influences from Thailand, China, and Peru. Dashi is, as I mentioned when I reviewed it, very sleek and modern feeling; Osaka in many ways feels much more traditional in style – yes, it's got a modern look to it, but there are no boldly colored walls – it's very minimalist, off-white walls with black tables and chairs, the apricot colored seats of which, along with flower arrangements, provide the only real color in the room. There's a very tranquil feel to the whole setting, broken only by the cries of irasshai (Welcome!) taken up by the entire staff as one enters (I mentioned the more formal version of this cry, irashimase many moons ago in a not so flattering review of a New York eatery). Here, given the calmness of everything else, and that the cry isn't literally screamed out from every corner of the room, it's indeed quite welcoming.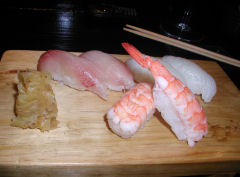 The menu is quite extensive, and lists a wide selection of fish for sushi and sashimi right off the bat. There's a clear cautionary note that the fish that what is available will change from day to day depending on what the sushi chef selects (he's quite fanatical about freshness, a very good thing in a sushi bar). From chatting with him (I sat at the sushi bar), he often has things that aren't on the list as well. Unfortunately, yesterday all he had was salmón rosado, salmón blanco, and lisa (a type of mullet), along with shrimp. Like Dashi, which has a wider selection of fish available, the fish were indeed gleaming and pristinely fresh, though one big plus for Osaka is that they offer a combination sushi plate called the Osaka that allows you to pick any six pieces of nigiri sushi from what is available, for a slightly discounted price. Dashi, if you look back at that review, only offers salmon and tuna on their combination plates and is unwilling to make an exception to that, requiring you to order two pieces of each type of fish that you want to try (and paying a hefty price for that). Once again I encountered the oddness of no wasabi on the plate and having to ask for it, something I've encountered at roughly half the sushi bars I've tried here.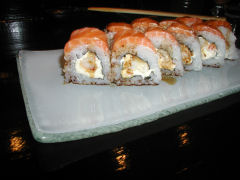 Like Dashi, Osaka offers a wide range of sushi rolls as well. However, I think Osaka's are more creative versions. Instead of the typical "Philadelphia Roll" of salmon and cream cheese, Osaka offers what they call Teri Maki, typically a non-sushi, chicken and cucumber roll served hot with teriyaki sauce. Here, it takes a mix of white and pink salmon, and the cream cheese, served in a warmed sushi roll (so that the cream cheese unctiously melts on your tongue) on a pool of teriyaki sauce. I'd asked the sushi chef, Ken, what his favorite roll was, and after the usual back and forth (why does no one working in a restaurant here want to give a personal recommendation – I can't tell if it's embarrasment, reticence, or if somehow here it's considered bad manners…), he finally admitted that this was the one he was most proud of. My waitress waxed enthusiastic over it as well after much the same sort of conversation.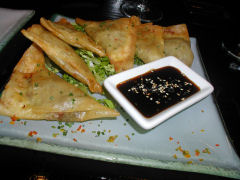 I decided to try a couple of appetizers as well (someone could have told me they were huge – enough for 3-4 people to share, easily), and here, the creativity of the kitchen really shines. There are also some influences clearly brought in from beyond the listed cuisines of Thailand, China, and Peru. One of the first things to catch my eye were the samosas. These are classic Indian deep-fryed turnover style appetizers, usually filled with vegetables or potato, sometimes with lamb, and served with the some sort of spicy dipping sauce. At Osaka, they're filled with… duck confit! Now that's not your usual Asian style dish, nor is it particularly common in Buenos Aires, where duck is quite expensive. The "pastry," was also made of a couple of overlapping fine sheets of phyllo dough, light and crispy, and the duck confit was perfectly cooked and seasoned, then shredded inside the packets. Now that's creative fusion cuisine!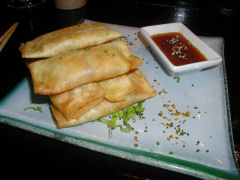 The other appetizer was equally delicious. Entitled won trout, they were crispy springrolls of wonton wrappers around a filling of absolutely delicious smoked salmon (and not the thin sliced packaged sort, this was probably smoked in-house, and tasted to me of tea smoke), mixed with steamed peanuts so that they were just slightly chewy. It was served with a sesame sweet and sour sauce that paired perfectly. Once again, a great example of fusion cooking. I'd have loved to try some dessert, but after this little feast there was no way. I'll be back to sample more!
Osaka also offers a full bar, with some creative sounding cocktails and a winelist. For those in the non-alcoholic mood, as I was yesterday for lunch, they offer a selection of fresh juices, squeezed or pureed to order. My only disappointment of the day, my waitress sold me on a glass of iced fresh passionfruit juice only to return a few moments later to say they were out of passionfruit.
I think, in a final comparison, if I was looking for a more traditionally Japanese meal, I'd opt for Dashi, if I was looking for more creativity and fusion of different Asian (and other) flavor, I'd head for Osaka.