Buenos Aires – If you've never seen the movie The Scent of Green Papaya, it could be summed up in a nutshell as beautifully presented, and somehow engaging despite it's lackluster acting and complete lack of plot. In many ways that parallels my thoughts about our visit last evening to Green Bamboo, Costa Rica 5802, in Palermo Viejo. We were originally headed for El Manto, an Armenian restaurant directly across the street at 5801, but Vietnamese food sounded more interesting by the time we arrived. I've heard mixed reviews of Green Bamboo, and I'm going to just add to that mix. The venue is a small, L-shaped dining room, dimly lit, with walls painted a deep crimson red slashed with metallic gold paint. The tables are decent sized, covered in black cloth and then garishly topped with metallic gold vinyl runners that drape off either side (and make for really bad reflections when attempting to take flash photos). There is a high central bar with not so high barstools (though still high enough that I had to climb up onto it), resulting in a sort of peering over the top to see the bartender, and vice-versa. The waitstaff are friendly, and reasonably efficient, though the kitchen was not particularly swift in the world of preparation, our appetizers took an easy half hour to arrive, and another half hour before we saw our entrees, then, inexplicably, our dessert arrived within a couple of minutes of ordering.
In one of those moments where I feel vindicated as an American, given all the criticism we take for our manners and behavior when we travel, I have to admire our waitress's patience in dealing with the table next to us. A party of four, with a British, but very difficult to understand accent for me (possibly somewhere up in the north country, near to Scotland?), was trying to order their food. In English (which, by the way, Green Bamboo offers menus in). When the waitress had trouble understanding them, their procedure was to repeat back their order, louder and slower, and for a couple of items, doing it repeatedly. The waitress's attempts to get them to just point to the items on the menu were useless, and after she left, the man at the table commented, "why don't these people bloody well learn English?" Can we add a tourist category of The Ugly Brit?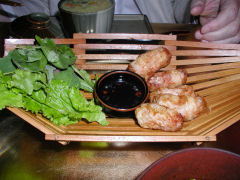 We were served a small cabbage and peanut salad right off the bat, it was fresh and tasty, and possibly the best of our savory dishes. The menu is one of those affairs that lists the Vietnamese name for something, and then launches into a paragraph long listing of every ingredient that has found its way into the dish. These two appetizers are the Nem Saigon and the Sui Cao. I honestly don't remember much about their descriptions, and since the flavors were, shall we say, muted, there's not a lot to offer in regard to these. The former was a fried croquette that I vaguely remember contained shrimp and bean sprouts amongst its dozen ingredients.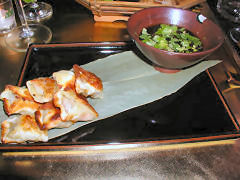 It was served with lettuce leaves, mint, and basil for wrapping, but not one of the lettuce leaves offered was large enough to actually wrap around one of the croquettes. The dipping sauce was a basic soy with some chopped green onion in it. To her credit, our waitress offered to bring a dish of hot sauce, which wasn't particularly hot, but at least added some semblance of flavor. The second dish is basically fried wontons, filled with pork and an array of other things, the dipping sauce a mix of soy and fish sauces with a little coriander. These were actually pretty good, the pork having a nice smoky flavor. We also sampled a supposedly spicy chicken soup, once again lacking in spice.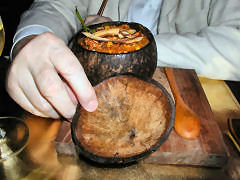 On to the main dishes, and this delightfully presented coconut green curry. Neither of us could remember what it was supposed to contain, and Michael described it well as a "mashup of competing flavors." It was also a bit on the skimpy side, although the coconut is a decent size, half of it was filled with rice. The most interesting part of the dish were the shavings of toasted coconut strewn across the top. My duck dish was slightly more successful, but that came more from the fact that they left the individual components separate.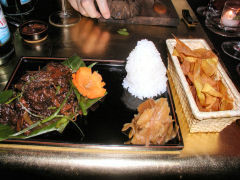 The duck itself was braised in a more or less caramel sauce with a mix of different flavors that were vague and unidentifiable, though definitely sweet. The rice was gluey and tasteless. The pile of stewed turnip shavings was just plain odd (what is it with turnips in this country, they're really not that hard to cook…). A basket of plantain chips was served on the side, tasty though slightly over-salted, and I'm not clear what they were supposed to add to the dish – I certainly wouldn't have wanted to mix them in with anything else on the plate.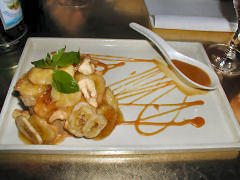 Dessert was thankfully far more interesting, and certainly the best thing we were served during the course of the meal. It was a marquise of dulce de leche, chocolate, and caramelized banana. A marquise is more or less a chilled or frozen whipped egg dessert, somewhere between a mousse and a parfait. The different flavors and textures complimented each other perfectly and the dessert was beautifully plated. All around, a winning way to end up the evening.
We had a bottle of Finca La Anita Semillon 2001, a bit over the top version of this grape, which isn't a common find as a solo varietal in Argentina, generally being used as a blending grape. The wine was rich, spicy, yeasty, with very intense flavors of underripe pineapple and a sort of toffee-ish flavor. The wine also has a fair amount of toasty oak notes, and having checked the winery's website, it spends a full year in oak barrels, so not surprising.
All around assessment, Green Bamboo is fine, and an okay place to get a fix here when you want something more or less resembling Vietnamese food. I've heard that Sudestada, another nearby location, is better, and that's on my list to checkout as well. I think the creative pan-asian creations at either Buddha BA or Osaka, while not specifically Vietnamese, are far more interesting, as are the venues.