Every time I go away I come back with ideas and inspirations gleaned from one meal or another during the trip, and this time was no exception. Looking back at the 10 days in New York and Washington there were some true highlights (all written about in the last few posts) – the meal at Calliope stands out as the single best meal (and, interestingly the one which contained ingredients near impossible to get here – sorrel, sea urchin, halibut, rhubarb…). In retrospect, and not taking away from the talented cooking in the kitchen there, I'm wondering how much of it stood out for being flavors that I just haven't gotten to have for a very long time.
Other dishes that stood out during the week – the brilliant salmon and scallop carpaccio dish at Melibea – so good I had to go back and have it a second time, the bone marrow and mussels at Le Philosophe, the chicken masala at Chandni and the taramasalata at Akdeniz, the simple and delicious brussels sprouts with anchovies at Riptide by the Bay, the revelationary shrimp & grits at Ben's Next Door, the angel hair pasta with uni carbonara at Toqueville and finally the mussel curry at Sao Mai. That's a nice range of great dishes dug up over the course of just ten days, and thankfully were supported by what were average to good dishes at pretty much every other meal. In fact, I can only think of one dish that I truly wouldn't want to eat again out of the entire week, those over-seasoned Mongolian long beans at Mission Chinese – but even those could be inspiring, as the basic idea was solid, it was just the amount of soy, cumin and coriander in the dish was over the top – tone it down and those would probably make a delicious side dish.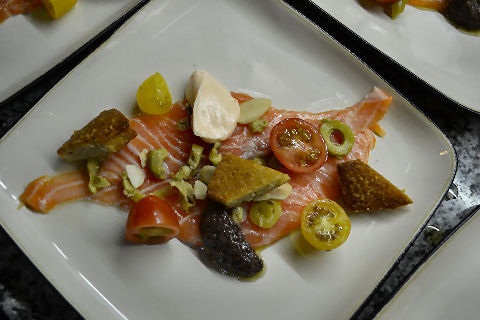 So back to work almost immediately this week, with a short weekend of two dinners. And, bringing in a couple of different ideas from the dishes above to my own style. Here, salmon, not exactly carpaccio, as about fifteen minutes before serving it I brushed it on both sides with a lemon and orange ceviche curing liquid. Garnished with green olives, toasted almonds, cherry tomatoes, black olive tapenade, taramasalata (turned out to be far easier to make than I ever expected, that's going to be showing up again), and little wedges of a savory garlic financier. The last is typically a sweet dish, a little tea cake almost, made from brown butter and almond flour, and although I've never seen one done in a savory style, I couldn't see how it wouldn't work. It does, and gives a lovely roasted garlic and almond flavor with just a hint of sweetness. Overall, my style, but kudos still to chef Jose Nuñez for the inspiring dish of my vacation.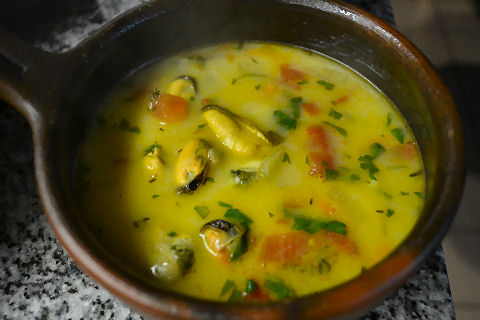 Both mussel dishes came into play here in our soup of the evening. The broth a rich and slightly spicy blend of leeks, onions, carrots, garlic and chilies cooked in a little butter and olive oil, then added white wine, chopped tomatoes, orange zest and juice, bay leaf and thyme and cooked it down for a few minutes, added in saffron, coconut milk and the mussels (quickly cooked separately until they opened and then removed from the shell) with their liquid and just brought it to a simmer. Finished with lots of chopped parsley.
The week before I went away I was playing around with fettucine and carbonara sauce, and this is more just a different take on that. Originally I was just going to add some sun-dried tomato to the carbonara and then do something similar to what I did then with the mushrooms and caramelized onions, but started playing with the flavors a bit, plus, we had three people over the weekend who didn't eat pork, so it was easier to eschew the bacon, in favor of… lamb bacon. Along with that then I ended up blending the sun-dried tomatoes into the carbonara base of egg yolks, cream and parmesan, and then sauteeing the garlic with the lamb bacon, some chopped jalapeños, rosemary and black olives. Good, but not quite there yet – to be played with more – it's such a rich dish I almost think that it should end up as the supporting starch under a protein, like some baby lamb chops, as a main course.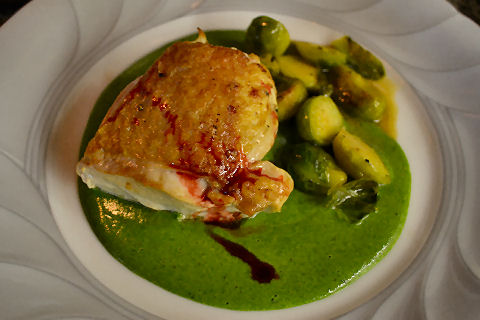 Two different takes on roast chicken, at Calliope and Le Philosophe just had me thinking about roast chicken. So, why not – roast chicken breast with nice crispy skin, brought in those brussels sprouts sauteed with anchovies, and, a swiss chard bechamel sauce coating the plate. The red drizzle – I'd made a whole lot of that beet caramel before I left and stored it – it keeps for weeks – and added it both for color and a hint of spice and sweetness.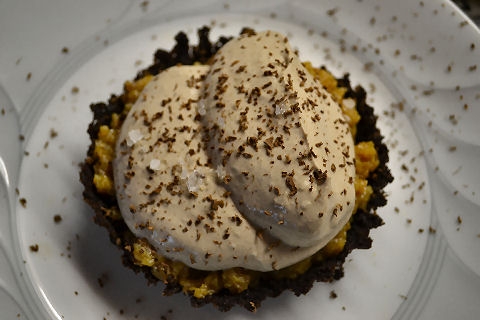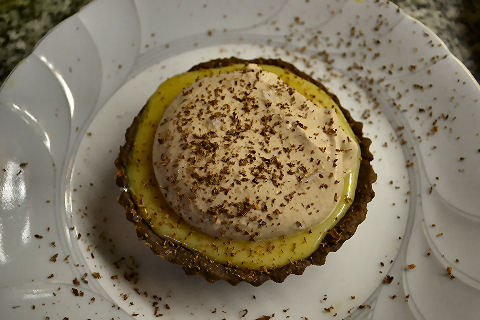 Although it wasn't listed as one of my standouts, I was inspired by the sundae bar at the wedding with the salted caramel ice cream and various chocolate additions. Two different takes on the two nights of a chocolate and salted caramel tart. First I made dulce de leche. The first night I used a chocolate cookie crust (crushed chocolate cookies with brown sugar and butter) baked until crisp, then baked the dulce de leche with some sea salt, stirring it regularly, until it got really thick and bubbly, then scooped that into the shells, chilled it until firm, and topped with cocoa and brown sugar whipped cream, grated chocolate and fleur de sel. It was good, but I hate the look of the dulce that way – and it's a little chewy – still, everyone cleaned their plate of it. The second night I decided to use a chocolate tart crust, and simply blend the dulce de leche with the sea salt and then chill it, and proceed ahead. The dulce de leche, at least at this stage, doesn't firm up near as much, and stays gooey and runny, not always a bad thing, but maybe too much so. Still, again, everyone finished it off. Somewhere in between is the ideal.
And that, as they say, is that. A busy week ahead with multiple cooking classes and a solid looking weekend of dinners for which I need to plan out the menu….