My main reason for scheduling my visit at this particular time is for a family wedding, which I'll get to in the next post. It was in the DC area and so leaving the bounds of New York are just part of the deal. An uneventful Amtrak ride down to Baltimore where I met up with my friend Frank once again, this time just for a short lunch visit. And breakfast…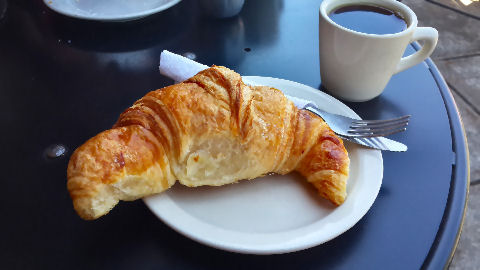 Because we started in Fells Point at Bonaparte Bakery for coffee and a massive croissant just to fortify us. Then Frank had to run a couple of errands, like buying coffee and olives and picking up his stepdaughter from school and then dropping that trio back at home, and then we returned to Fells Point for lunch.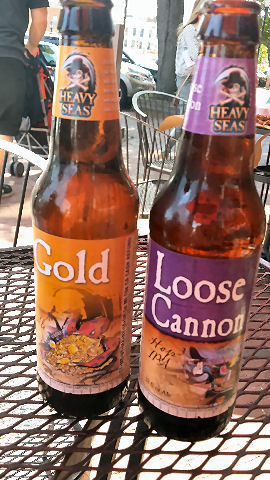 Starting with a couple of Heavy Seas ales at Riptide by the Bay, 1718 Thames St, a spot Frank hadn't been to, but that looked good. Their carbonation was out so they weren't serving beer on tap.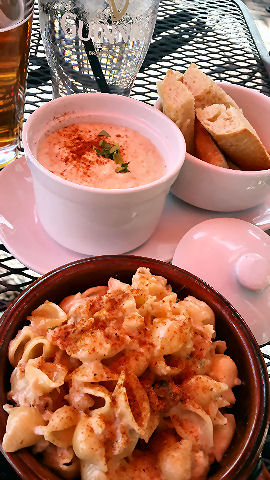 A little crab dip with toast and crab mac 'n cheese and I was loaded with crabs and carbs. Frank shared the dip and had fish and chips. All pretty darned good, and sitting outside in the sun chatting away made for a nice afternoon of catching up, which is what it was all about anyway.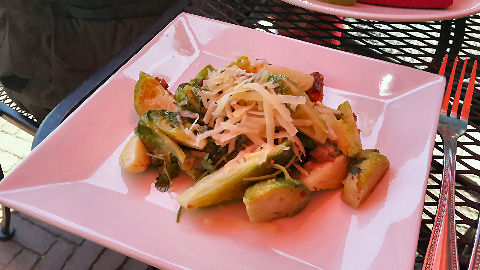 But we did get in a little green, in the form of some brussels sprouts dressed in parmesan and anchovies. Even better. And then Frank dropped me back at the train station to continue on down to DC. The MARC train whisked me in to Union Station in a mere 50 minutes where I was confronted by a near hour long wait at the taxi stand – not that the taxis weren't coming, they were, continuously, there were just that many people waiting. And, a short ride out to National Harbor where I checked in to…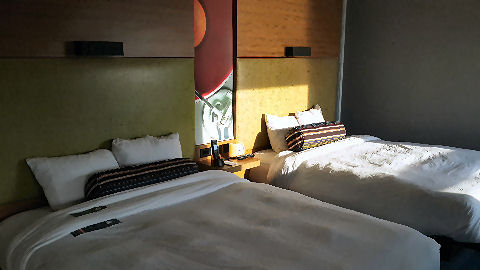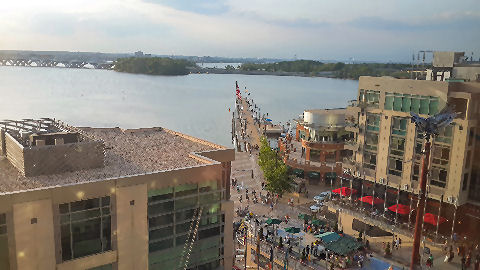 …the Aloft Hotel, 156 Waterfront St, and a lovely room with two queen beds and a great view. The desk person assured me that what she wanted to do was put me in a "much smaller room" but didn't have one. Who says that to a guest? But it was kind of typical of the service at the hotel which has been kind of haphazard. Friendly and cheerful as can be, but not particularly ept (yes, I realize that the opposite of inept isn't ept, which doesn't exist, inept being the negation of apt, but at the same time not exactly being its antonym, but ept should be a word and I'm using it here).
Now, I'd planned on dinner with a friend and Bryan Voltaggio's new restaurant, Range, but my friend wasn't feeling well and had to cancel, and when a) I looked at what it would take to get to the part of WDC that it was located in in time for my reservation, and then to get back later in the evening, plus the style of the place is more about big sharing plates out of the wood burning oven, and b) ran into my aunt and uncle during check-in who seemed plaintively alone for the evening as well, I decided to forgo the effort and have dinner with them here at one of the touristy spots (and they are, really touristy spots here).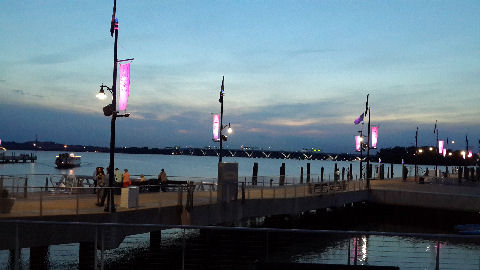 So very shortly thereafter, like 7pm (it always takes me great effort to adjust back to the eating schedule here in the States when I'm in, part of the reason for simply proposing grazing days and eves with everyone – people can join and unjoin at will), we were seated outside at McLoone's Pier House, 141 National Plaza, where people were drinking colorful drinks, the music was pounding (indoors, thankfully not outdoors, part of why we picked to sit outside), and I had a glass of unsweet iced tea in front of me along with…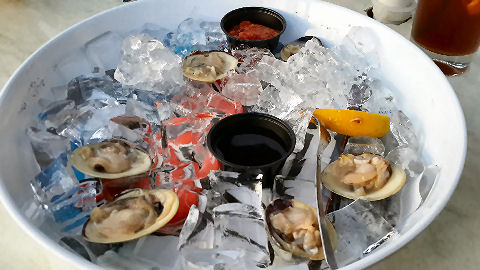 The smallest clams on the half shell I've encountered in a very long time, especially at $1.50 each… I mean, that's a sort of pitiful looking plate of half a dozen clams, no?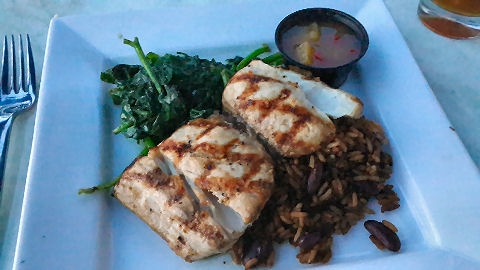 Faced with a menu full of fish dishes with bizarre, fanciful concoctions I inquired wistfully if there was something a bit plainer I might have. Thankfully the waiter was happy to tell the kitchen to put my pineapple chutney on the side of the grilled mahi mahi with spinach and coconut rice rather than smothering it in the stuff, and I eschewed the chutney for some lemon and a little of the cocktail sauce that had come with the clams. Uncle and aunt, respectively, made their way through pistachio halibut and sunset salmon. I should have gone for one of the Maryland crab specials at the top of the menu… just sayin'. But again, it was about catching up and relaxing, this time with family.
More later – a day of visiting WDC and eating, then a day of eating and wedding, and today I'm eating and then heading back to NY just in time for more eating. Thankfully, the hotel here has a gym and I've been making use of it.