Having left behind our thematic approach to dinners, sometimes I miss out on things that used to provide interesting fodder for menu planning – for the first time in years I didn't make a plan for Bastille Day that revolved around French cuisine – one of those holidays that's always been fun to celebrate, whether it was for a Casa S dinner, a Second Sunday Supper Circle dinner, or just having friends over. So, a Bastille Day weekend, sin French food, no petanque matches…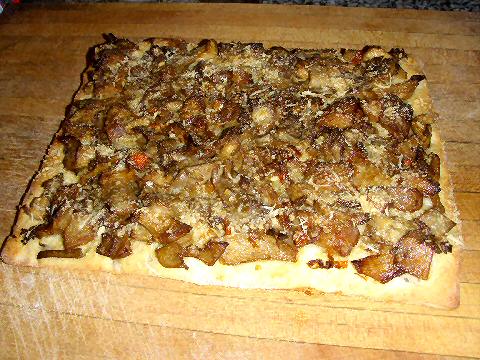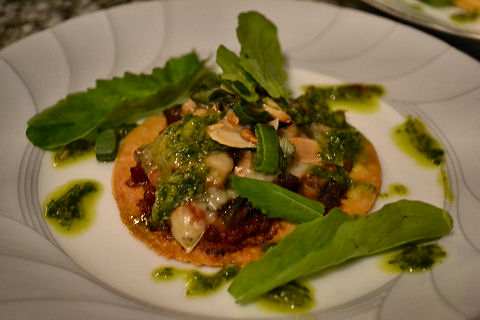 Way back in the dark ages, about four years ago, I was playing around with a coca, a Spanish style pizza (top pic). In my fevered imagination I topped it with oyster mushrooms sauteed in butter with molasses and chilies. I used the idea in a couple of dinners, once making little individual cocas and once using the filling in a little tart. Things have evolved, and I took that filling idea, made it with a mix of oyster mushrooms, button mushrooms, and portobellos, and put it atop my now favorite little polenta and parmesan dough round that was first slathered with a sun-dried tomato puree, then added green onions, slivered almonds and sheep milk manchego cheese. Popped them in the oven to brown and served them with more green onion scattered about along with arugula leaves, and a salsa verde of arugula, parsley, capers, anchovies, lemon juice and zest, olive oil, salt and pepper.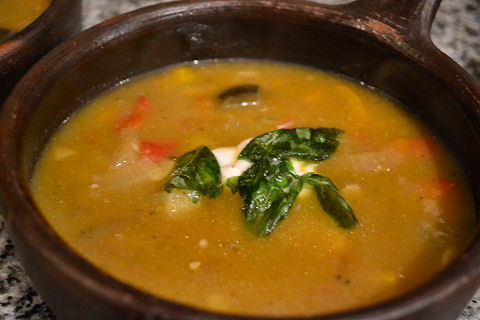 Ratatouille (Yay! Something French. Ish.) done up as a soup – chicken broth stocked with onions, red bell peppers, ají amarillo, zucchini and globe zucchini, eggplant, garlic, herbes de provence. After the vegetable were cooked through I took about a third of the mixture and pureed it and then added it back in to the soup. Topped with lavender infused yogurt and fried basil leaves. Not bad, not my favorite, but it seemed to go over well.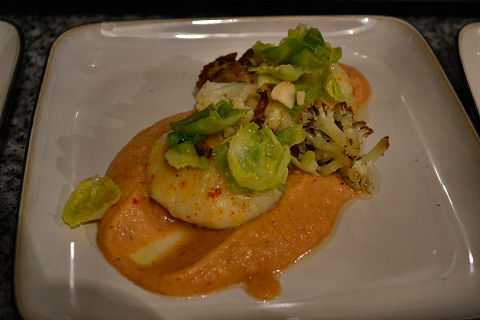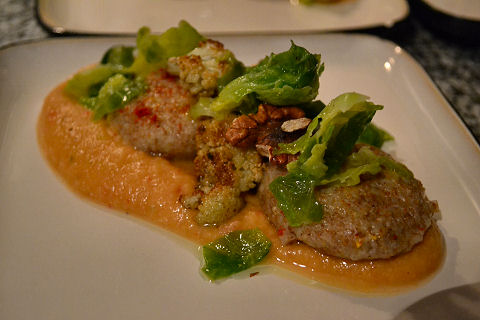 More gnocchi experimentation – I like the way the dish is in terms of all the flavors, but I need to come up with a balance between plain potato gnocchi and rye gnocchi. Experimentation during the week this week to find a midpoint that holds together and keeps some of the lightness of the plain ones and brings in the nuttiness of the rye. I'm thinking maybe buckwheat flour instead, to replace about a third to half the pastry flour, and relegate the rye back to bread baking. I formed the gnocchi into discs, boiled them up, then put them on a heated and oiled baking sheet, grated pecorino cheese and sprinkled them with smoked paprika, and then stuck them under the broiler for about three minutes. Served over a rustica cauliflower puree (with tomato, rosemary, merkén (smoked Chilean pepper) and browned bacon and its rendered fat. Accompanied with za'atar and coriander dusted cauliflower florets sauteed in olive oil until lightly browned, and separated brussels sprout leaves, blanched, shocked, and tossed in a mustard spiked brown butter, and, finally, some toasted walnuts.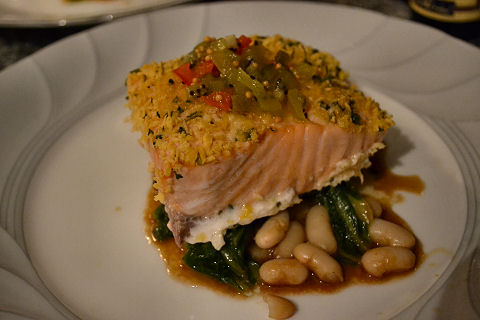 A few weeks ago, watching an episode of Masterchef Australia, which I've mentioned a few times, they had a kiwi competition – coming up with a three course dinner featuring the fruit. I started thinking about what I might do with kiwis, and the first thought was pickling them. I played around with the idea and ended up coming up with a sweet and tart kiwi relish that I really like – it's fairly similar to a classic norteamericano pickle relish, like we might put on hot dogs, with kiwi standing in for cucumber. From there, what to do with it?
I brought back one of my favorite fish dishes, this time using salmon, lightly crusted with finely ground panko crumbs, salt, pepper, and parsley, broiled that (I already had the broiler heated up for the gnocchi, so it made sense rather than sauteeing them), which gave a nice golden brown crunchy top, and just cooked the salmon through. Served over white beans and napa cabbage sauteed in brown butter with miso and shichimi.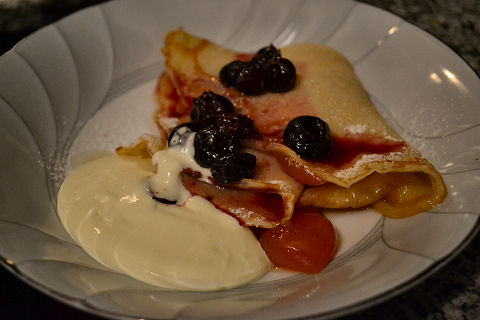 Just two weeks ago we prepared palacinke, Istrian dessert crepes, for our Friulian lunch class, and I decided to bring them in as a dinner dessert. Here I filled them with kumquat marmalade (made earlier in the week), dusted them with powdered sugar, topped them with blueberries cooked down in a mix of apple and orange juices with some ginger, and a little whipped cream on the side.
And that, my friends, was our non-Bastille weekend.