Continuing our weekly series of regional Italian lunches, we ventured this week to the northeast and the land called Friuli-Venezia Giulia. I have a bit of a special connection to the area, having spent a quintet of years working for Lidia Bastianich at her flagship restaurant Felidia, and there, having had the chance to learn about a type of Italian cuisine that I'd never encountered previously. During the time I worked there I traveled a couple of times to the annual Italian wine extravaganza, VinItaly, and while in the northeast, made forays into different parts of Friuli to visit various wineries and restaurants. It's a part of the country, and a cuisine, that I'd venture to say few people who think of "Italian food" would consider or even have occur to them – in many ways echoing the flavors of neighboring Slovenia and Croatia (which, parts of Friuli, particularly the Istrian peninsula, have been part of at different times in the past).
With only one student signed up I considered not holding the class, but I'm having so much fun with this series that, what the heck? And besides, sooner or later one of you folk will show up, whisk in hand and ready to dive right in, no?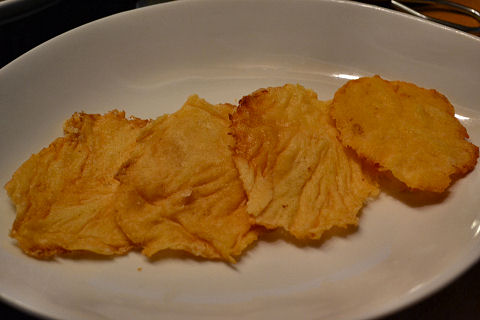 We made some small fricos – fried cheese crisps – just to snack on.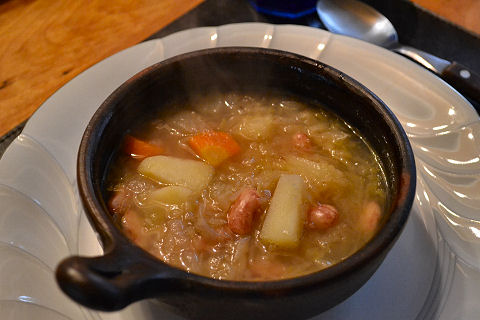 A bowl of warming stew, perfect for the cold and damp day, called jota istriana – a base of potatoes, pinto beans and sauerkraut – the fermented cabbage with juniper and bay leaf flavors gives it a whole different character from the cabbage bean soups that we see from other parts of the world. This soup often has smoked spareribs added to it, we went without, we'll call it the "Friday night meat-free" version.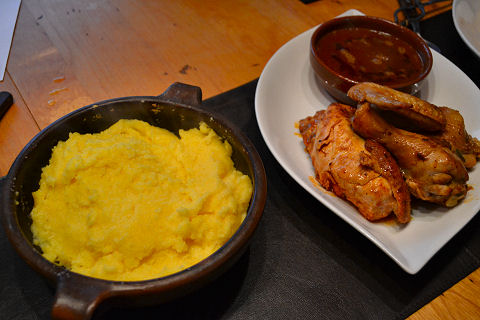 Mostly because we had more food coming – chicken cooked "in sguazet" – browned and then simmered away in a mix of the livers and giblets, bacon, rosemary, onions, wine and stock, the sauce then reduced to form a rich gravy. And, of course, served up with the common local starch – polenta.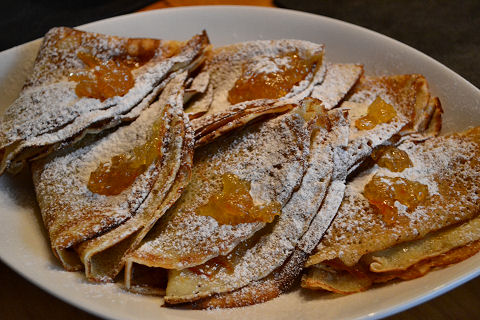 And, the meal wouldn't be complete without a favorite local dessert, palacinke – thick crepes folded around tangy orange marmalade, a drizzle of liqueur, and a dusting of powdered sugar.
Next week we hit the neighboring Veneto – Risi e Bisi, Cape Longhe a la Capuzzina, Polenta Pastizada, Fritole – are on the planned menu. Be here or be hungry!