Those of you who live here are probably familiar with the two online local food giants – Buenos Aires Delivery, a relative newcomer that has become the expat lifeline for finding and ordering takeout food; and Guia Oleo, the local Zagat's equivalent for ratings and commentary of restaurants throughout the city (if your Spanish is up to par). These two teamed up to put on a show last week – Taste! 2012. It started off two years ago when B.A.D. was brand new and was a small event for invited regular customers to sample some free wares from a few of the restaurants participating. Last year it grew to an invited list of 700 and a good number of restaurants. This year, the doors were flung open and upwards of 2000 people got the nod, and a shade over two dozen restaurants showed up.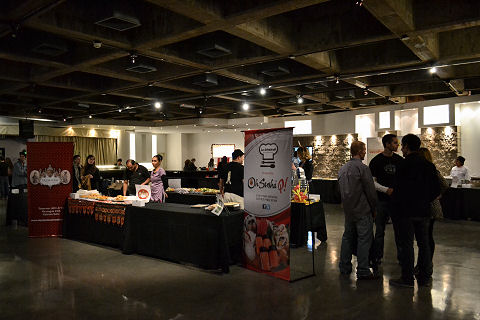 Yours truly, along with several other local bloggers received a special little invite to show up at the auditorium in the Buenos Aires Design Center a half hour early, get a quick intro to the event, a moment to ask some questions, and then a tour and chance to taste and chat a little with the folk who were getting their wares lined up for the coming onslaught. I'm not sure that even once they were prepared, they were prepared.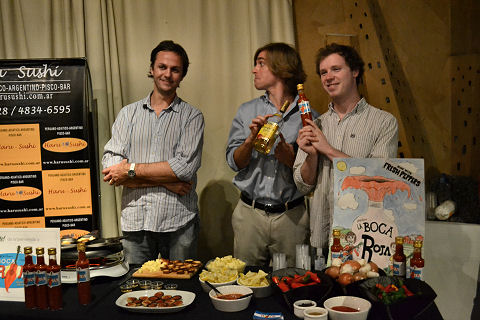 Finally got to taste the infamous La Boca Roja hot sauce from the Ya Ya Bean guys who were offering up mini cheese tarts topped with some sauce, and shots of tequila spiked with more. Not bad at all.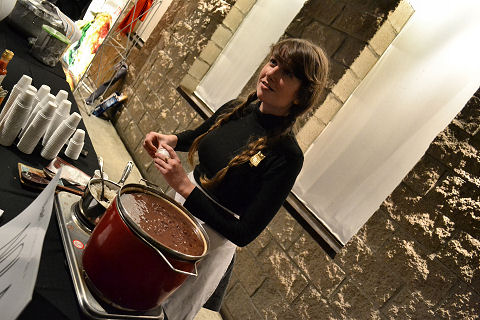 And friend Liza, the NOLAchef, whose Mexican snacks we chowed down on last week was on hand with steaming pots of rice and beans.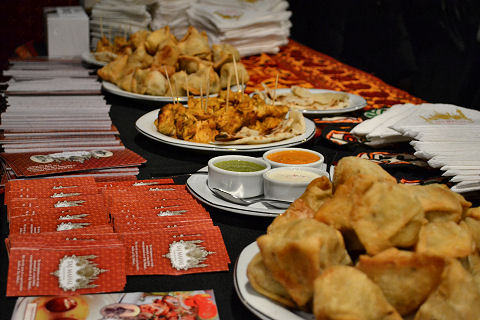 The Taj Mahal folk were present and accounted for with a selection of samosas and pakoras, as good as ever.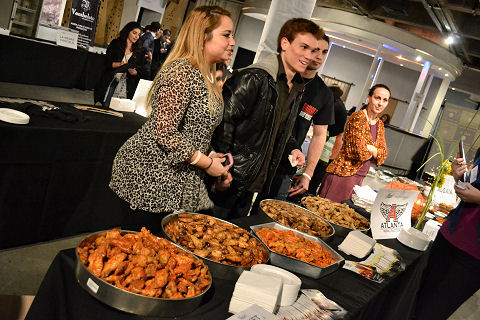 A newcomer to the scene, in fact, the show was the debut of their products, the just opened Atlanta Wing Factory. Showing off five of their thirty-some different wing selections, they promise to be a hit with the expat crowd at the very least. Tried a trio of the selection – the sweet bourbon versions a tad too sweet for my tastes, but the two spicy versions tasty, and with a bit of a kick – to be resampled at leisure one day soon.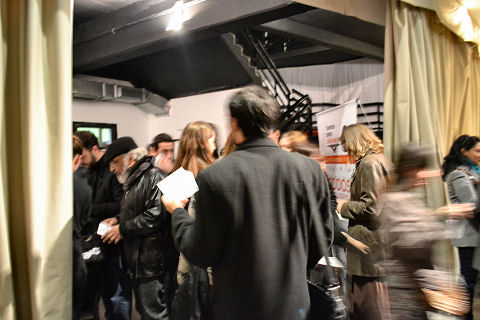 First it was a trickle, as a few more folk managed to work their way in the door, and then, about 40 minutes in, the floodgates were opened. They were coming in so fast and furious that the folk at the door just gave up on checking people in. Friends who attended and got there about 15 minutes later said that there were people literally shoving others aside, kicking and pushing, just to get in and sample free food. It certainly became a bit of a mosh pit scene at many of the tables as some dove in grabbing for whatever they could get their hands on.
So many people just pushed their way in that most of the tables simply gave up on asking for the little coupons that the door folk were handing out that were supposed to be your way of getting something to eat – in fact, we were only asked for the coupons twice the whole time – once after being served some food, and once, the only marring in the evening of frivolity, by the woman from one of the fancier restaurants who was near screaming at people to give her their tickets or not to touch her food. There's one in every show, you know?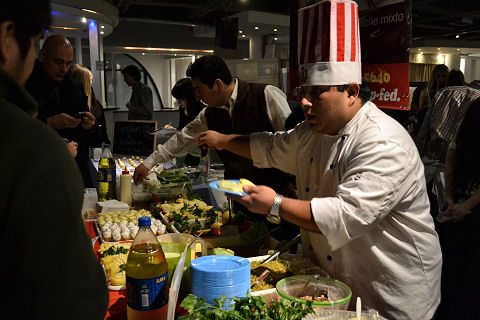 Some tasty Peruvian treats from Nazca…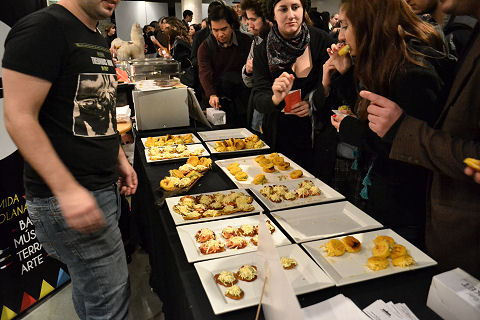 …and some Venezuelan specialties from Caracas.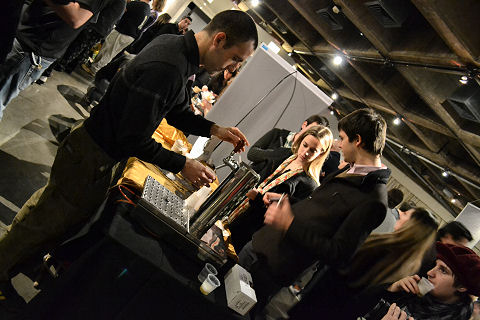 There was even a local craft beer on offer, which was a bit of a godsend since the counters at which beverages were being served were a) charging for it (the only things not free at the show) and b) mobbed.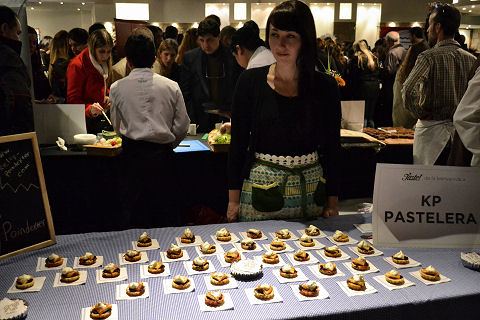 Nice little blueberry tartlets from Kelly of KP Pastelera were one of the great choices to finish off the eve, along with ice creams, frozen yogurts, chocolate mousse, and a few others.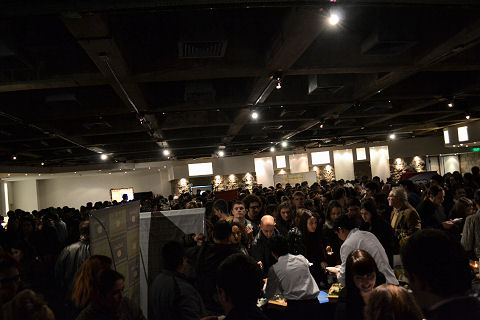 Within about 20 minutes it was so crowded that it became impossible to get to the few remaining tables I hadn't hit (I really wanted to try the new deep-dish pizza place), and I gave up and headed out. Overall a great event, though a space far too small for the number of people invited – and I'm betting that nowhere near that entire 2000 actually showed up, though it would be interesting to know how many did. For the most part, great fun, and a mix of food, from vegetarian to carnivore, from appetizer to dessert, some of it quite good, some of it quite not. But a good time had by all. I'm already thinking about Taste! 2013.