"You know Shah Jahan, life and youth, wealth and glory, they all drift away in the current of time. You strove therefore, to perpetuate only the sorrow of your heart? Let the splendor of diamond, pearl and ruby vanish? Only let this one teardrop, this Taj Mahal, glisten spotlessly bright on the cheek of time, forever and ever."

– Rabindranath Tagore
I realize that the Taj Mahal is one of the architectural wonders of the world. But at the same time it should not be forgotten that it is a crypt, a mausoleum, a burial place. Fancy digs or not, how many of us would zip off to dine at "Grant's Tomb" or "The Ho Chi Minh Mausoleum"? Yet, there are many restaurants in the world that are named after India's most famous, and here in Buenos Aires, there is one too – Taj Mahal, Nicaragua 4345 in Palermo, 4831-5716. And while I can't say we rushed off to have a bite there, as it's been open nearly a year now, we did make our way there in the last week. And, I'm glad we did.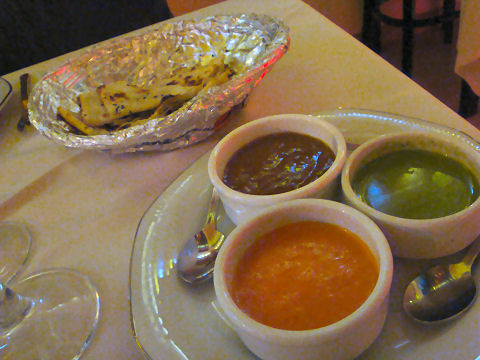 The space is pretty – casually decorated in a vaguely Indian motif. Recessed and indirect lighting gives the place a soft glow. It's got a couple of levels, sort of mezzanines, and a bar. Waitresses in brightly colored silks with strange knit handbags over their shoulders. A half dozen pieces of naan are brought to the table in a foil lined basket (foil? really?), and it's tasty bread, but even better, the trio of standard sauces. What stands out here, the usual tomato-chili sauce is nicely fiery for a change, the mint-cilantro sauce vibrant and delicious, only the tamarind sauce fails – not dismally, but simply because it is far too sweet.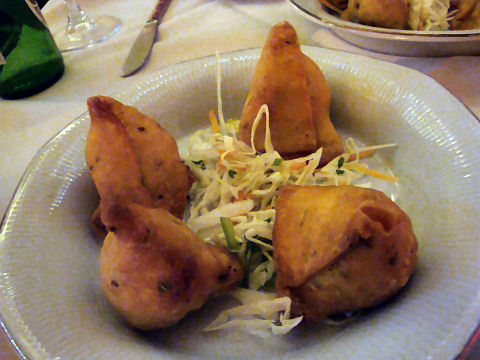 We start with a selection of samosas – the Indian empanada – available in both vegetable and chicken. Both are good, reasonably well seasoned, cooked right, and with a drib or drab of one or another of the sauces (here, the tamarind works when combined with the spicy), and are a nice start to the evening.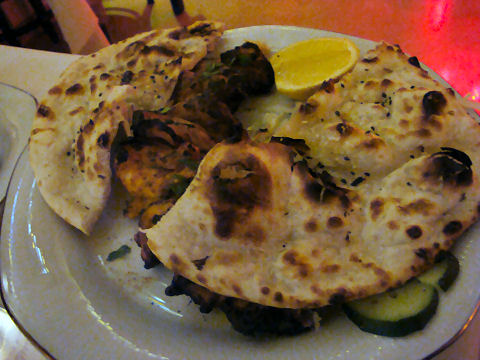 Our waitress enthusiastically recommends the jat bahar tikka, a char-grilled fish skewer, which is supposedly marinated in yogurt and cashews. Perhaps it is, but it is not evident after the char-grilling, which is a bit overdone. The fish is a tad dry and the charred flavor a bit too strong. There is also very little of it – had it been left as a fillet, it would have appeared to be a half portion. Two more pieces of naan bread atop are better for returning to the sauces for another round of dipping.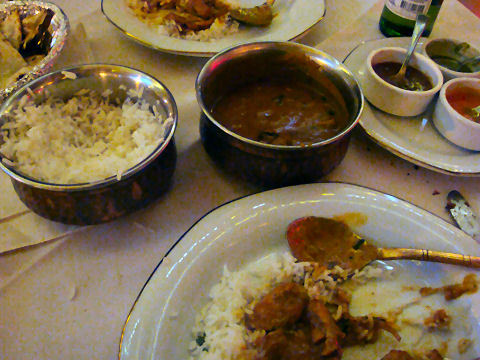 The tikka masala is good, if a likewise skimpy portion, the basmati rice that accompanies it is somewhat bland – not perfumed to the level that most are. More naan bread is brought, more dipping, in fact, by dinner's end we feel we've just more or less filled up on bread. Which isn't to say the food wasn't good, there was just little of it in comparison to the bread.
The menu features a large number of vegetarian dishes, in fact, probably close to half of the items on the menu are. The selection of other dishes includes a good number that are not "the usual suspects". The service is friendly and attentive. The bread is a bit too ubiquitous (there are also garlic naan, two or three types of paratha and a roti available). The prices are high, particularly given the portion sizes being small, and with something to drink it will not be difficult to go past 100 pesos apiece if you really want to dine well. Overall, given the other options for Indian dining here, the place would fall near to the top of the heap – but it's a small heap, and for the most part, the competition isn't all that exciting.