"I think fish is nice, but then I think that rain is wet, so who am I to judge?"

– Douglas Adams, Author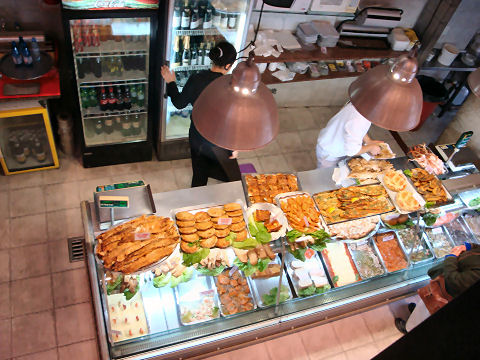 Eons ago, a friend of mine told me about this "cool little restaurant inside a fish store", La Marisqueria (the "seafood store"), Av. Las Heras 2745, here in Recoleta, 4804-6400. I made a mental note to check it out, and then never did. Oh, I've shopped in the store – it's a little further away than several others that I like, but they often have one or two things that one of the others doesn't, so they're sometimes my saviors when I need something specific. And of course, I'd always glance at the stairway leading to the upstairs balcony where the restaurant is. That's about as far as it went, until last week when another friend sent me a text message (I know, I know, "texted me" is now acceptable even in polite circles) and suggested meeting there for lunch. For a change, I could look down from the balcony into the fish store. It's near life changing I assure you.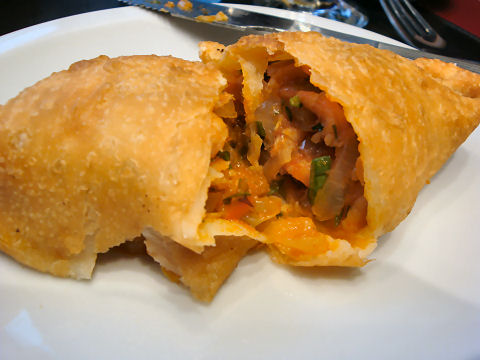 We didn't delve deeply into the menu, and most of it consists of the things you can see in the top photo that are available for takeout, simply heated up. We started off with a couple of empanadas, of course – a salmon one and a shrimp one – the latter one actually ordered as a calamari one, but hey, I say calamari, you say camarones, what's the big deal – unless of course you were my friend, who's deathly allergic to crustaceans and could have been hospitalized had he been the one receiving the wrong sort of shellfish – thankfully, he had the salmon. Then again, he would have cut into it to look first, he's careful that way. Both really tasty, well seasoned, and piping hot; the fish one baked, the shrimp one fried.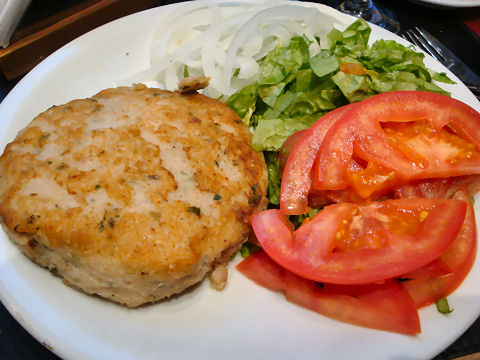 We both were struck by the hamburguesa de brótola, or cod burger, and I decided I could cope with not having a different dish to write up. I admit I was expecting it served on a bun, burger style, but I can live without the bread in this case. The patty – well-packed with fish, not filler, with a good amount of garlic and parsley (provencale as it's referred to here), a little light on the salt and pepper. A little thing of condiment packets served on the side – the usual suspects of ketchup, mayo, mustard and salsa golf – and a choice of salad or fries (we did differ on which we ordered there). Cod burger, thumbs up. Salad, thumbs up. Fries, thumbs up.
Ambiance, well, what do you say, it's a fish store, and thankfully doesn't smell particularly like one or it might be unpleasant eating there. Decor, minimal, or less, if that's possible. Service, friendly and reasonably attentive. Prices, inexpensive – all told, with a couple of bottles of water, and generous tip included, we spent 35 pesos apiece.