"The secret of life is to have a task, something you devote your entire life to, something you bring everything to, every minute of the day for the rest of your life. And the most important thing is, it must be something you cannot possibly do.

– Henry Moore, English sculptor
Ideas I've been playing with in the kitchen – to be refined and quite possibly appear on future menus….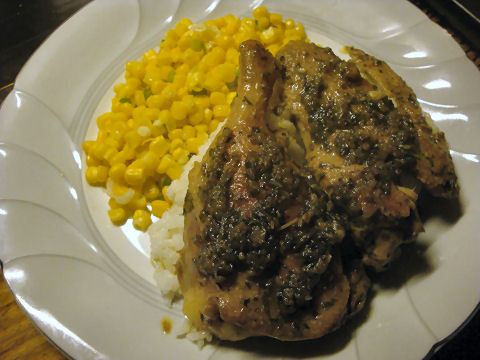 Based on a traditional Peruvian ajipato – literally "chili duck" – I pan-roasted the duck quarters and finished them in a glaze of pureed ají panko and ají mirasol, oregano, parsley, coriander, cumin, olive oil. Served up with Mexican esquites – slow cooked corn with lime, chili and green onion.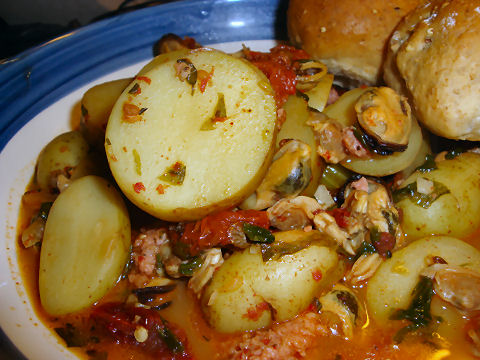 Inspired by a classic Portuguese dish, a saute of smoked sausage, sun-dried tomatoes, green onions, cockles, mussels, smoked and hot paprikas which is then simmered with three different kinds of potatoes.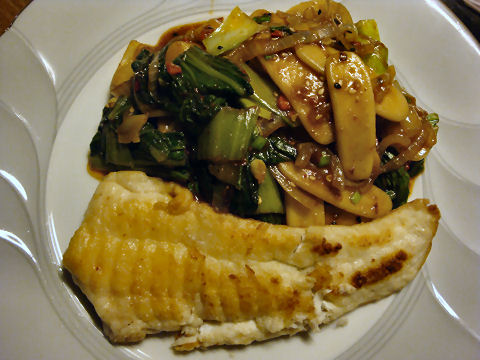 As I may have mentioned recently I picked up a copy of the Momofuku cookbook – if for nothing else, for the recipe for David Chang's Roasted Rice Cakes. The long sausage shaped rice cakes were not to be found in Barrio Chino, so I settled for the lozenge shaped ones. The texture is off, but the sauce came out perfectly – I added in a little wilted spinach right at the end. Served up with a flour, salt and pepper dusted fillet of sole that is simply browned on each side. Needs work. Thinking gnocchi with a sauce based on his… but different… wait for it.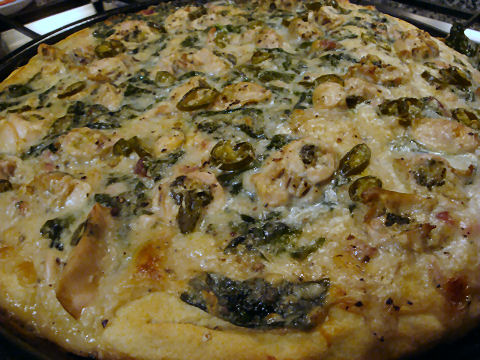 Did he say "oyster pizza"? No, but I was about to. Actually sort of an Oyster Florentine Pizza. Chicago style crust with the crunch of cornmeal. Slow cooked finely chopped bacon with spinach wilted into it. Classic bechamel sauce. Mix those together to form the sauce base and melt in some fresh goats' milk cheese. Top with pieces of freshly shucked oysters and slices of pickled serrano chilies. Grate some Pecorino romano cheese over the top. Bake at highest heat the oven will go. Spectacular!