The "Caprotinia", or feasts of Juno Caprotina, were ancient Roman festivals which were celebrated on July 9, in favour of the female slaves. During this solemnity they ran about, beating themselves with their fists and with rods. None but women assisted in the sacrifices offered at this feast.
Had I done my research a bit better instead of slacking off, I'd have probably featured goat and figs on this last weekend's menu (I'll leave you to do the research if interested). And Henry and I would have had to dress in drag I suppose. Okay, the last wasn't going to happen, at least not me. But, I did slack off on my research. And the menu, while interesting, just didn't come out the way I envisioned it. I wouldn't say it was a bad dinner, it just wasn't what I'd pictured. Inspirations for dishes came from a cookbook I was sent, unbidden, for review – A Taste of Ancient Rome by Ilaria Gozzini Giacosa. I never did review it since while it provides some fascinating recipes, it's not that interesting of a read outside of the recipes themselves, and since I hadn't requested a review copy I didn't feel obligated. I'm also left with the question as to why the goddess who gave name to the 6th month of the year has her festival celebrated in the following one?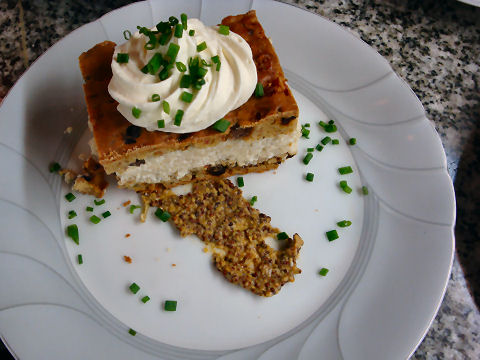 Life is short, eat dessert first, right? Okay, it's not dessert, but a dish inspired by a savory cake that had a base layer of dough topped with a mixture of a ricotta-like cheese and couscous, and then served up with sausages and olives. I mixed the sausages and olives into the base dough, spiced it up a bit, and sandwiched the ricotta and couscous filling between it. Added in a bit of stone-ground mustard on the plate and a swirl of horseradish whipped cream atop. Kind of pretty to look at, tasty, but too heavy, too dense, too clunky. Had we had two nights of dinners this weekend I'd have completely changed the idea for the following night.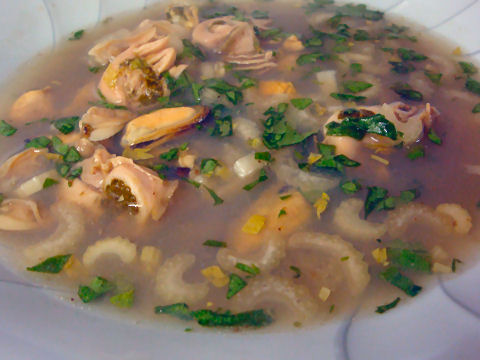 The soup worked. Not quite as pretty as I'd have liked, but really quite good. A stock base of fish and clam broth, flavored with a puree of dates, coriander, cumin in moscato wine. Lots of chopped celery, a bit of white wine, pepper, fish sauce, a load of clams and mussels, and finished off with a good amount of finely chopped, richly perfumed garland chrysanthemum leaves.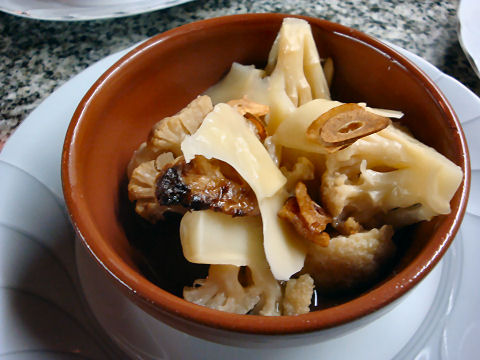 When I saw a dish of roasted cauliflower I thought, this is a perfect time to try a take on that amazing cauliflower dish I had last month at The Brindle Room. I really liked how this came out, and most of the guests devoured it. Henry felt it made a better side dish than a full course – I'm of two minds about that – for me, a nice bowl of roasted vegetables is a course, but I understand the view that for many it is an accompaniment. I roasted the cauliflower with olive oil and salt in the oven until nicely caramelized here and there. I put in bowls with a scoop of a garlic, parmesan and bacon broth, lots of crunchy garlic chips and some shavings of pecorino romano. Less cheese and broth than the inspiring dish, more garlic and the addition of the bacon. I like them both.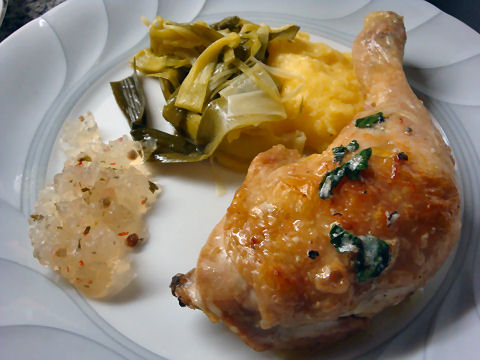 Nothing wrong with a nice roast chicken. And it was fine – but again, just not the plate I envisioned. I used the Jonathan Waxman method of roasting the chicken that I talked about last month, just precut up into pieces. Served it up with a creamy polenta finished with fresh goats' milk cheese, some leeks braised in chicken stock, and a wine jelly (inspired by my new Momofuku cookbook… sorta kinda) – torrontés wine, gelatin, splash of vinegar, finely chopped rosemary and chilies. All the flavors worked but the plate felt pedestrian to me.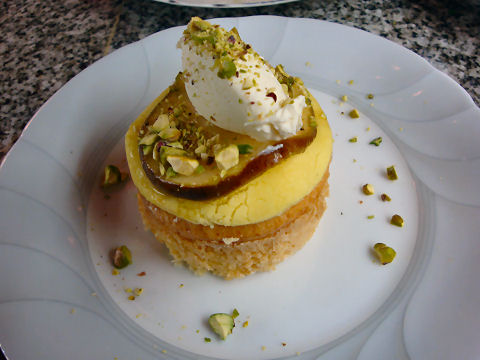 I was reasonably happy with this one, both flavor and presentation (I guess my focus these days on my pastry classes has me thinking more about the look of the desserts). A vanilla cake filled with a fresh pear marmalade. Topped with royal icing colored yellow and streaked with red food coloring, a caramelized pear slice, and homemade mascarpone flavored with a drizzle of pear liqueur and topped with finely chopped pistachios.