The Inti Raymi festival was once more upon us and Henry prevailed on me to bring some Peruvian flavors to the table this weekend. Or at least some inspirations….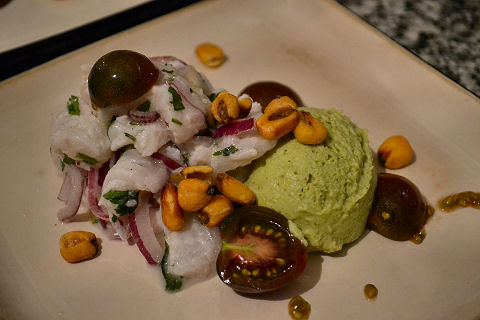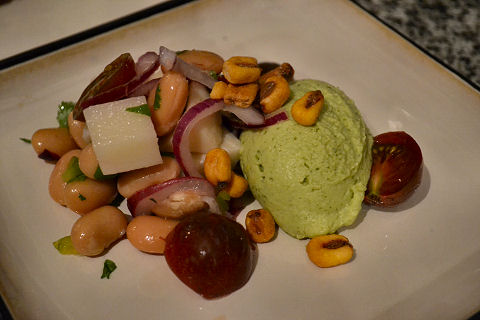 Starting with ceviche was pretty much a given – sole ceviche with a guacamole mousse (very non-Peruvian the latter, but I like it). Vegetarian option this weekend, a heart of palm and broad bean ceviche done up the same way.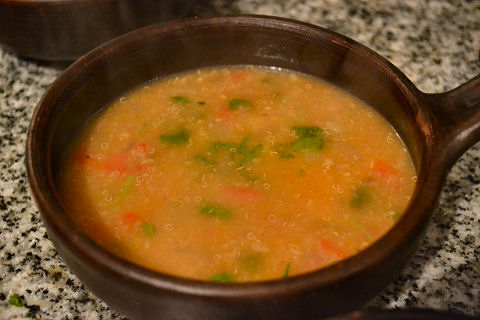 An all vegetable version of our sopa incaica – roasted vegetable broth instead of beef broth made it workable for all-comers.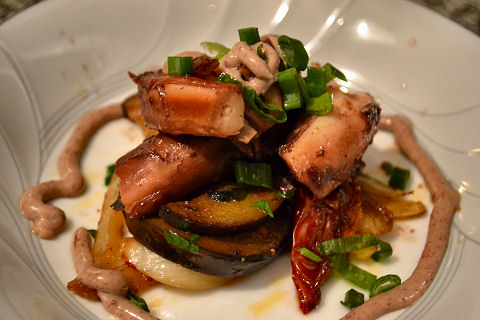 I mentioned back in my recent NYC trip reviews that I was going to play around with some sort of inspiration from the pulpo al olivo salad of chopped octopus with black olive mayo. Here, jibia, the tentacles of the Humboldt squid (sometimes called jumbo or jumbo flying squid, and in Spanish, pota or diablo rojo), braised for two hours in olive oil, garlic, dried red chili, coriander seed, green peppercorns and salt until very tender. Served over a saute of fennel, eggplant, black olives, capers and sun-dried tomatoes flavored with thyme, oregano, coriander and red pepper, and squiggled around with some black olive sauce (a mayo made with olive oil and then blended with black olive tapenade. Okay, the first night I went overboard with the squiggling, second night there was more just a nice dollop on top. For the vegetarian option, a mix of pine and oyster mushrooms confited the same way (though only about 30 minutes or they would have fallen apart) – Henry whisked the plates off to the table before I got a photo.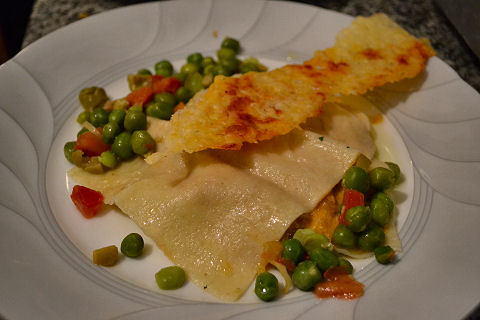 An open lasagna of three layers of semolina pasta with ají de gallina, chicken in yellow Peruvian pepper sauce, in between. Topped with a parmesan tuile and a saute of fresh peas, tomato, green olive, and chilies. For the vegetarian option, the plate looks the same because you can't really see the filling, but instead of chicken, I thinly sliced fresh artichoke hearts and then quickly sauteed them in butter and olive oil and then mixed them with the yellow pepper sauce – which, by the way, I may like even better than the chicken version. The artichokes pair perfectly with that sauce – veg-folk take note!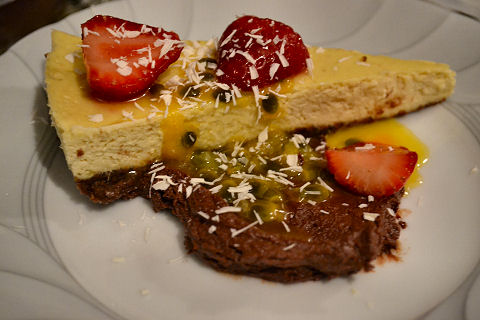 A mango cheesecake spiced with clove, cinnamon and ginger. Chocolate and olive oil mousse. Strawberries macerated in sugar and cassis. Fresh passionfruit pulp. Grated white chocolate. 'Nuff said?