The discussions are endless, but they come down to one thing. Hype versus Reality. Expats and tourists alike, and really, most locals – all qualified with "people who really like to eat interesting food – i.e., foodies, if we must" – know that Argentine food, particularly that in the Buenos Aires area, is just plain bland. Spices aren't used, there's little variety, and it's strangely lacking in things that local heritage and geography would indicate likely – seafood, Italian and Spanish food stand out in that category. The hype side is based on what Buenos Aires is traditionally good at. Steak and potatoes. There's no question that historically, Argentine beef is among the best of them in the world. The shame of it is that even that's changing, with a stampede on the part of ranchers to change their operations over to feedlots instead of pastures. But you can still get an excellent steak at a good price – it's just truly hard for those of us who aren't just here for a few days of tango, beef and Malbec to see how that's been spun into the full fledged hype of "the food in Argentina is amazing".
Now, all that doesn't mean there isn't good and interesting food here. There's plenty, these days, of "ethnic" restaurants of one cuisine or another and I've certainly done my share of chronicling what's out there, and new stuff pops up regularly. There's even highly creative and delicious Argentine food that strays from tradition – but that's a new movement, one we're all thankful for, and it's growing. And locals partake of these places as much as us extranjeros do, so it's not that there's not interest. However, there are days when wandering off the beaten path of the tried and true is just not done. Days for asados and empanadas and perhaps a bowl of hearty, rich locro. So, what can we do here at Casa SaltShaker to celebrate one of those days – Independence Day this weekend – and bring to it both the sense of tradition and our own sensibilities of spice and flavor?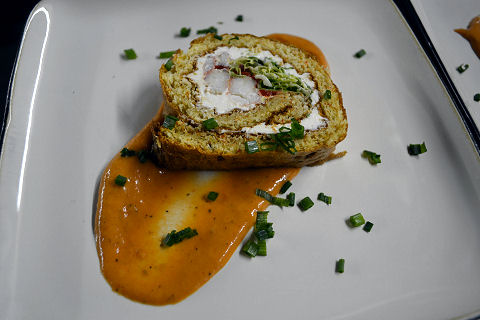 The pionono is a mainstay of the casual lunch or snack. It's what we would call a jelly roll, and certainly there are sweet versions around, but the savory is almost more interesting. The most common versions tend to be filled with either a chicken or tuna salad, but there are other varieties as well. In form, we stayed traditional, in practice, not so much. The pionono itself, started classic, leaving out the vanilla from the recipe, and adding in a couple of tablespoons of shichimi Japanese spice blend. The filling, a mix of mascarpone and goat cheese, fines herbes, quickly cooked king crab legs, frisee, and julienned piquillo peppers. But what to do for a sauce? There's of course the classic local condiment of salsa golf – but we can't just head out and buy a bottle of the stuff. So, my version – homemade mayo mixed with homemade ketchup, blended with a puree of more piquillo peppers – now that's a good salsa golf.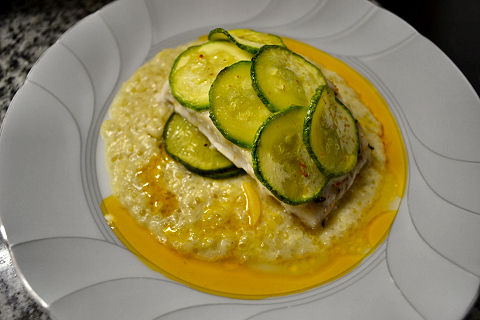 Stepping way outside of BA cuisine, but I knew I wanted to use quinua in at least one course – it may not be used much around here, but throughout the north and west it's a relatively common grain. But to make it my style – a polenta grassa of quinua – boiled it up in salted water (perhaps a touch too much salt in the end is my assessment), then when it was cooked through and all the liquid absorbed, added milk and cream and cooked it over low heat until those, too, were absorbed and the quinua was falling apart tender. Finished it with nutmeg and butter. Yum! You'll be seeing that again. Over the top, some sauteed zucchini, and a drizzle of garlic and smoked paprika oil, and atop that, a broiled piece of corvina, grouper, with a layer of zucchini slices laid out like scales.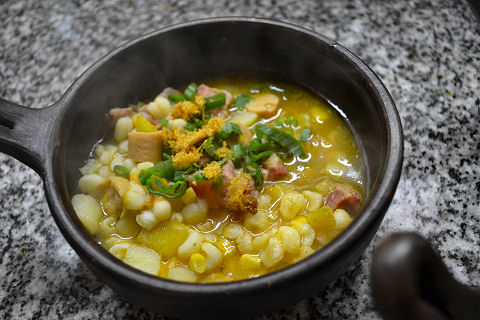 Locro is the centerpiece of an independence day celebration here and we couldn't ignore it. I told you recently that it would be making an appearance when I wrote up a step-by-step recipe for our version of it. Same recipe, just different meats – in this case, Japanese white sausages, cured bondiola (pork shoulder), and pork belly, and finished off with some green onions and "pork floss". Extra spicy chili oil served on the side for people to add to their own tastes (a simple puree of olive oil, thai bird chilies and salt).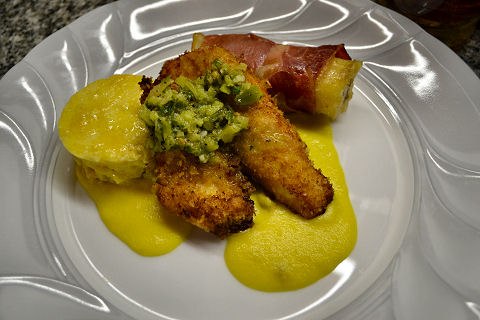 Chicken Maryland is one of those strange dishes that has completely different interpretations depending on where you are. In the U.S., where likely it originated, it's fried chicken served with cream gravy. In France, much the same, it's even in Escoffier! In Australia it's not a dish, but a cut of meat – the thigh and drumstick left together. Various other versions with hush puppies, corn, peas, bananas, ham, bacon, and a variety of other accompaniments make the dish – though all generally served with some sort of fried chicken and something creamy, even if not a gravy. Locally, here in Argentina, the classic is a pounded thin cutlet of chicken, either breast of thigh, breaded and fried. It's served with a scoop of creamed corn, a thin slice of ham, and a deep-fried, breaded banana – and that's where I started….
The chicken, breast meat cut in strips, marinated in buttermilk and ají amarillo for the day, then breaded in panko crumbs and skillet fried (unfortunately, given the quantity I was making, some of it didn't stay as crisp as I would have liked as I had to work it in batches). The corn reinterpreted in two forms – a simple corn puree of grated fresh corn with butter and milk, cooked down, blended and strained; and a classic norteamericano corn pudding of fresh and creamed corn cooked with eggs, milk, sugar and salt. To the side, a prosciutto wrapped banana segment, pan-seared until just crisped. And what would an Argentine meal be without chimichurri in some form? Now, this isn't the usual "green chimichurri" version of parsley, oregano, garlic and oil and not much else. No, it's the red version turned green with a few substitutions – white wine and rice vinegar in places of the reds, green tomato, green pepper in place of the red; crushed green peppercorns in place of the paprika and a finely chopped green chili in place of the cayenne. Flavor-wise, pretty classic chimichurri, with some subtle differences, and completely complementary to the rest of the plate.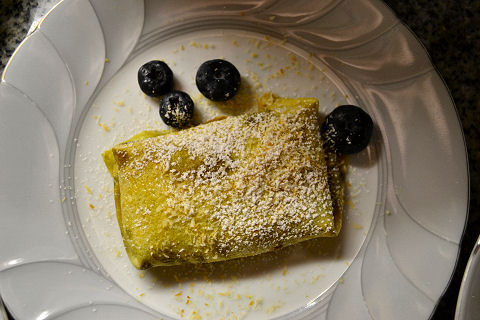 And, we couldn't not have dulce de leche in some form, and so my current favorite – crepes (panqueques) wrapped around dulce de leche, chopped toasted pecans, dried blueberries rehydrated in Pacharán – all warmed in the oven and then dusted with powdered sugar and toasted coconut, a few fresh blueberries for garnish.
Happy Independence Day weekend!