Sometimes, there's an oddball dish that catches my attention, and I find myself filled with the need to explore it further. The dish that has caught my attention, on and off since I moved here, is Pollo Maryland (Chicken Maryland) – the name changes at times – Suprema or Suprema de Pollo or Milanesa de Pollo (respectively a white meat cutlet, a white meat chicken cutlet, a dark meat chicken cutlet) leads the moniker; a few folk throw in "a la" before the Maryland. But you get the idea. I'm going to start with what I can find out about its origins, which isn't a whole lot.
Not surprisingly, it seems to have started in the US state of Maryland. It's one of those recipes that stretches back far enough that there's no official recipe, it's more or less "the way fried chicken was made in Maryland, different from southern fried chicken". There seem to be two ways to go that make it different, much of which may just have depended on whether person making it had an oven or how much work it was to fire it up – it seems that the chicken pieces (often, but not always, first marinated in buttermilk) are simply dredged in flour and then shallow pan fried in either butter or lard until brown (never deep fried) – at that point, the pan is either put in the oven to finish cooking the chicken through, or, covered, leaving the chicken to steam in its own juices. The chicken is then served with a white pan gravy made from the drippings in the pan and the addition of either milk or cream. And that seems to be about as far as the "classic" goes.
As best I've been able to find, the first time the dish appeared in print as a standard recipe was in the 1896 edition of the Boston Cooking-School Cook Book, what later became the The Fannie Farmer Cookbook – Farmer's version was an attempt to cut down further on fat, which she upfront admitted, so she used butter in place of lard, but just enough to baste the chicken (dredged in flour) while it baked in the oven, rather than fried atop the stove, and then created a cream sauce to go with it – how that reduced the fat from using lard, I'm not really clear.
Just a few years later, in 1908, apparently, Auguste Escoffier tried a version of the dish at a restaurant called Martin's, in New York, fell in love with it and went back to London to tinker with the idea. He included a version of it in his Ma Cuisine in 1934 – dredging the chicken in flour, then in beaten eggs, and then in breadcrumbs, fried it in butter, and served it accompanied by sweet corn fritters, potato croquettes, broiled bacon (not pan fried), and bananas fried in butter (without a crust), and then topped the whole thing with a horseradish bechamel or, as an option, with a garlic and parsley infused tomato sauce. Not surprisingly, since Escoffier introduced his version there, this tends to be the version of Chicken Maryland that is served in the UK. [Note: And which, it has been pointed out to me, was on the menu for the last dinner on the Titanic before it went down. Just sayin'.] As an aside, the term "chicken maryland" in Australia has nothing to do with a specific dish, but is simply what the cut of a thigh and drumstick together is called in a butcher shop.
Wikipedia reports on a southeast Asian version that's served with "hush puppies" (more likely Thai or Vietnamese corn fritters, but okay) and deep fried potatoes, carrots, tomatoes and bananas. Here in Argentina, the version is a bit closer to the Escoffier style than the original American style. It's classically a pounded thin boneless breast of chicken, often with the first joint of the wing still attached (bone left in on that, so it looks a bit like a cutlet), breaded and fried, and served with a breaded and fried whole banana, a slice of ham or bacon, and creamed corn, or at least a bechamel sauce with corn in it, and, of course, french fries, because everything here is served with french fries….
Whew! I set out to find out if anyone here is doing anything interesting with the dish. Now, I've tried some versions of it in the past, so I'm going to reintroduce those here… (I've even made one stab at a reinvention of the dish, here.)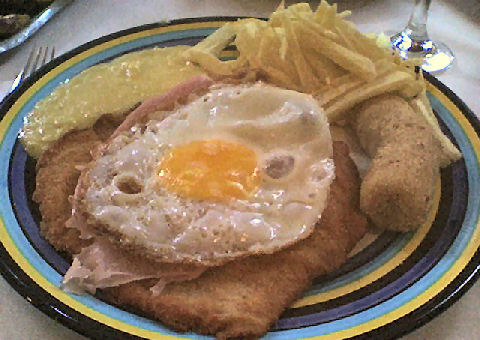 The first time I ever tried the dish was at a neighborhood spot (8 years ago probably),
Los Molinos
, corner of Uriburu and Santa Fe – breaded chicken cutlet topped with a slice of ham and a fried egg, fried banana, french fries, and creamed corn on the side. I liked it then, but in retrospect it's a bit of a yawn. 
[Closed]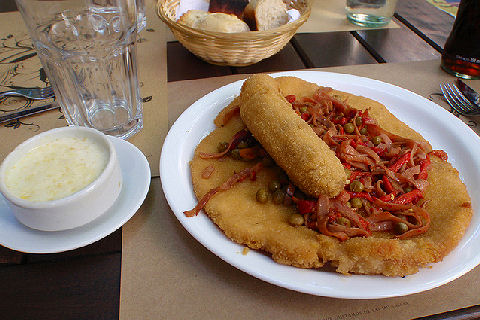 Henry used to love getting the version from the ubiquitous chain
El Club de la Milanesa
, with slivered ham and roasted bell peppers, peas, and the creamed corn on the side. He always ordered both the chicken and the banana baked instead of fried. They no longer have a version on their menu. I always thought it was a little boring, but liked that they offered a baked version. And, of course, choice of side dish rather than just french fries – El Club has a decent selection, we usually get salads or grilled vegetables.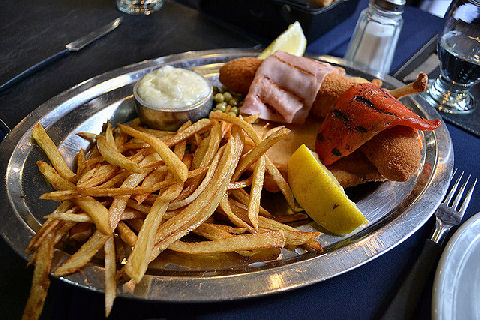 One of my favorite
bodegónes
, or sort of old school local fare spots, is
Manolo
, Bolivar 1299 in San Telmo – they're kind of the kings of great, overloaded milanesas. Their version is topped with a fried banana draped with grilled ham and bell pepper and accompanied by some of the best fries around, a small spoonful of peas, lemon wedges and a little teeny amount of creamed corn – they could definitely use more of that on the dish.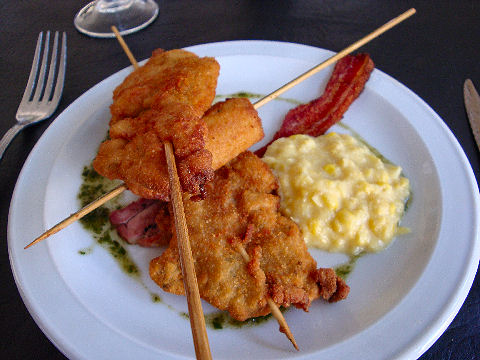 At
Calcio
, Rivadavia 5701 in Caballito, they offer a creative reinterpretation as an appetizer in
pincho
(skewered) form, with little flattened nuggets of fried chicken, a strip of crisp bacon, fried banana, creamed corn, and a little pesto on the side. Delicious!
Now, those are the versions I'd tried in the past. Realizing that this dish is one of those that half the classic restaurants in the city probably offer up, I did a search through various sites – Google, TripAdvisor, GuiaOleo, and a few others – for "el mejor", "the best", and figured I'd check out a few of those.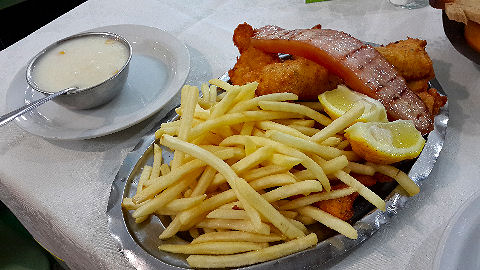 Far and away the most recommended spot for this dish was
Gambrinus
, Federico Lacroze 3779 in Chacarita, a German-Argentine spot that I've had recommended to me at various times in the past. So, time to check it out. First off, a whopping dish, there are three cutlets of chicken on that platter, each of them probably a small breast of chicken on its own, a breaded and deep-fried banana, a slab of grilled, thick-cut smoky bacon, lemon wedges, lots of really good fries, and a good sized ramekin of mostly just bechamel with a few desultory kernels of corn floating about in it. Absolutely delicious, and so far, the best version of the dish I've tried.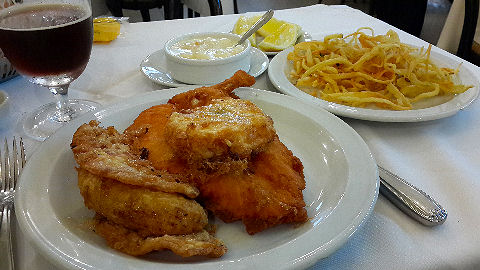 Nearly as high up there in the recommendations, another German-Argentine spot (well, Weiner Schnitzel and all that – specialists in the genre I suppose),
Zum Edelweiss
, Libertad 431 in Congreso. They've gone a bit overboard in the frying department, and they're also going the battered route, rather than floured or breadcrumbed. The cutlet is clearly deep-fried rather than pan-fried, as is the small section of banana sandwiched between two slices of also battered bacon (a real mistake, as they didn't crisp the bacon first, so it's just warmed to the point where the fat has melted on the inside of the crust, making for a sodden mess), and the slice of canned pineapple served with thin, crispy "papas pays", shoestring potatoes, also really oily, a couple of lemon wedges, and creamed corn. For me, it was overall a really oily, not overly pleasant version of the dish.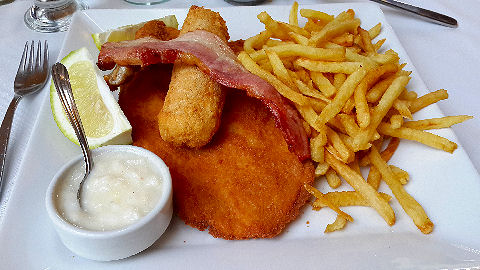 A bit touristy, but the tri-level
Las Cañas
, at Corrientes and Montevideo in the Paseo La Plaza "mall", serves up a reasonably decent version. The breading was light and crispy, the chicken was a decent sized portion, the fries were good, the bacon could have been crispier,

the creamed corn was more bechamel than corn, but still worked. Although you can't see it, they serve up a little ramekin of mayo with their bread, but it's been died with blue and yellow food coloring, swirled through it, to give a lurid sort of aqua shade to it. Doesn't change the flavor of the mayo, and it was perfectly good on the fries, but it's just an odd choice for presentation.
More to come….
[Edit: Apparently I share the fascination with this dish with local chef and Masterchef judge Germán Martitegui of Tegui restaurant, one of the world's best! He likes the one at Munich restaurant which I've not tried.]