You might remember my short post on piononos, the popular jelly-roll cake filled with, often, savory ingredients. Back on day one in pastry class when we covered this particular gem, along with ladyfingers and basic sponge cakes, I asked about making it savory instead of sweet, a question that was greeted with a momentarily puzzled look, followed by, "it's our tastes, we like that sweet and savory combination, yes, I suppose you could do it, but we don't."
Among the things that I wanted to practice for next week's exam is the pionono, so, here it is…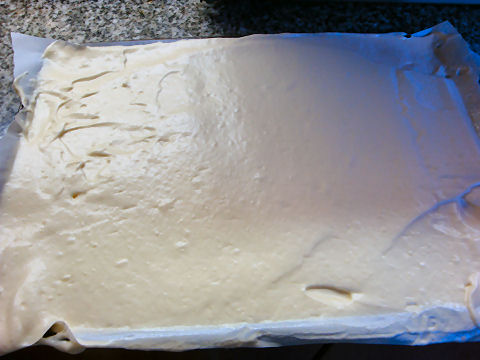 I'm going to assume that you don't need to see more pictures of whipping eggs and such. The process for the pionono is almost the same as that for the vainillas that I posted a few days ago. The ingredients are only slightly different – 5 eggs, 50 grams sugar, 60 grams cake flour, 1 tablespoon honey and a few drops of vanilla. The major difference in the process is that the eggs are separated and the whites are beaten first, then the sugar added and the beating finished (essentially a "French merengue"), then the yolks, vanilla and honey are beaten in, followed by folding in the flour. A 12″ x 24″ sheet pan is lined with buttered or oiled wax paper (makes it easier to remove later), and the batter is spread out evenly in the pan. (I made a 3/5 batch here as I don't have sheet pans that big and the size of mine just fit about 3/5 of the specified size)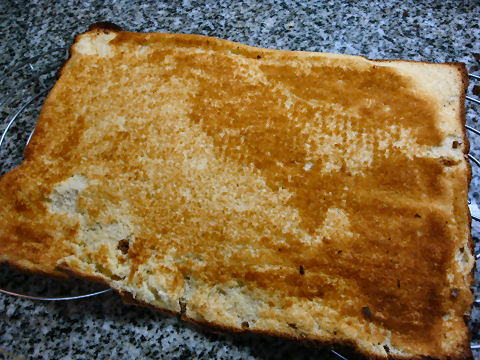 Because it's such a thin layer of batter it takes very little time to cook. I probably went just about a minute too long and it browned a little more than it should have.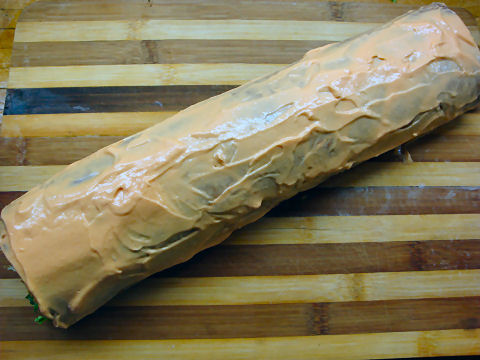 After letting it cool, it is filled with whatever it is you care to. In this case, I covered the inside with a spreadable goat's milk cheese, then put in kanikama, or surimi – fake crab sticks you know – along with chopped frisee and piquillo peppers. I rolled it up and coated it liberally with… salsa golf.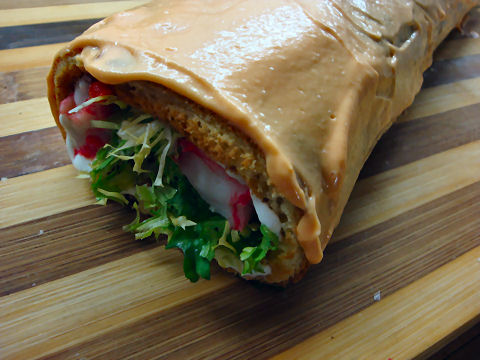 An end shot closeup.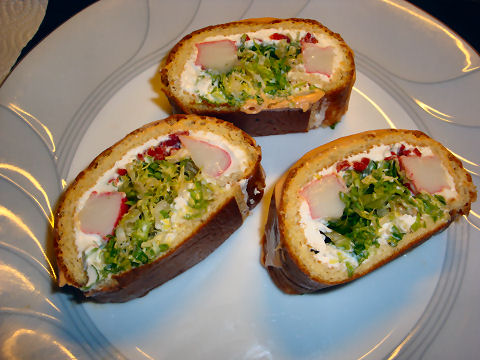 And, after letting it chill and set in the refrigerator for a couple of hours, we sliced and served it. You know what? It's really quite good!