"A flash bast*rd is someone with a very high opinion of themselves, almost never backed up with any substance. Usually a male of the species, wearing flashy clothes, driving a flashy car, but with no real substance."

– The Urban Dictionary
I predict an imminent rise in teppanyaki restaurants in Buenos Aires. You heard it here first. Oh, I don't have a lot of evidence, it's just a hunch. First there was Benihana, and now there's T•ppan, Santa Fé 2939 in Barrio Norte, 4822-2950, open just a few months. I hadn't even noticed it, despite walking past it probably a couple of times a week, it's really understated on the outside, you almost have to be looking for it.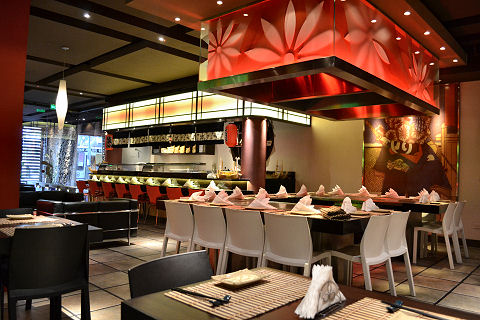 Inside, it's a different matter – they put some pesos into this renovation, even a fish pond of sorts in the entryway. But if you look closer, some of it's just window dressing, like the dot in place of a vowel in the name. Those cool looking laminated wood chairs around the wooden tables? Cheap plastic stackables. The beautifully folded linen napkins on the tables? Only the ones visible when you enter the room, all the rest of the tables have tacky napkin holders with folded over paper napkins. The elegantly dressed, tuxedoed waiters? As inept and uninterested as you'd find in any grimy bodegón. The kimonoed Japanese sushi chef? That kimono comes with soy sauce advertisements splashed across it, no doubt provided free to the restaurant – oh, and while not a negative, just a surprise, the sushi chef and the two women who appeared to be the owners, carrying on in very loud Mandarin, not Japanese (the question came up twice in the last week, is there a Chinese word for "Shhhh"?).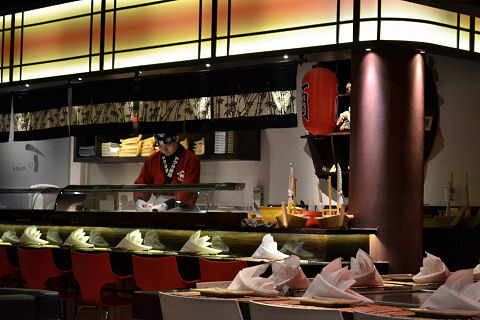 The menu's an interesting and lengthy affair, with a wide variety of Japanese dishes on it ranging from sushi and sashimi to various rice and noodle dishes, barbecued skewers, a few others, and, of course, if you choose to sit at one of the only two teppanyaki tables, the whole flash shebang. Strangely, the menú ejecutivo, the fixed price lunch specials, are all Argentine food, not Japanese – well, sort of a combo – for a price in the low 30s you get two pieces cut off a plain salmon sushi roll followed by a choice of beef or chicken milanesa. The only other people who came in while we were there were two solo women on their lunch breaks who both opted for one of those, ate with little gusto and left.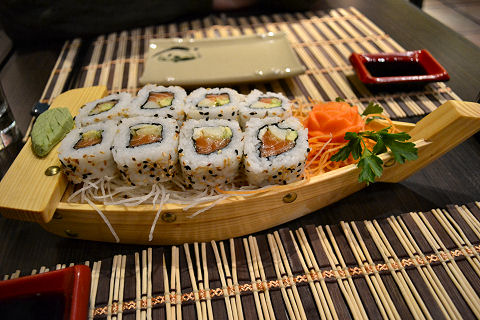 We decided to order a few things to share – a sushi roll, a couple of appetizers, a couple of main courses. Here's where our waiter's lack of care showed up – he just started bringing everything at once, and got a bit miffed when we asked him to slow it down – we didn't need our appetizers and main courses all piled on the table while we were still working on the sushi roll. A bit huffed, he took the last of those back to the kitchen to "keep warm". Back to the food itself – a spicy salmon roll. Nice and fresh on the salmon, well put together, but nothing spicy, really. And a place where the background of the sushi chef probably showed through – the usual spicy rolls are made with a good dollop of a spiced mayo, generally with something like shichimi, the Japanese pepper and spice blend. Here, he just dotted inside the roll a few drips of sriracha sauce – the whole roll probably didn't have half a teaspoon. On the other hand, the wasabi was bright and spicy, not the usual faded paste that shows up with sushi here.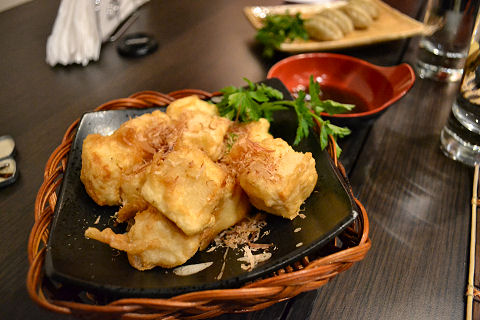 A favorite of mine, fried tofu – a twist on a traditional agedashi tofu – served up with shaved bonito flakes. Creamy and smooth, nice and hot on the inside, a beautifully crispy crust. I like it a lot by itself, the dipping sauce it came with was completely insipid, tasting pretty much like watered down soy sauce with maybe a touch of sugar in it – it was supposedly "sweet and sour", but was neither. We asked for hot sauce and got a bowl of chopped chilies, which was a nice touch – it was decently spicy. My lunch companion wasn't as enamored of the dish as I was, but he's not a tofu fan.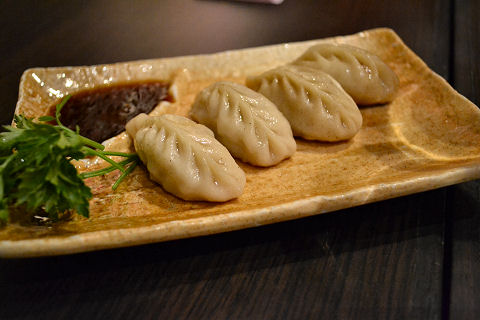 The gyoza, pretty as a picture, but pretty much flavorless and slightly undercooked so that the dough was chewy. The sauce, supposedly a completely different dipping sauce, was completely indistinguishable from the one served with the tofu – we tried them side by side, just dipping in spoons, and there was literally no difference. And four gyoza is a pretty skimpy serving for the mid-20s pricing of the plate.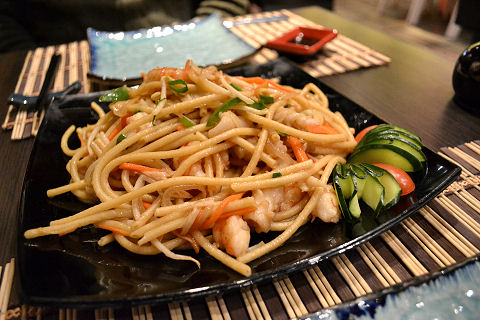 We were looking at the two udon dishes on the menu, either the vegetable or the seafood. Our waiter, for the first time showing any interest, insisted that we try the third option, the fideos salteados, which he assured us was the essence of the other two combined – an udon with both vegetables and an even bigger array of seafood. Given that it was only a 5 peso uptick, we acquiesced. Now, I don't know if the other two dishes are actually made with udon noodles and this is the only one made with bucatini, but that's what it was made with. And if the few measly scraps of shrimp and squid in the dish along with some chopped onions, carrot shreds and beansprouts was "more" than the other two dishes contain, that's pitiful. Still, the dish was tasty, and with a good amount of the chopped chilies spooned onto it and mixed in, it wasn't bad at all for a pasta dish. It just wasn't udon.
And then this measly excuse for a tempura mixto, pretty much the most expensive dish on the menu, arrived. Two shrimp, two pieces of sweet potato and two pieces of onion. That was it. The tempura batter, always the test of a good tempura – a nice crispy, panko crumbed outside, but way too thick so that the inner surface was doughy and uncooked. And, the dish served without any kind of dipping sauce or accompaniment. Definitely the biggest disappointment of the meal.
A couple of other thoughts. Everything beautifully presented with nice little garnish touches – but again, window dressing given the substance of the food. We'd ordered bottled water, which arrived not in bottle, but in large glasses, which were refilled once, and we were charged for four bottles of water. Never saw a bottle, and for all we knew, it was simply filtered tap water. Actually, my bet is they have a large water cooler type dispenser for the bottled water and are filling the glasses from that. Not sure what they do for the sparkling. One of the owners did sit down with a couple of friends who dropped in, at the teppanyaki table, and so we got to watch a bit of the show. It was pretty clumsy by comparison to most I've seen, the chef very slow and deliberate with very little in the way of any flair – and that's half the fun of sitting at a teppanyaki grill, right? And I really do predict more of them to open in the near future, it's just a gut feeling.
Overall, while not bad it wasn't good either. It was just sort of a blah experience. I can get better sushi at any of half a dozen spots in the 'hood, and there are places to get better of the cooked dishes. And certainly I can get better service and a lower price (all told these five dishes and our water rang in at close to 300 pesos with tip). I'll give the place an equally unenthusiastic "Okay", but it's certainly not on my list to return to. Flash B*stard indeed.