"Bite off more than you can chew and then chew like hell."

– Peter Brock, Lacrosse Coach
Another little roundup of recent foodstuffs and events. This week's big event, the 1st Annual Buenos Aires Chili Cookoff – organized by a group of local expats and amazingly thrown together in roughly 3-4 weeks, they put together a fun, tasty event. Oh, it had its little quirks – they'd never expected until close to last minute that they'd have more than maybe 75-80 people show up, so the 300+ crowd that signed up for the event over the preceding week took them by surprise – mostly affecting two things: the size of the space they'd arranged, which for a four hour period was expected to be able to handle about 30-40 people tasting their way through bowls of steaming chili at a time instead of forcing dozens to wait in line on the sidewalk, and, each chili cook had only planned on having around 3-4 liters of chili with them, so halfway through the event there wasn't much of anything left. Next year and all that! Eleven contestants, both expat and local, brewed up their own concoctions – the definition of what constituted chili was left up to them ("If you call it chili, we call it chili"), and at least from the four that I managed to dart in and try (I gave up as the lines got longer and the room got more packed – these photos are from the setup and judging time before the crowds rolled in), there was wide and wild variation!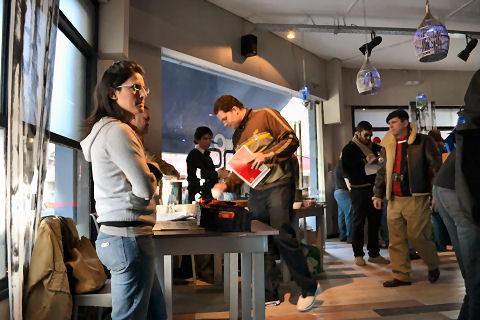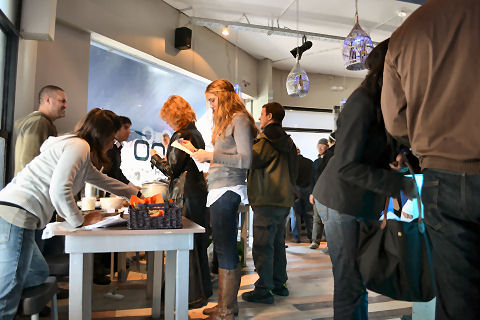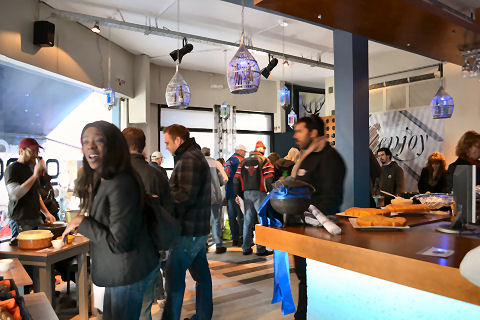 Let's see, what did I try… First up, in the third photo you can see John Brister (in the red baseball hat) of San Telmo Loft, who had a classic Texas style spicy chili with big chunks of slow cooked meat – my favorite of the four I tried, and, it turned out, the winner of the competition. Then I tried Marc Randall's – he's the guy on the left in the second photo, and the owner of Randall's, which I recently reviewed – his chili, a ground beef and bean style that reminded me of the chili I grew up on in the Midwest – tangy, slightly sweet, just a hint of a kick – my mom used to make a good chili that way and top it with cornbread batter and then bake the whole thing – definitely comfort food for me! Next up, the guy you can just see in the background center left of the first two pix, with the white collar, a local boy, Franco Emiliozzi Regueira, who, well, let's say didn't quite "get" chili – not a surprise here in BA. He had cubes of meat that were apparently marinated in olive oil, rosemary and parsley and then stewed with beans – the beans were so under-cooked they crunched like chalk, and the flavors had nothing to do with chili, I don't care how loose the definition. The last, another ground beef style from the owner of a local expat hangout that I recently trashed pretty badly – it reminded me of the slightly spicy style Manwich Bold Sloppy Joe mix… which, while it might not win a Texas chili cook-off, isn't particularly a bad thing – a good Sloppy Joe and a side of mac 'n cheese is sort of ultimate comfort food for me. Hmm, maybe next year I should enter as either contestant of judge?
On to some various food experiments here in the Casa….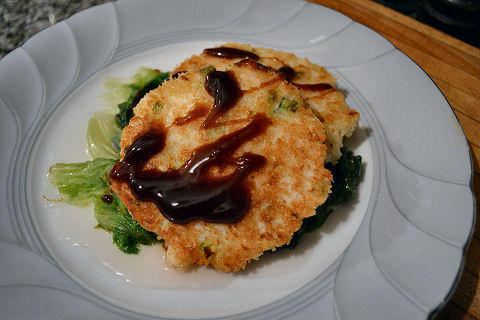 Crispy, spicy daikon fritters served over braised lettuce and topped with vegetarian "oyster" sauce. That'll be making an appearance in one of our upcoming vegetarian dinners, sin duda!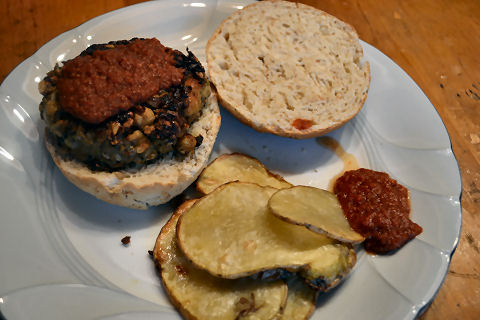 Our veggie burger class came off beautifully. Not only did we make the veggie burgers, but also the whole wheat buns, the oven baked potato chips, and… the ketchup!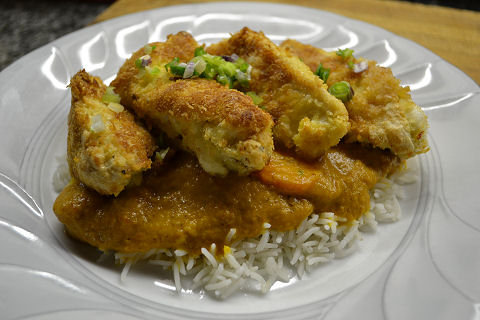 Curry and Japan don't normally spring to mind together, but there is one, Chicken Katsu Curry. I don't know that it's a traditional Japanese dish, or some sort of mashup of Japanese and Southeast Asian cuisine, but either way, it's delicious. Basmati rice, a mild to medium spicy curry sauce with carrots, and panko-crusted fried chicken strips atop. Pretty to look at and tasty to eat!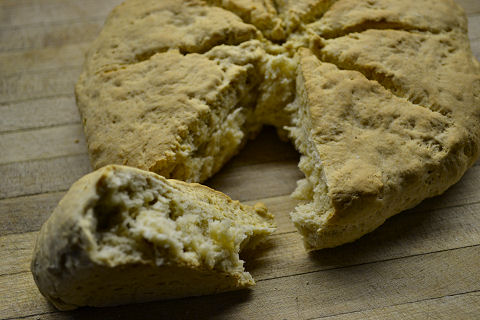 And a couple of "quick" bread experiments – here a reasonably traditional (well, for making inside a kitchen rather than in the coals of a fire in the Outback) Australian "Damper".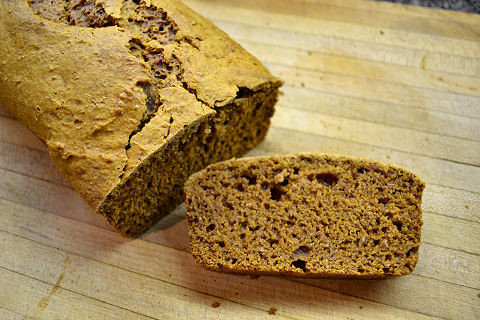 And, a classic Icelandic Brown Bread – quick to mix, but a slow bake – 3 hours at low temperature – which we are happily munching away on this morning with butter and steaming mugs of coffee. Life is good!