You know from past experiences that whenever you have been driven to the wall, or thought you were, you have extricated yourself in a way which you never would have dreamed possible had you not been put to the test. The trouble is that in your everyday life you don't go deep enough to tap the divine mind within you."

– Orson Welles, Actor, Director, Producer, Writer
Buenos Aires – I enjoy wine and food pairing – it's something I think I'm good at – and have spent a good part of my career doing. So, when a group of local wine aficionados and professionals ask if they can have a five course meal here, picked from past dishes that we particularly liked, paired to five wines that they'd like to bring, it sounds like a fun challenge. Top that off with that one of the guests is one of my favorite chefs in the city, whose work I respect immensely, and challenged is definitely what I felt. But the list of wines was provided, we decided on a vaguely Mediterranean theme, and off we went. Of course, when they showed up, it was with eight wines, only two of which were from the original list. That's the sort of thing that could put you in a tailspin if you don't just simply shrug, and plunge right ahead. So we did, and it all worked out fine – were the wine pairings ideal? Probably not, but they were really there just to relax and have a good time.
We started off with a plate of poached leeks with a mustard vinaigrette – they looked virtually the same as when we offered it at the end of May – and it was really the same, I didn't do anything different – so I simply refer you back to that dinner. The unoaked, young Sauvignon blanc that it was intended to go with showed up in the guise of an oaked, three year old Gewürztraminer – probably completely washed out by the mustard vinaigrette.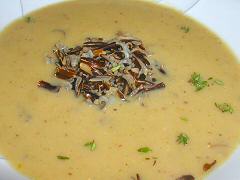 Moving on, I had stumbled across some delicious looking fresh oyster mushrooms in the morning. Initially I was thinking about any of various dishes we've done with mushrooms, but in the end, thought I'd go with an oyster mushroom chowder – I wanted something hearty and rich to go with the Patagonian Pinot noir… that showed up as a Chardonnay… which actually still worked pretty well with the dish – a puree of onion, celery, sweet potato, oyster mushrooms, thyme, cayenne, "old bay", and a bit of milk with some cornstarch dissolved in it. I have the Old Bay in quotes, because the seasoning mixture isn't available here – but I made a reasonable substitute from celery seed, black pepper, bay leaf, cardamom, mustard seed, cloves, sweet paprika, and mace. I pre-cooked some wild rice until it was just tender, and then warmed it and added it to the soup at last minute, and then garnished with fresh thyme leaves. Quite tasty!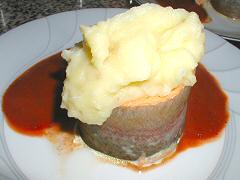 I bought a lot of trout this last weekend for the regular dinners, and decided it was simpler to just buy extra for the Sunday dinner as well. I liked the way they turned out in the coils topped with potatoes – but, of course, we didn't want to eat the same thing a third night in a row, so I changed the potatoes… it so happened that a local friend has been experimenting with making his own butter – it's all the rage of food blogs right now since the New York Times published a piece on it a week or so ago – and part of the process results in a fair quantity of buttermilk. My friend dropped off most of a liter this weekend for me to use to make… well, whatever… I was thinking buttermilk biscuits, but then it occured to me that it would make really good buttermilk mashed potatoes – and so instead of my usual butter and cream, I used buttermilk – along with a bit of roasted garlic puree. Now those are some fine mashed potatoes! For the sauce, I went back to my favorite charred tomato wine sauce to go with trout – cutting back a little on the spices – just simply roasted tomato, jalapeño, garlic, and onion and then pureed with some reduced Tempranillo – which, thankfully, was the same as the planned and delivered wine – a nice reserve Rioja from Spain.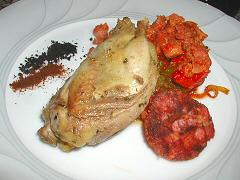 You might remember our recent Quayle Murphy dinner and the "Quayle Murphy" main course. I basically duplicated it, but just prettied up the presentation slightly – making sure the quail was browned a little more, and adding a panceta chip alongside the timbale – for taste and texture, and a couple little lines of dried and powdered tomato and black olives – kind of a fun touch that comes out of my recent classroom experiences. I'm still not entirely thrilled with the way the quail itself turns out – and I chatted a bit with the chef when he popped into the kitchen to hang out for a bit – his view is that the quail here in Argentina are simply not worth the effort – too flavorless and they never cook up right – which might explain why I'm having so much trouble getting them to come out the way I like – hey, maybe it's not me! At this point the wines diverged sharply from anything planned, and we served, in quick succession along with this course and moving into a pre-dessert moment, an aged Priorat that was sort of watery and fading, a Cabernet sauvignon that was sort of fruity and… cheap tasting, and a Malbec and Cabernet blend that was so over-extracted and over-oaked that most of us found it undrinkable.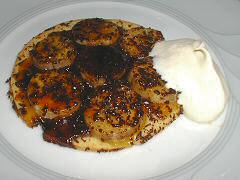 On to dessert and a re-do on the banana pizzas from our recent Brazilian dinner, which I thought would pair well with a Greek Samos dessert wine – which it did. I didn't really change a lot – I used regular yellow bananas that were nice and ripe rather than the starchy red bananas, and instead of dulce de leche, I just put a dollop of lightly sweetened whipped cream alongside. Overall, the dinner went well, I think everyone was happy as they stumbled on out into the night.