"You may be an undigested bit of beef, a blot of mustard, a crumb of cheese, a fragment of underdone potato. There's more of gravy than of grave about you, whatever you are!"

– Ebenezer Scrooge, A Christmas Carol by Charles Dickens
Buenos Aires – What to do when there are competing themes for an evening, and none of them quite generates an entire menu? Well, use them all, even if they have little to do with each other. This last weekend celebrated the 30th anniversary release of the original Star Wars – more commonly known as the Universal Day of the Jedi, the 6th annual celebration of International Towel Day, a tribute to the late, hoopy, Douglas Adams, author of the Hitchhiker's Guide to the Galaxy, and, for some reason, I was under the impression that it was also the anniversary of the first commercially introduced mustard… though now that I go back and look for a link, I can't find anything about that – which means either that it's been erased from Wikipedia, or I typed something wrong in the first place. Still, it went into the hopper for the themes of the weekend. It was just that sort of weekend, where I lost count of the number of people coming one night and had two people show up who weren't on our reservation book – we figured it out, the table was a bit cramped, but we had enough food, and the two folks who ended up sitting in our desk chairs didn't seem to mind.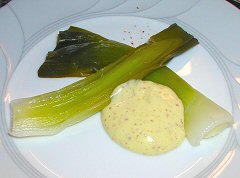 Maybe it was just because I had a mustard recipe on my mind. Melissa Clark at The New York Times had just done an article on braised leeks with a spicy mustard vinaigrette, and I wanted to try it out. And so, it became the first course. I didn't change a thing from her recipe – in truth the leeks are poached rather than braised, and the vinaigrette is a simple one of spicy dijon mustard, red wine vinegar, lemon juice, salt, pepper, and good olive oil – I ended up adding a touch more lemon juice to the mix because it needed to be brightened up a bit, and I garnished the plate with a light sprinkle of shichimi powder, a Japanese spice mixture.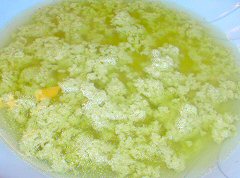 You might remember the lamb broth based stracciatella, the "old rags" soup, that I made a few weeks ago for our Roman dinner. I don't normally like to repeat dishes too closely – but I figured that the old rags fit the Towel Day theme about as well as one could hope for, and besides, there were easy modifications to be made. Since our main course had already been planned as duck, as you'll shortly see, I had the duck carcass handy to make a nice rich duck stock. And, instead of parsley in the mix, I used fresh tarragon, which has just come showed up in all the local markets – strangely, I don't think of tarragon as a late fall/early winter herb, but there you have it. The dish comes out even better than the lamb version.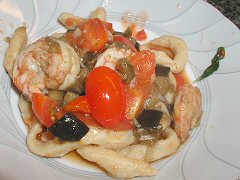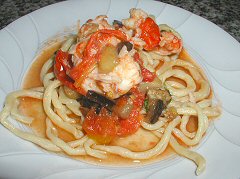 Now, here's a judgment call. One of my favorite pastas is strozzapretti, or "priest stranglers" – a rolled towel shape. I'm not going to get into the whole story behind the particular pasta shape in this post as I've done it already. I've seen the pasta in two forms, and been shown how to make it both ways. One involves rolling out a small ball of pasta between your palms to form a sort of worm, about 3-4″ long, and then hand twisting it into a tighly wound corkscrew. This results in a fairly thick, pillowy sort of pasta. The other involves rolling out a slightly larger piece of dough on a board until it's quite thin, then with a knife slicing it into 3-4″ long by ¼" wide strips, and then corkscrewing each into form. This comes out sort of like a very thick spaghetti with a spiral running around it. I like both, and each has its charms, though I will say that the latter turn out to be far easier to make and get through a large bowl of pasta dough. The dough is a simple one made of flour, eggs, a little olive oil, and just enough water to let you work with it. The sauce, "alla cervese", is one I haven't found a lot of background on, but it just simply sounded good in the few places I found reference to it. To prep, cut eggplant into small dice, and fry it up nicely until it's browned on all sides. Set it aside. Cut cherry tomatoes into bite sized pieces – halves or quarters. Chop lots of garlic. Peel and devein a bunch of shrimp. When ready to make the sauce, saute the garlic in olive oil and butter, add the cherry tomatoes and eggplant, and continue cooking just to make sure they're heated through. At this point, add a bit of crushed tomato (canned is fine), a handful of fresh basil leaves, and the shrimp. Turn the heat up high, and cook until the shrimp have just colored on the outside. At that point, cover the pan, and turn the flame off. The shrimp will cook through in about five minutes, and be nice and tender rather than rubbery, as often happens if you keep sauteeing until cooked through. Season to taste with salt and white pepper. Meanwhile cook the pasta in boiling salted water, drain, and put on plates. Top with a ladle full of the sauce and serve.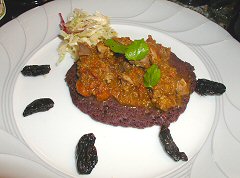 Ropa Vieja is one of those dishes for which there are more recipes than there are cooks who make it. It's made in many different "latin" countries, and varies widely, but sort of comes down in our theme with the "old clothes" filling in for our towels, and besides, I just felt like cooking it. It's a slow cooked stew of meat, usually a cheap cut of beef, with vegetables, until it's all sort of a tender, falling apart mess. I'd seen a couple of references to duck ropa vieja dumplings being served at different nuevo latino restaurants, and decided to do something more in the main course vein. Looking at many different versions of the dish, I finally gave up and just winged it. The first thing was to skin the duck (saving the skin and fat and rendering it later so I have a nice container full of duck fat to use at some point in the near future), pull off as much meat as I could (and you can later add in whatever meat comes off the duck carcass from the stock if you're making one), and chop it up into long shreds, then set it aside. In a bit pot, I put 3 red onions, 4 green onions, 2 stalks of celery, 1 carrot, 1 red bell pepper, a 1″ knob of ginger – all roughly chopped, along with a dozen juniper berries, a handful of cilantro, the leaves off a half dozen stalks of thyme, and about ½ cup of soy sauce. Then I topped it off with water, brought it to a boil and let it go about 20 minutes until the vegetables were softened. Then I coarsely pureed that whole mixture in the blender (in a couple of batches). Back into the pan, added the duck meat, brought it back to a boil, covered it, turned the heat down as low as it would go, and let it simmer, stirring occasionally, for about five hours. During the last hour I took the cover off to let more of the extra liquid evaporate, you want this about the consistency of, say, a sloppy joe. Seasoned it with salt, pepper, and garnished with cilantro. On the side, a simple salad of room temperature shredded cabbage and red onion with a basic vinaigrette (let it sit in the vinaigrette for about half an hour to soften), some kalamata olives, and, underneath… making use of my first night of my cocina de vanguardia class, more or less, a pancake made from purple corn flour. It's really just a mix of purple corn flour, yeast, milk, eggs, corn oil, melted butter, sugar, and salt – pretty much a typical corncake batter other than the color. Mine didn't turn grey – I'm still not sure why the ones in class did – and also the recipe they gave us simply isn't feasible, resulting in a thin, liquidy batter that would turn into a pancake on a bet – I just more or less threw things together until I got the consistency of a good pancake batter. With the oil and butter in them, they're cooked in a dry pan – non-stick.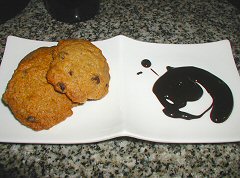 Finally, we had to get around to the Star Wars part of the theme mishmash. Did you know there's an official Star Wars Cookbook? In fact, I gather there are two of them. It was a surprise to me – I don't remember them eating much in any of the movies, except various monsters eating small, live creatures. There was some drinking in the bar scene. But, apparently someone has made some fun filled recipes with various names that are supposed to suggest a Star Wars connection. How could I pass up Wookie Cookies? Which, by the way, turn out to be nothing more than a brown sugar chocolate chip cookie, but they're really good. I didn't change them a bit other than using just plain bitter chocolate chips rather than a mix of milk chocolate and semisweet chocolate chips – you know, grownups and all that. I added a side dipping sauce that I like to serve with cookies (in the past I've served it with just made snickerdoodles – if you don't know, you should) – it's pretty simple, but takes most of a day to setup because one ingredient needs to infuse – in a container, pour some banana and coconut liqueurs, and add a couple of coarsely chopped up hot peppers – something on the fruity and hot side works best, like a habanero, or a rocoto. Let it infuse for at least 5-6 hours and then strain. When ready for the sauce, melt some bittersweet chocolate, add a little corn syrup to help keep it smooth, and gradually mix in as much of the liqueur as you can until you have a thin but not runny sauce.