Please don't retouch my wrinkles. It took me so long to earn them."

– Anna Magnani, actress
Buenos Aires – You may have noticed that recently our Casa S themes have been getting more and more offbeat – moving away from various Republic Days and Independence Days and such. It's only semi-intentional – part of the problem is that as we've cycled through a second year, the weekends often fall only one day shifted from last year, and sometimes it seems that the only "major" events that happened on a given weekend are the same ones I considered last year. Sometimes. And part of it is just that it seems that an odd event just catches my eye instead of a holiday, or, a particular birthday. Recently we celebrated Carmen Miranda's 99th birthday with a dinner that garnered great response – enough so that we ended up adding in a third day – and so how could I resist when I spotted that this last weekend was Anna Magnani's 100th birthday (she, like Carmen, is no longer with us, having passed on in 1973 at the age of 65). If you don't know Anna Magnani's work, you should – she was an Italian actress, born in Rome, who played these great, gritty parts, and even won an Academy Award, Golden Globe, and New York Film Critics Circle award for her lead performance in The Rose Tattoo, where she starred in tandem with Burt Lancaster. My favorite of her films, at least those I've seen, is Mamma Roma. Were Anna with us today, I don't know that she would have opted for Roman trattoria cuisine to celebrate her centenary, but she's not, and I did.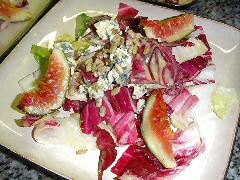 An Insalata Romana led off the evening – it may not be exactly traditional, nor trattoria based in its origin – actually in a way, none of this is – a true, traditional trattoria is a low budget, family restaurants where food is served primarily for take-out, or, if not taken-out, served up very casually, and family style, often at communal tables. These days trattorias in Rome are more like a French bistro, offering individual tables, menus, waiter service… things change. The Insalata Romana might also be known as a tricolore salad at some spots, given its base of arugula, radicchio, and endive – green, red, and white, for the Italian flag. Beyond that base, one can do a wide variety of things, and I chose to add a scattering of fresh figs, some crumbled blue cheese (local roquefort I'm afraid, no imported gorgonzola available here, not even domestic, strangely, given the Italian background of so many people here), and some toasted sunflower seeds for crunch. The dressing, loosely based on a cæsar – egg yolk, garlic, olive oil, balsamic vinegar, grated parmesan, and crushed anchovies. Traditional or not, it was a hit. Wine: Callia Extra Brut 2007, a sparkling blend of Pinot Grigio and Chardonnay – nice and crisp and light, great combination with the salad.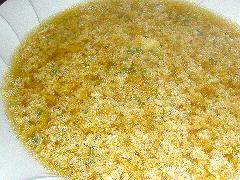 I would never let my Roman friends here me say it, but let's face it, Stracciatella is simply proof that Marco Polo brought back more than pasta from China, he brought back egg-drop soup. I've made stracciatella before for dinners here, this time I decided to go with a darker, "brown chicken stock" instead of my usual "white chicken stock" (another post one of these days on the differences in how to make them… I hope someone is taking notes to remind me of all these things I've promised to get around to) – actually, that's strangely not true – I made it once for these dinners with lamb stock and once with duck stock – but you'll just have to take my word for it that when I make it for myself at home it's usually white, or light, chicken stock. Into the boiling stock I whisked a mixture of 6 eggs, 6 tablespoons of semolina flour, 6 tablespoons of grated parmesan, 6 tablespoons of chopped parsley, and 1 teaspoon each nutmeg, black pepper and salt (sufficient stock for roughly a dozen bowls of soup). Wine: La Flor de Pulenta Sauvignon Blanc 2007 – my personal favorite Sauvignon from Argentina – crisp, dry, lots of grass and citrus notes, it made a nice contrast against the richness of the soup.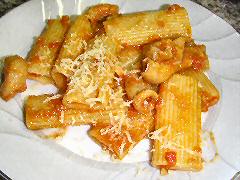 Roman cuisine, especially trattoria cuisine, is famous for its use of what the locals call "the fifth quarter", i.e., after you've quartered the animal and cut it into its various steaks and chops and such, all the stuff you have left – offal – innards. One of the cuisine's more obscure dishes is one called Rigatoni alla Pajata. Now, how do I describe pajata… it's the small intestine of a calf, but… a calf that's been slaughtered before it's had anything to eat except mother's milk… so it's a really young calf, and normally calves are allowed to grow until they're around 150 pounds or so before they're considered a sufficient weight to use for food – so it's rare that a calf this young is slaughtered, therefore rare that it's intestines are available. The idea is that the intestines are cleaned, on the outside only – they're tied off, and then basically poached in a tomato sauce – now remember, they're full of milk and the natural digestive enzymes and you're heating them – milk, plus digestive enzymes, i.e., rennet, plus heat equals… cheese. Literally. The milk inside the intestines turns into cheese. Now, here in Argentina, while they love their offal, they don't kill calves until they're older, and they've generally been grass-fed, so not just milk inside. We clean the intestines thoroughly, inside and out (an interesting process I'll say and leave it at that for the moment). Then I snipped them into short lengths, and soaked them in milk, figuring they'll at least pick up a little bit here and there – not that there were probably any enzyme molecules left by the time I was done cleaning them. So what I'm trying to say is this is more of a take-off on the traditional dish, okay? The sauce – lots of sliced garlic and lots of chopped celery, cooked in olive oil until soft and starting to turn golden, then added the intestines, cooked until most of the liquid has evaporated, added a cup or so of white wine, roughly 4-5 cups of crushed tomatoes, and a couple of tablespoons of tomato paste. Cook the whole thing down over low heat until it forms a thick sauce and the intestines are completely tender – roughly two hours. Toss with rigatoni, grate some cheese over the dish… it wasn't as good as the original I've had in Rome, but it was really quite good, and surprisingly, no one seemed to balk at the idea of eating it. Bravo to all the guests! Wine: Weinert "Montfleury" Rosado 2007 – a very ripe, bright, and bold rose blend of Cabernet sauvignon and Malbec that had the body and spice to stand up to this dish.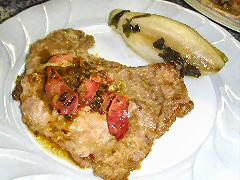 There's a good chance you've all tried some form of veal piccata, fried veal scallops with lemon and parsley – the original is similar, and is called Frittura Piccata – it's pounded thin scallops of veal, lightly floured, fried in butter with thin slivers of chopped prosciutto, then the pan is deglazed with freshly squeezed lemon juice, a little bit of veal stock (I didn't make a separate veal stock just to have half a cup of the stuff, I used some of the brown chicken stock from the soup), a handful of chopped parsley, and seasoned with salt and black pepper. This sauce is poured over the veal scallops and served. And that's what I did – no frills, nothing fancy, it's a simple dish and it should stay that way. To accompany it, an Indivie Intere "a Crudo", or braised whole endive – a really easy to make side dish – thoroughly wash the endives, trim off some of the bottom stem if need be, and remove any outer leaves that are somewhat loose, or browning, you want the endives nice and tight and compact. Put them, still dripping wet, in a pan with a few crushed garlic cloves and a handful of coarsely chopped mint. Drizzle some olive oil over them, cover the pan, and cook over medium heat until they're nice and tender – just letting them steam in their own juices with the added flavors – it'll take about 20-25 minutes, depending on how soft you want them – they should still really be firm, but cooked through, not falling apart like they've been braised. Wine: I knew I wanted a Sangiovese, though it's a classic of Tuscany, north of Rome, there's still lots of it served up in Roman trattorias and it's also used a fair amount in the local wines of Lazio – this is one of my favorites from Argentina, the Escorihuela Gascon Sangiovese 2004, big, rich, and spicy, and it worked great with the veal dish without overpowering it.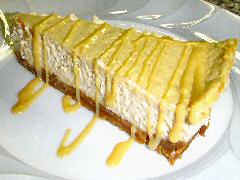 I started with the idea of a Budino de Ricotta, which is more or less a Roman fruitcake made with lots of ricotta studded with raisins and candied peels of various sorts and flavored with cinnamon. I'm not a big fan of most candied peels of fruits, so I decided to cut it back to just the raisins and a little bit of grated lemon and orange peel, and since, well, people seem to like my cheesecakes, made a ricotta cheesecake with golden raisins, the grated peel, and cinnamon. I had some dulce de leche left from the batch I made for the private dinner on Thursday, and warmed that up and drizzled it over the top. It worked for me, and seemed to for pretty much everyone else, though this one didn't get quite the raves that my cheesecakes normally do… maybe raisins just don't belong in cheesecakes… something to consider. Wine: one of our regular dessert wine contestants, the Finca El Retiro Tardío 2004 paired off nicely against the ricotta and made for a nice finish to the meal.
So, go out and rent some Anna Magnani videos, enjoy the films, and raise a glass to Mamma Roma!