"I don't trust him. He likes people, and you can never count on a man like that."

– Burt Lancaster as Joe Erin in Vera Cruz (1954)
Buenos Aires – I like people. I like food. I like restaurants. So maybe you shouldn't count on my opinion here. Except maybe because I really wanted to like this particular restaurant. I did like the people – our waiter was delightful, friendly, and even willing to discuss the dishes on the menu. There was a really cute guy behind the bar who was borderline flirtatious from across the room. And speaking of the room, it was kind of kitschy, homey, relaxed feeling – a neighborhood spot that reminded me of Alphabet City restaurants (far East Village for the non-New Yorkers) ten to fifteen years ago. Hey, that's two out of three. And then the food arrived. Right there I was clued in to why locals think Mexican food is… inedible.
It isn't, of course. I love Mexican food, but I have yet to find a spot here in Buenos Aires that really offers up a decent version. There are few spots that I've tried that are… acceptable. This wasn't one of them. Vera Cruz, Godoy Cruz 1819, in Palermo, 4833-6958 was where we were giving it a shot. Remember, I really wanted to like this place – local restaurant guides give it thumbs up – "the real flavors of Mexico", "the only authentic Mexican cooking"… I'm sorry, but not. I've spent enough time in Mexico to know the real thing… It isn't for lack of trying – they've got a lot of the elements right – this is the first Mexican place I've found in BsAa that actually pumps out some truly spicy food (kind of – for example, we felt like splitting a bowl of nachos, which while not authentically Mexican, were advertised on the menu as "topped with fresh jalapeños, tomatoes, and cheese, and arrived topped by nothing other than some sweetened, crushed tomatoes – we inquired, and our waiter, cheerful and friendly, apologized and took them back to the kitchen, returning about five minutes later with a version that was a bit smaller but now topped with cheese and pickled jalapeños, which are fine if not fresh, and nicely spicy)… and why are there shredded bits of wilted lettuce scattered on the underliner plate?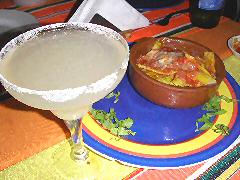 We were not so successful on the main courses, if you could call the nachos successful. A pollo al pepián rojo, which promised chicken in a tomato, habanero, and serrano sauce, only delivered on more sweetened tomatoes and pickled peppers. Spicy, actually reasonably fiery, but not at the level of habaneros, and lacking in chicken, unless you count a few desultory threads of meat that were floating about in the oily tomato sauce. The lomo dish consisting of something that probably was, indeed, from a cow, but certainly not lomo (sirloin), being mostly bits of gristle and fat – perhaps it was the scraps from trimming a lomo… Both dishes were accompanied by bland, overcooked rice; crusty, dried-out, and flavorless refried beans (I've had canned versions that were better) with a couple of corn chips in them, greasy pieces of flour tortillas; bits of wilted lettuce; and the lomo was also graced by a bit of dark olive colored guacamole that could have been passable if it had had some salt added and hadn't oxidized.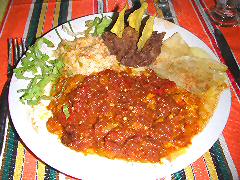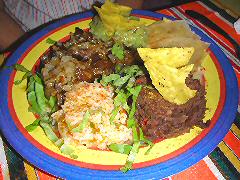 Really, it'd be great if someone opened up a Mexican restaurant here with authentic, good quality food. Not that there's, as far as I know, a big Mexican population here – and my sense is that many of the restaurants are run by people who only have a vague acquaintance with the cuisine. I think this one actually is run by folks who know something about the food – but are basically just running a "greasy spoon" version of a Mexican restaurant. I certainly know that I went home feeling nothing other than hungry and queasy.