Your world is as big as you make it."
Buenos Aires – French food isn't the first thing I go looking for here in Buenos Aires, but every now and again, it's a nice change of pace. The problem is, there are few places that do it well. I've talked about Brasserie Berry, which is a nice, casual spot for simple, basically home cooking. And I've mentioned the high end in the form of Lola and Rabelais. But mostly, the few spots I've been to, I've panned – mediocre food, worse service… don't get me started. Somehow, in the mix, it was recently pointed out to me that I've never reviewed a little bistro here in the 'hood that I go to, while not regularly, at least on occasion – Granda Bistró, Junín 1281, 4826-2317. I actually had to do a search on the blog to realize I'd never mentioned it – I really thought I had – I'd put it in the index with a recommended rating, but not actually written it up. Why the place is named the big bistro, I don't know, it's a little spot with maybe eight tables that seat about 25 people… [As of October 2010 this place has closed.]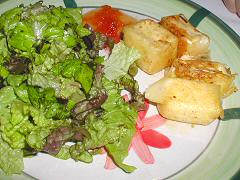 When a visiting friend suggested joining me for a lunch out, along with his Spanish teacher, and though that a nice little French bistro sounded like a good change of pace – I had the perfect opportunity to take some photos and remember to write about it. The menu is pretty classic bistro – meaning that they have creative, interesting dishes, leaning a bit towards the large portion and/or heavy side – bistro cooking tends to be of the sort that fills you up – sort of the one meal a day approach. Truthfully, if you're not overly hungry, you might even find some of their appetizers sufficient for the whole meal! Not that that stopped us – though we did decide to only have two main courses for three of us… though, that was after three appetizers… a warm brie, enveloped in a delicate pastry, lightly golden and crisp, really pretty much the perfect version of this dish; a country style terrine – a bit like the French version of a meatloaf – dense, chunky, studded with vegetables, honestly very underseasoned, surprisingly, I've had it before and it was much better, I was inclined to think it was a one time thing that someone forgot the seasoning mixture, but another friend went recently as well and reported the same thing – they seem to have cut back on the spices to nearly nil for some reason; and a lovely, and extraordinarily filling plate of sauteed rabbit livers with vegetables in a delicious reduced wine gravy.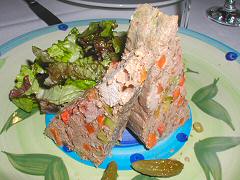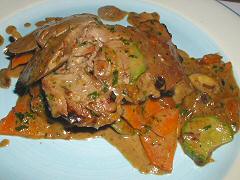 From there we went on to the roast rabbit and roast lamb – both deliciously tender and browned, the rabbit, a full quarter of a whole one, served with a tower of diced, roasted potatoes and a small springroll filled with a mix of different peppers; the lamb served up with a timbale of rice and vegetables, and, oddly, another springroll (must be a new thing, I don't remember these on their plates before), filled with potatoes and herbs. The lamb came out a perfect medium rare, just as ordered. We also ordered a bottle of a very interesting wine – I'd heard that there was a relatively new winery in La Pampa, which is the countryside outside of Buenos Aires – not exactly the site of usual wine country. Granda offers up the wine, which is called 25/5 Syrah, 2004 – the name stands for 25 de mayo, which is Argentina's "Day of the Revolution", or, depending on your interests, the date of the founding of local soccer team, River Plate – and more importantly from my end, one of the best Syrah's I've had in Argentina. Interestingly, reading the label, which turned out to be in English, the wine is apparently made more for export – and is made by California winemaker Paul Hobbs.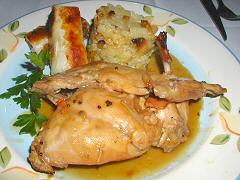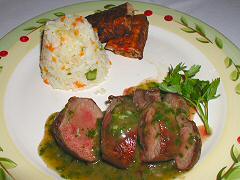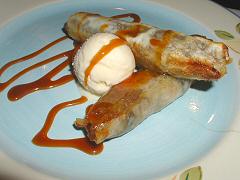 Of course, at this point, we couldn't say no to desserts, mostly because we were too full and happy to do anything but acquiese when our waiter suggested it. So, it was on to a great apple strudel – hmmm… like two springrolls on the plate, this is becoming a theme… a decent creme brulee – not quite so bruleed as I might like – for me a good brulee needs to have a sufficiently crispy and thick layer of caramelized sugar atop to have to sort of crack through, like thin ice… this didn't, just scattered, no, dusted, sugar that was lightly browned… and an okay fig clafouti – a little too eggy and bland for me, and the figs didn't really taste of much of anything. Odd – of course, it's not the season for fresh figs, but these dried figs seemed to have been sitting around somewhere for awhile.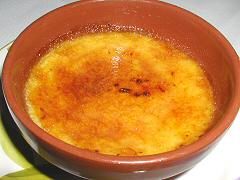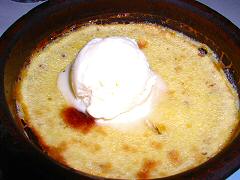 Overall, high marks for most of the food, with some missteps here and there, especially in underseasoning; excellent, attentive service, and relatively inexpensive – appetizers running in the 10-15 peso range and main courses in the low 20s.