"World Ocean Day began on June 8, 1992 at the Earth Summit in Rio de Janeiro, Brazil. It is is an opportunity every year to honor the oceans and products they provide, such as seafood, as well as marinelife itself. The oceans also provide sea-lanes for international trade. Global pollution and over-consumption of fish have resulted in drastically dwindling population of the majority of species. World Ocean Day is a project of The Ocean Project and the World Ocean Network.
Buenos Aires – Let's see, World Ocean Day… seafood. Earth Summit in Brazil… Brazilian… that's easy for a theme, no? Except… my experience of Brazilian food consists of half a dozen visits to some Brazilian restaurants in midtown Manhattan over the years, most often to a churrascaria, one of those all you can eat steakhouse kind of places where they carve slices off at tableside, and, lunch at a friend's house here in BsAs where he'd prepared the Brazilian national dish, feijoada, which also doesn't involve fish. So, the internet and cookbooks, as often happens with these dinners, became my friends. And, after both my research, and the food that we ended up eating, I'm ready for a trip to Brazil to eat the real thing. I was also put to the test – purely by chance, a group of four had booked for the first evening before I'd decided on the theme, and I didn't know it until they reconfirmed, that they were coming from Brazil! Hopefully, I acquitted myself acceptably…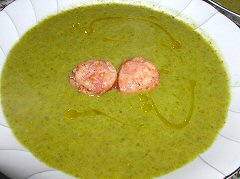 I've mentioned before that one of my favorite cookbooks for South American cooking is the large tome The Art of South American Cooking by Felipe Rojas-Lombardi. Interestingly, he devotes very little space to Brazil, I'm not sure why, but so be it. I found an interesting soup recipe for Caldo Verde, a kale and potato soup flavored with chorizo. Now kale is pretty much not available here – every now and again I see some, but there was none to be found when I went out looking. It is, however, the season of turnip greens – they're everywhere – and so, a reinterpreted caldo verde… I liked the way last week's spinach soup turned out having started with the base of a light roux. This time I went for a darker roux, cooking the flour and oil together longer until they were a nice, dark brown. Then I added chopped garlic and leeks, some ground bay leaf, coriander, and mace, and continued cooking until the vegetables were softened and lightly golden. I added diced potato and topped it off with chicken stock, bringing it to a boil and simmering until the potatoes were cooked. Then I added a ton of turnip greens, stems and all, and cooked until they'd just softened. Pureed the whole thing, seasoned with salt and white pepper, and set it aside. Then I cooked some fresh chorizos, after they were done, sliced them thinly and sauteed a bit longer to brown them nicely. Ladled the soup in bowls, garnished with slices of chorizo, and drizzled with good olive oil (in this case from picual olives). To drink, I decided on a "champagne cocktail" made with passionfruit juice mixed with sugar and then topped off with sparkling wine.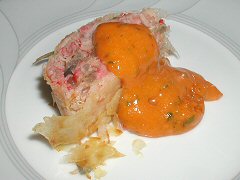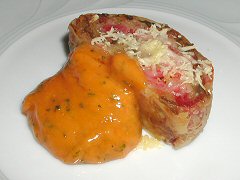 This started out as a dish called Casquinha de Siri, a stuffed a broiled crab. Finding whole fresh crabs here, especially at this time of year, is near impossible, not to mention beyond astronomically priced. I decided to invert the dish – turning the crab into the stuffing – which first necessitated finding some picked crabmeat – not a lot to be had, but I found some, and then mixed it with shredded surimi, you know, the fake crab, which, I happen to like. In a saute pan, I cooked down slivered red onions and finely chopped rocoto chilies until soft and lightly golden. Then I added shredded coconut and cooked until it was lightly toasted. I let that cool. Then I laid out a couple of layers of strudel dough (substituting for the breadcrumbs in the traditional filling), buttered between the layers, and spread the crab and surimi mixture over it. I topped that with the onion mixture, grated reggianito cheese over it… (well, on day two I forgot to do that, but it worked out better as you'll see), and rolled it all up. On day one I baked the strudel to order and then sliced it – it was a little too soggy, and I wasn't pleased with the consistency. So on day two, I baked it in advance, let it cool, and the sliced it. Then when it was time for service, I laid the slices on a sheet pan, topped them with the grated cheese, and baked them again, which crisped up the strudel nicely. The traditional dish also calls for tomato and parsley in the dish, I decided to turn those into a sauce – I made a basic mayonnaise using red Chinese vinegar, and then added tomato paste and finely chopped parsley to it – sort of a fancy version of a salsa golf. I thought this dish could use a slightly sweet, fruitier wine, so I went with the Etchart Privado Torrontés, which paired quite well with the spicy crab flavor.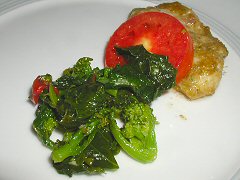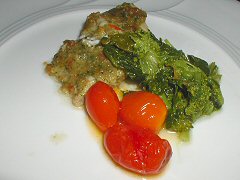 Again, two versions of this dish, based on a traditional one called moqueca. The classic is a fish that's stewed in a mix of tomato, onion, garlic, orange, and cilantro, usually in a clay pot, and served as a stew. I took the flavors, but given that we'd had a soup already, I decided against a stew. Instead, I marinated the fish in a puree (finely pureed the first day, coarsely the second, I like it better the second way) of tomato, onion, garlic, cilantro (stems and all), orange zest, and salt. Given that two of the dishes already had a fair amount of chilies in them, I decided to leave out the chilies from the original recipe. For service, I simply baked the fish in the marinade. Then I served it with some sauteed broccoli rabe – not traditional, but in season and so good… and tomatoes – the first day, sliced and sauteed tomatoes, the second day, butter roasted cherry tomatoes. I like the presentation better the first day, but the texture and the cherry tomatoes better on the second – so, some combination of those for the future. For this, we poured the Callia Alta Rosado de Syrah, a nice, spicy rosé that I like quite a bit and which worked well with this dish – though I might go with something a bit bolder on another go-round.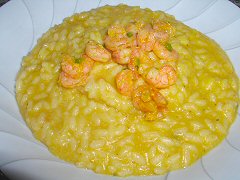 This is the dish that concerned me the most, as it involved working with an ingredient I've never worked with at all before, dende oil. It's a traditional oil made from the fruit of a dende palm, and it's used quite a bit in Brazilian cuisine. I'd actually never even seen it before, until by chance, a few weeks ago, I saw some in the window of a little market in the Abasto area. I'd inquired about what it was, and the proprietor told me it was an oil that some of his Brazilian customers have requested, but he himself hadn't a clue what it was for. I took a chance and ran out to the market and sure enough, he still had a few bottles left. It's extremely pungent, and looks a bit like chili sauce in the bottle – bright red-orange with seeds in it. What I could find about it suggested using it quite sparingly because of the intense flavor. The dish, called Vatapá de Peixe e Camarão, traditionally, is fish and shrimp stewed in the oil and a bunch of other things, including powdered dried shrimp and cashew butter, and sounded delicious, served over rice. I decided on turning it into a risotto, which I wasn't sure would work, but thankfully, it actually turned out great. First off, the base – into the blender a good quantity of dried shrimp, raw cashews, garlic, onion, coriander seed, and coconut milk. Blended until completely smooth. Then I sauteed the base in a couple of tablespoons of the dende oil, which turned it a bright yellow orange – I cooked it until all the raw flavor of the cashews and dried shrimp was gone (one recipe referred to the smell of dried shrimp cooking in dende oil as "just like a giraffe's cage"… that's a pretty darned close description). When that was ready, I added the risotto rice, and cooked it in standard risotto fashion, using vegetable stock (fish or shrimp stock might be a more interesting choice for a future version, or it might be overkill on the shrimp flavor…). On the side, I sauteed fresh shrimp with chopped jalapeño peppers, and served those over the top of the risotto. I could eat this anytime, it was really good, and our Brazilian guests asserted that I'd captured the flavor of Vatapá, so I'm happy with how it turned out. The Callia Alta Shiraz Malbec turned out to be a great match with this.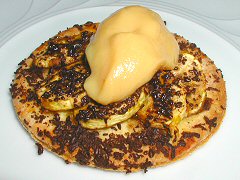 Finally, I'm taking some major liberties. Apparently, and I have this only by anecdote, Brazilians are fond of pizzas with fruit on them. Also ketchup I gather. But not dessert pizzas, more like what back in the States we'd call a Hawaiian pizza – ham and pineapple… only in this case adding things like bananas or papayas or other fruits to a savory pizza that includes meat and vegetables. As I said, I only have this by anecdote. I decided just to go all the way and make a dessert pizza. The crust is a simple sweet dough made from 2 cups of flour, 3 teaspoons baking powder, 4 tablespoons sugar, ½ cup butter, 1 egg yolk, and the juice of one orange (conveniently left over from using the orange peel in the moqueca above). Blend together thoroughly by hand, let it rest for at least an hour, and then roll out to make a thin crust. I made little individual ones, each about 3″ across. I used red bananas, which are a bit more starchy and less sweet than common bananas, and sliced them and let them marinate in some more orange juice for a couple of hours. Then laid the bananas out on the pizza crust, grated dark chocolate over the top, sprinkled with dark brown sugar, and baked until the crust is browned and slightly puffed. And just because I had some from a batch that I'd made, I topped the pizzas with a dollop of dulce de leche. With the flavors of the banana, orange, and dark chocolate, I decided I needed something richer than our usual dessert wine, and picked up some Saint Felicien Semillon Dulce, spectacular!