Once you get a spice in your home, you have it forever. Women never throw out spices. The Egyptians were buried with their spices. I know which one I'm taking with me when I go."

– Erma Bombeck, Advice Columnist
Buenos Aires – My instructions were simple – as befits those coming from a group of elementary and/or high school teachers – four courses – four different islands, one of them Caribbean, one of them southeast Asian, the other two my choices – spicy… "picante", but not so much so that the dishes wouldn't pair with wines – suggest wines. Minor complications – two vegetarians – one person allergic to onions, another to cucumbers, melons, and avocados… Go.
Of course you remember the callaloo. That was a moderately spicy potato and spinach soup I prepared for our St. Vincent and the Grenadines dinner. Immediately that popped into my mind as the first course. But… I don't like to repeat dishes, at least not without significant changes or improvements. I've been reading a lot lately about various things like molecular gastronomy and other, as it's called here, cocina de vanguardia dishes. I had a vision, yes, a vision, of the callaloo… dare I say it, "deconstructed". I'm nearly embarassed – were I to quote myself from an article written a few years ago – "deconstruction is the term used for turning a perfectly delectable melange of flavors into an awkward experience of its components" and "by the way, it's been done. There's a packet of orange powder inside the famous blue box alongside the macaroni. Let's see one of these temples of dining experience line that up with a pat of butter and splash of milk… Now that's a cheese plate." And here I am, thinking about deconstructing a soup. I couldn't quite bring myself to do it – so I sort of deconstructed and reconstructed – separating out all the components, but presenting them together.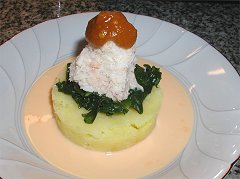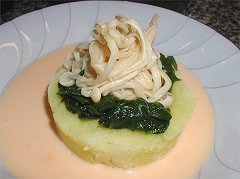 The potatoes were turned into a puree, and I took a note from my experiences making Peruvian causa and flavored the puree with a little ají amarillo, lemon juice, and olive oil. That became the base of a little tower. Atop that, some simply blanched and salted spinach. Atop that, shredded crab meat. Garnish it all with a spoonful of ají amarillo paste. Ahh, but the broth… what to do, what to do… In the end, I simmered together some water, coconut meat, piquillo pepper, black peppercorns, and salt. When it was well flavored, I ran it through the blender on high speed for several minutes, then let it sit, and then strained it. The dish, by the way, was served chilled, though I think it could be equally as successful served warm. For our two non-meat eating folk, I substituted some lightly brined enoki mushrooms for the shredded crabmeat.
Next up, off to Southeast Asia, as requested. There's nothing quite like a good saté as an appetizer. Made well, it's a favorite dish. I simply made three changes to my more traditional recipe – I substituted cashews for peanuts in the marinade/sauce, left out the onions as requested, and, I didn't grill the hell out of the beef, leaving it rare to medium rare, and sliced. The marinade was a puree of ginger, garlic, lemon rind, soy sauce, coriander seed, cilantro, turmeric, and cashews, with just enough water to thin it out. The beef marinated in it for several hours before grilling. Meanwhile, I took the remaining marinade and simmered it over low heat for about 20 minutes to cook our any of the raw flavors, then served that on the side. Oh, and for the vegetarians amongst us? Seitan, the same way. I won't get into how to make homemade seitan (I've not found it here, I'm not sure that anyone makes it commercially), there are plenty of websites that tell you how to do that. It's tedious, but not difficult. The results – I tasted both, I actually liked the seitan saté better than the beef! I think, too, that the beef might have benefited from being cooked a little closer to medium.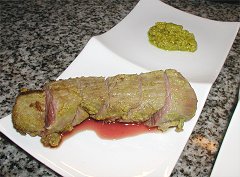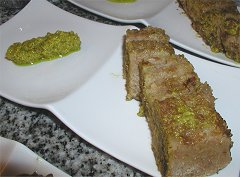 Now, for the next island, it had been suggested that I not only pick the island myself, but surprise the professorial clan with something unusual. Mauritius, an island off the coast of Africa, with a cuisine that's heavily French influenced, but using local ingredients. I started with a local recipe called Fish Vindaille, or Vindalay – the recipe in truth being pretty much like a fish escabeche that you'd find at a Peruvian or Bolivian restaurant here – fish dipped in flour and fried, then chilled and topped with a marinade of garlic, ginger, mustard seed, turmeric, onions, green chilies, oil, and vinegar. The dish is served chilled over sauteed watercress. I decided to do a hot version… first, a substitution for the onions, I decided on carrots – mostly because I had a bunch around, and because I thought they'd look pretty. The rest of it was pretty straightforward – I sauteed all those marinade ingredients together along with the watercress, then set them aside. I cut the fish – boga, or bogue – into serving fillets, and topped them with the marinade vegetables – then sealed them in foil packets. For serving, I baked them in a hot oven, and then slid them out onto plates. A little cilantro for a garnish and done. Sliced tofu substituted for the fish where needed.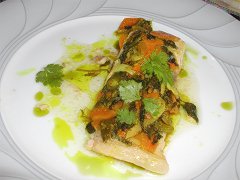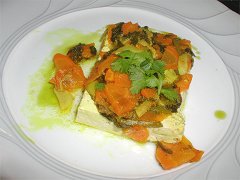 Okay, the molecular gastronomy thing got momentarily out of hand. I won't say that this dessert was a disaster, it was interesting, it just wasn't, well, delicious, nor up to the rest of the meal – at least in my view. On the other hand, virtually all the guests finished their portions, and Ezequiel, our dishwasher, took all the remaining pieces home with him to eat.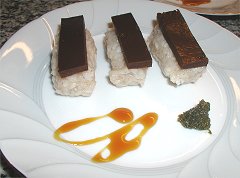 I decided on Japan for my last island, and a chocolate sushi… I made sushi rice, and instead of flavoring it with mirin and vinegar, flavored it with cinnamon and brown sugar (white sugar would have been a better choice for presentation – the color). I topped it with… gelled chocolate. That's the part that was just interesting – it just isn't chocolatey enough, or maybe not quite sweet enough – it needs to be worked on – it sorts of tastes like watery semi-sweet cocoa, and it's in a form that's gelled – it's a mix of water, cocoa, sugar, and agar-agar – so I guess that shouldn't be surprising. For the "wasabi", I made a paste of sugar and fresh mint leaves, using a mortar. For the "soy sauce" I used some miel de caña – sort of a reduced sugarcane syrup, almost like molasses. It was all pretty, but it's clearly a work in progress…