"In and of itself ritual is meaningless and therefore open to endless interpretation."

– Kenneth Dean, Author, Lord of the Three in One
Buenos Aires – I know you're all eagerly awaiting the writeup on our two evening exploration of Pakistani food at Casa SaltShaker, but it will keep until, most likely, tomorrow. Instead, a trio of mini-reviews of recently checked out spots for dining.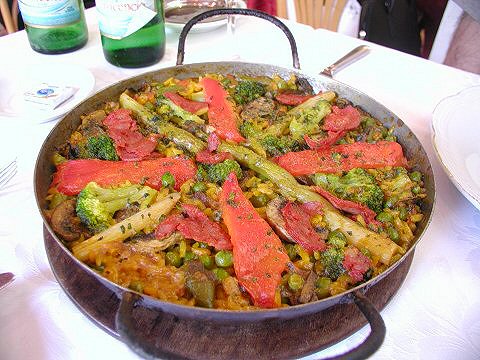 First up,
Mesón Navarro
, Lavalle 168 in Microcentro, 4314-2072, where my friend Victor and I headed for lunch a week or so ago. A bit on the elegant side – white tablecloths, semi-formal service, very pretty room. For the neighborhood probably about average, but for Buenos Aires in general, high prices – even in relation to other Spanish seafood restaurants, which already tend to be a bit expensive. We sampled some absolutely delicious garlicky shrimp and some cod-stuffed piquillo peppers in tomato sauce to start off. Then we moved on to one of their shared rice dishes (they come in two or four person sizes only) – they offer a plain vegetable version to which we asked for a bit of chorizo to be added. That seemed to fluster the waiter, despite that Victor dines there regularly and asks for the same dish nearly every time. The kitchen had no problem with it. Everything was excellent, and if you don't mind just simply emptying out your wallet on the table when the bill comes, it's a delightful place. I'm more likely to go back to
José Luis
, where an equally good meal will run a third less.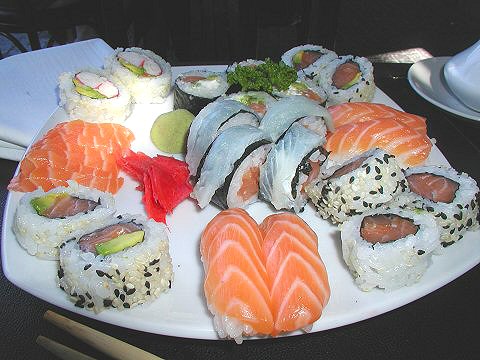 In the continual search for decent sushi here in Buenos Aires, I found myself dropping by a relatively new spot in Village Recoleta,
Jota P. Ese
(JPS – the initials of the three owners), Vicente Lopez 2180, 4803-4752. It's a fairly small venue, very over the top kitschy decor bar-lounge – pretty much what most of the restaurants along that half of the Village Recoleta strip are like, and reminding me of any of several dozen venues in Chelsea (Manhattan, not London). They have a couple of outdoor tables, and being nice weather, I sat myself down to enjoy the sun and some fish. Their sushi is very fresh and very tasty. The sushi libre runs a mere 48 pesos for all you can eat. The one criticism, despite my charming waitress' claim that the sushi libre included all the various types of fish available, it seemed that anything other than 90% salmon, and some canned tuna, was simply not part of that. On request, for my second plate, I managed to get a couple of strips of white fish laid atop a salmon roll, and a couple of "crab" – surimi roll pieces. Like most places here, too much cream cheese mixed with salmon – it's like a commitment to alter the face of sushi. Overall, I enjoyed it, they have a nice wine list, and even offer chilled sake that's drinkable, and not ridiculously overpriced. 
[Closed in 2014]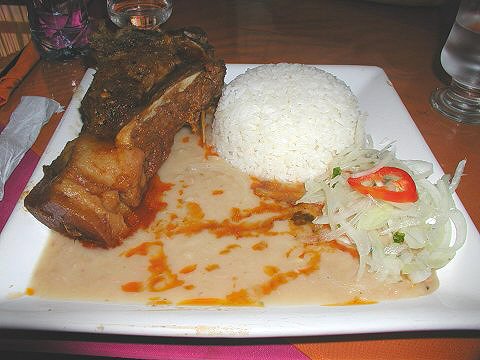 At the far lower end of the dining scale we found ourselves wandering near to the Abasto yesterday, doing a little shoe shopping for Henry. Lunch, as always in that neighborhood with him, meant heading for a Peruvian dining spot. Carlitos was packed, so we headed around the corner to one we've spotted but not tried,
La Rica Vicky
, (two locations on the same street roughly across from each other) which was simply so bad that I didn't even make note of the address as we hastily left, Henry having declared it
"un horror"
. A
seco de cordero
was burned and coated in salt, probably an attempt to hide the burned flavor, and this large piece of bone and fat, euphemistically titled
adobo de cerdo
(see the last two photos on the linked page for what these dishes should be), contained perhaps four or five bites of pork that were flavorless and dry. Both were served with beans that were pureed and watery and drizzled with some sort of oil, and rice that was dried out. The onions and the slice of rocoto pepper were fresh… Apparently this place was one of the first Peruvian restaurants to open in town to offer food to the local Peruvian community. It's quite possible they're still serving leftovers from opening week… At least two platters of "food" and two bottles of water only ran 26 pesos…