I do not tire in asserting that we in this region possess an authentic Caribbean civilization of a unique, distinct and distinctive type. Saint Vincent and the Grenadines is a component of this noble civilization. The obligation is placed upon us, individually and collectively, to further ennoble this civilization in all its dimensions. In this blessed land we are, metaphorically, the songs of the Caribs; we are the rythym of Africa; we are the melody of Europe; we are the chords of Asia; we are the home-grown lyrics of the Caribbean. We are one, at home and abroad, to meet the challenges, old and new, which confront us. We are a single people, under one God, destined to meet the vicissitudes of life, Together Now and Forever."

– Prime Minister Ralph Gonsalves of Saint Vincent and the Grenadines, in a speech on October 27, 2001, the 22nd anniversary of the islands' independence
Buenos Aires – I don't know a lot about the various different Caribbean island countries, territories, colonies, protectorates, states, etc. I fully admit that. For the most part they were not places that showed up in any more than a cursory way in my school studies – perhaps a bit about Cuba during the "missle crisis", a bit about Puerto Rico here and there… you know what I mean. They were, after all, just a bunch of islands down there somewhere off the coast of Florida, or maybe Mexico, or… vaguely that direction. I mean, I'd heard of Saint Vincent and the Grenadines… but that was because I collected stamps as a teen. Otherwise, I'd bet it never would have impinged upon my consciousness. So when it popped up that October 27 (1979) was Independence Day for the country, it gave me a chance to do some reading about the place (mostly from this brilliantly written and quite thorough website by Karl Eklund), and perhaps even exploring some of the food – though, my guess in the end is that my dishes were inspired more by a sort of generic West Indian cuisine rather than SV&G in specific – and, of course, I only used recipes and descriptions as inspirations, these are my own versions with no claim to "authenticity".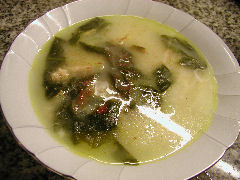 I think there may be as many different recipes for Callaloo as there are people living in the Caribbean. There are definitely differences from island to island, and I found dozens of varying ones claiming to be the authentic recipe from SV&G. About all that any of them agreed on was that it's a soup and it involves dasheen, or callaloo leaves, which are the leaves of what most of us think of as the taro plant. They have to be cooked, as they're poisonous otherwise. They're also not available here in Argentina, but numerous sites assured me that spinach and/or kale are acceptable substitutes, the former getting the nod more often than the latter. In the end, I more or less winged it – I cooked a couple of chopped onions and garlic cloves in butter, added diced potatoes and water and cooked until the potatoes were about half done, then added fresh spinach leaves and shredded crab meat and cooked until the potatoes were done – I finished it off with some light coconut milk and seasoned it with salt, black pepper, and a bit of paprika. I like it a lot, though I think it could use a bit of picante, and several recipes recommend floating a bit of hot yellow pepper sauce atop.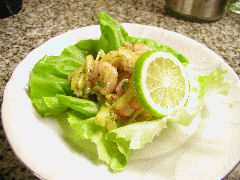 Mangoes and other fruits apparently abound on the islands… it wasn't until this morning that I learned that bananas and starfruit are apparently the top fruit crops – which probably would have led me to change this dish around completely and do something with starfruit, something I rarely use. But I found some nice underripe mangoes, and I gather, interestingly much like Southeast Asian cuisine, these are often used with shrimp in making cold salads. I was unable to find anything out about how they're typically dressed, so I decided to just start from the more Asian version that I'm familiar with and just change it around a bit – I cooked the shrimp with some powdered hot yellow peppers (so maybe it was good I didn't use the same peppers in the soup), let them cool, tossed them with shredded green mango. The dressing was a mix of lime juice, worcestershire sauce (as a "substitute" for Vietnamese fish sauce – after all, the islands have a British colonial history… you can see the logic), garlic chives, green onions, hot red chilies, salt, and brown sugar.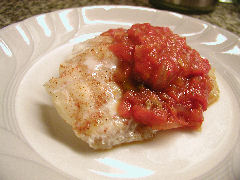 I saw several references to cod being served with a variety of sauces – the two most intriguing being a green olive and caper sauce, and a tomato-sweet pepper sauce. I knew one of last night's guests was not fond of green olives, so I decided on the latter. The only cod I could find yesterday was salt cod, and I wanted fresh fish, so I went for some nice fillets of sea bass. They were simply baked with a little salt and paprika in olive oil. The sauce was a chunky salsa, just semi-pureed, of cooked down tomatoes, roasted piquillo peppers, onion, capers, and salt – very simple, and quite delicious on the fish!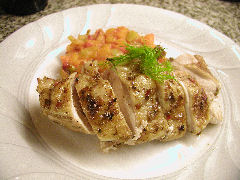 Jerk Chicken is generally associated with Jamaica, at least, I'd guess, in the minds of most norteamericanos. However, it seems that in varying versions it's served on various islands throughout the region. The idea is a somewhat fiery and sweet marinade that really seeps into the chicken because one pokes holes in the chicken to allow the marinaded to get in there. I gather in its earliest versions bits of spices were actually inserted into these holes – pieces of garlic, chilies, etc. The chicken is then grilled until it's nice and smoky. We weren't having grilll type weather yesterday, so that was out – pan roasting was the best it was going to get. I let the chicken marinate for most of the day in a "jerk sauce" that I'd made about two days before –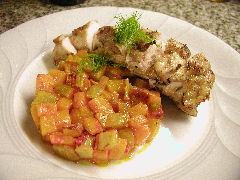 I wanted plenty of time for the flavors to come together, and to adjust it a bit for heat. Surprisingly, despite the marinade being quite hot (though I used cayenne peppers rather than the more typical habaneros, which are simply not available here – next time I might try rocotos), the chicken in the end was only mildly so – I have some sauce left, so I think I'll reduce some of it to a thicker consistency and serve it alongside the chicken for round two of this dinner. While I gather that a traditional accompaniment for this dish is roasted breadfruit, I doubt that they're available here – maybe some canned ones in chinatown, but I didn't go look. Calabaza type squash is quite popular on the islands, and it's easily available here – I diced some along with some diced fennel and roasted them together with salt, brown sugar, and a bit of mildly hot pimentón rojo.
Jerk Sauce

2 chopped onions
6 chopped garlic chives
3 chopped cloves garlic
3 chopped cayenne peppers
Juice of 3 limes & 1 orange
¾ cup Chinese black vinegar
¼ cup soy sauce
¼ cup olive oil
1 tablespoon dark brown sugar
¾ teaspoon cinnamon
¾ teaspoon nutmeg
1 tablespoon allspice
1½ teaspoons white pepper
1½ teaspoons cayenne pepper
1 tablespoon dried thyme
1½ teaspoons dried marjoram

Mix all the ingredients together and puree coarsely in a blender – leave it with a little coarseness to it. Marinate chicken (or other meat) at least 4 hours, poke some holes in the meat to allow the marinade to seep in.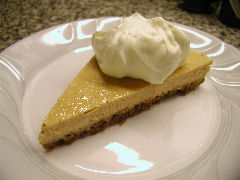 I don't know where I got the idea that carrot cake is a typical dessert from the area. I'm not even sure that it's correct. But it was in my mind. I've been having fun playing with different versions of my cheesecake, as regular readers know – and I got it in my head to make a carrot cheesecake, and spice it up with a bit of ginger, nutmeg, and cinnamon. And that's pretty much it – I simply added grated carrot and ginger to my basic cheesecake recipe along with the spices, and added a touch of the same spices to the crust; I also used brown sugar instead of white because I thought it would go better. The carrot and ginger flavor is subtle, but definitely there, and whether or not it has anything to do with the cuisine of Saint Vincent and the Grenadines, it worked (other than for the one guest last night who simply doesn't like cheesecake – a scandal, of course, in my view…).
I think I want to go hang out for a bit with Karl Eklund on Saint Vincent, he seems like a pretty cool guy… and the islands look fascinating.