Quickly, bring me a beaker of wine, so that I may wet my mind and say something clever."

– Aristophanes, 4th century BCE Greek comedy writer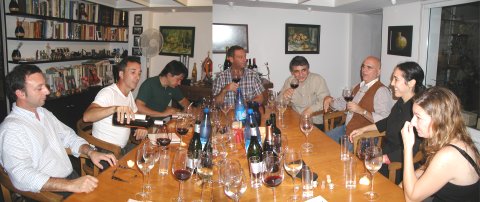 Buenos Aires – A bunch of sloshed lookin' folks, no? My friend Alex proposed we have a wine tasting, we'd had one a few months ago and had great fun, so why not go for a repeat… with different wines, of course. He had a bottle of a highly rated South African wine that he'd picked up on his recent vacation and wanted to try, so we vaguely proposed a South African theme, knowing that virtually no one here probably had any… though, surprisingly, we ended up with four different bottles from various attendees!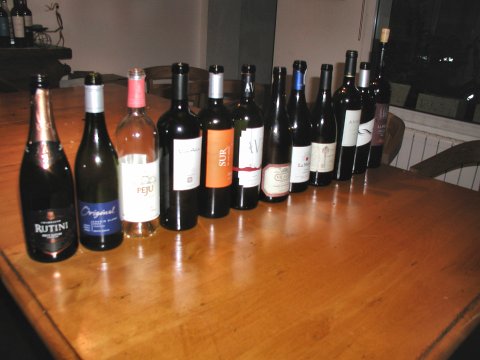 Rutini Brut Nature, 2000, Mendoza, Argentina – very elegant nose of strawberries and cream, flavors the same plus a lightly toasted coconut from the oak, good acidity, body, and length. Really quite good.
Raats Family Chenin Blanc, 2005, Coastal Region, South Africa – interesting notes of peach pits and paraffin, upfront it has some good lime fruit, white pepper, and a touch of a floral note, and a long but somewhat green stemmy and alcoholic finish. This wine came in number one wine in a South African Chenin blanc tasting by the New York Times wine panel earlier this month – though, they make the point that it was good, but not great.
Peju Sauvignon Blanc, 2005, Rutherford/Napa Valley, US – Like raspberries trying to climb out of the glass, backed up by notes of a freshly mown lawn, initially I liked this wine quite a bit – it has excellent acidity and depth, the one off note being a sort of glycerine, residual sugar cloying sensation on the finish that was like having your tongue stuck to the roof of your mouth by peanut butter.
Viña Alicia Blanco, 2005, Lujan de Cuyo, Argentina – Possibly the most interesting wine of the evening – a Riesling based blend topped off with Albariño and Savagnin, and only 700 bottles of this wine were made. Flavors of underripe pineapple and white pepper, rich, great acidity, bone dry, and a really interesting yeastiness. Great length, and the wine continued to open up over time. Excellent.
Sur de Los Andes Bonarda, 2006, Mendoza, Argentina – The 2005 of this wine was one of my favorite Argentine Bonardas over the last year. The 2006, well, we'll have to see. This wine has only been in the bottle a few weeks, and it's way too young to really drink, but as of right now it's very tight, with black fruit, oak, spice, and a touch of wet fur on the nose. It does have good acidity. The oak seems a bit over-bearing, but that may just be part of being not ready to be released.
Ave Malbec, 2005, Mendoza, Argentina – A new wine being made by two Italian winemakers who've just recently started up operations. Classic Malbec flavors of black plums, clove and nutmeg. Good acidity, a light touch on the toasted oak. It's a very clean, modern style Malbec.
J. Carrau "Vilasar" Nebbiolo, 1999, Colón, Uruguay – This wine was so identifiably Nebbiolo, and so classic in its style, that in a blind tasting I'd have been surprised to find out it wasn't from Piemonte. Beautiful raspberry and leather flavors, juicy acidity, touches of floral notes. Very vibrant and fresh tasting for a wine that's eight years old, which may just be a difference in the technology used in its production.
La Motte Shiraz, 2004, Franschhoek Valley, South Africa – Honestly, nothing about this wine said "shiraz" to me, or I think most of the folk at the table. It had a sort of light, black raspberry and green tobacco profile, alot of acidity, dry, and sort of zesty – I think I'd have picked this out as a new world Merlot in a blind tasting. A bit alcoholic on the finish, but not badly so.
Hartenberg Estate "Gravel Hill" Shiraz, 2002, Stellenbosch, South Africa – While this wine had all the good things going on for it for a Cape Shiraz – blackberries and black pepper, light chocolate notes, a touch of earth, it also had a weird syrupiness – almost like someone had sucked some of the water out of it (a bit of reverse osmosis processing perhaps?), and the finish was suprisingly short given the boldness of the wine. Certainly not a good value at its $100 pricetag. It also garnered 92 points from Parker. Perhaps this bottle just wasn't representative of the rest of the 63 cases made.
Anwilka, 2005, Stellenbosch, South Africa – Really an excellent wine – 63% Cabernet Sauvignon, 37% Syrah. Whether I'd go as far as Parker did in naming this the finest red wine he'd ever had from South Africa, I doubt, but there's no question it warranted high praise. Earthy, roasted coffee, aged tobacco, incredible depth of cassis and blackberry fruit, bittersweet chocolate. Very well balanced. Still incredibly young – or, as Alex who brought it put it – infanticide.
Sur de Los Andes Infinito, 2004, Mendoza, Argentina – Pure, deep Malbec fruit with flavors of red plums, cinnamon bark, and candied violets. The oak is noticeable but not over the top, the wine is rich, with great acidity. The finish is a trifle alcoholic, but the wine is still young. Really good.
Allegrini "La Poja", 1998, Verona, Italy – My friend Victor had mentioned he'd never had an Italian wine that he was blown away by… and this is one of my all time favorites out of Italy. I had the good fortune to "discover" this wine while dining with the winery owner and her US importer during VinItaly many years ago, and between myself (at that time running the wine program at Felidia) and my friend Cliff Batuello, then wine director of Gotham, we split the entire export allocation of, I think, the 1991. We continued to do that for a couple of years. Now the wine is somewhat more available to other folks – it's a ripasso style wine made from 100% Corvina, and has the flavor notes of an Amarone but with a lighter style that allows the grape to really be expressive – dark red fruits, tobacco, green olives, juicy acidity, moderated oak, incredibly well balanced and great depth. Still a personal favorite, and I think Victor got his wish.